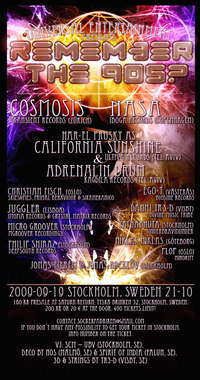 Line Up
COSMOSIS
TRANSIENT RECORDS & HOLOPHONIC RECORDS
(ZÜRICH, SWITZERLAND)

NASA
IBOGA RECORDS
(COPENHAGEN, DENMARK)

HAREL PRUSKY
UNNATURAL RECORDINGS
(TEL AVIV, ISRAEL)
as
ADRENALIN DRUM
KAGDILA RECORDS
(TEL AVIV, ISRAEL)
&
CALIFORNIA SUNSHINE
ULTIVA RECORDS
(TEL AVIV, ISRAEL)
CHRISTIAN FISCH - SKIES&PIES, PRIMAL BEHAVIOUR & SIKAMEKANICO (OSLO, NORWAY)

JUGGLER - UTOPIA RECORDS & CRYSTAL MATRIX RECORDS (LISBOA, PORTUGAL)

MICRO GROOVER - MGROOVER RECORDINGS (STOCKHOLM, SWEDEN)

PHILIP SHIRAZ - DEEPSOUTH RECORDS (STOCKHOLM, SWEDEN)

ROKKAZ - DIGITAL REALITY RECORDS (STOCKHOLM, SWEDEN)

JONAS EIFRÉM & JONAS ROCKLÖV (STOCKHOLM, SWEDEN)

DANNI TR3-D - DIVINEMUSICTRIBE (VISBY, SWEDEN)

EGO-T - BIOSINE RECORDS (VÄSTERÅS, SWEDEN)

YATHABHUTA - UBV (STOCKHOLM, SWEDEN)

AYDA - PITCH (STOCKHOLM, SWEDEN)

NIKLAS NIKLAS (GÖTEBORG, SWEDEN)

PLOP - MINORITY (OSLO, NORWAY)
Chill
Food & Chai:
RAINBOW BAKERY (PACHAMAMA, EARTH)
International group of people travelling in an old fire-truck with a wood fire baking Owen in the back. At this cosy camp you can enjoy cinnamon bun, pizza, chocolate balls, chai-tea and coffee.

Chill:
There will be a big and cosy chill out where you can sit back and relax. Soft lightning, couches, and a rely nice atmosphere.
Deco
Deco
SPIRIT OF INDIA (FALUN, SWEDEN)

NOS (MALMÖ, SWEDEN)

TR3-D (VISBY, SWEDEN)

SCM - UBV (STOCKHOLM, SWEDEN)
Info
Info
Food, Chai, Lasers, Stalls... Love Light Trance
Location
Location
Ranhammarsvägen 15
Entry
Entry
160 kr presale at Saturn Return, Tyska Brinken 32, Stockholm, Sweden. 200 kr or 20 € at the door.
Organizer
Organizer
Universal Entertainment
From
Universal Entertainment ·
2,373
Added

11y 10m

· Update

11y 9m

· 1 ·