REMEDY Free-Love Free-Party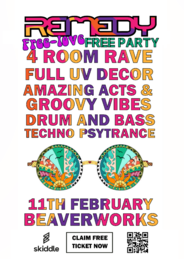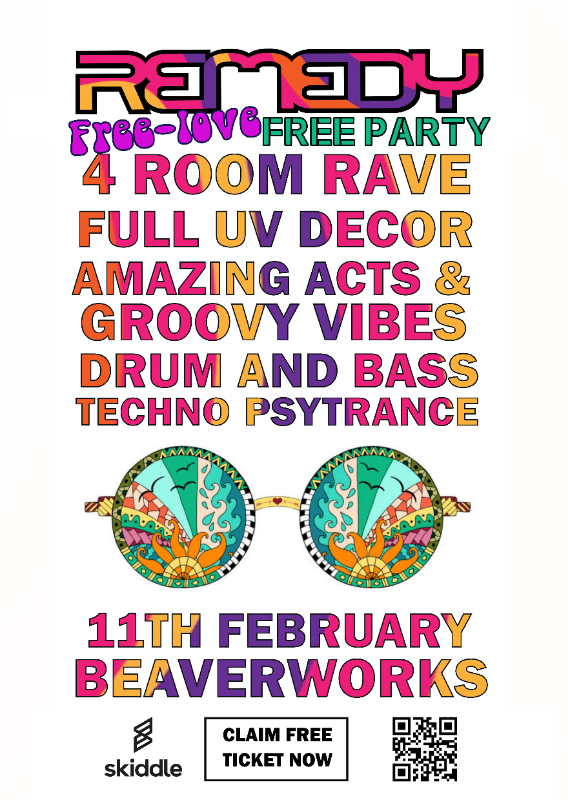 Line Up
PSYTRANCE Line up:
LORRAINE
Lost Element
Silas
Joe Davis
Psycandy
Medusa



DnB Line up:
AXILLIAN
Clumsy
Filth Merchants
Arcus
Dre Darkroom
The Surgery
M.J.R.

HARD DANCE & TECHNO Line up:
DANNY CARNAGE
DJ Kohl
Keith Fox
Ben Warren
Bad Geneticz
Filthy Kitten
Karl Davies

BAR ROOM Line up:
Boomtown Jack
Daz Skally
Just Jess
Mr Marvs
Urban Spaceman


Peace-out!
Info
Info
Free & Donation Skiddle tickets skiddle.com/e/36209343
Remedy are back, and we're kicking off 2023 with a bang!
Last year we had a capacity crowd at Beaverworks and we just couldn't wait to invite every single one of you bonkers buggers back for another brilliant night! It's you, the ravers, that make this an unmissable experience.
Get ready for Psytrance, Drum n Bass, Hard Dance, House and Techno plus a fusion of complimenting styles across the full Beaverworks. Full 360 UV decor and full stage and light production, with laser shows and performances throughout the venue, great bar prices (the best around) and super friendly door staff.
LIVE Acts, DJ's, Brands, Artist and Stalls to be announced.
The theme is "Free Love". Its as much as state of mind as it is a dress code. The original PLUR. Valentines day is around the corner so perhaps you'll find someone to celebrate it with at REMEDY!
So make sure you shake off your winter blues and dust off your dancing shoes - Free tickets and donations available from Skiddle now, don't miss out!
Invite all your friends, or just come along and make some new ones.
Location
Beaverworks
36 Whitehouse Street, Leeds,
ls101ad leeds