Backend
Reloop Vol.1 (FREE PARTY)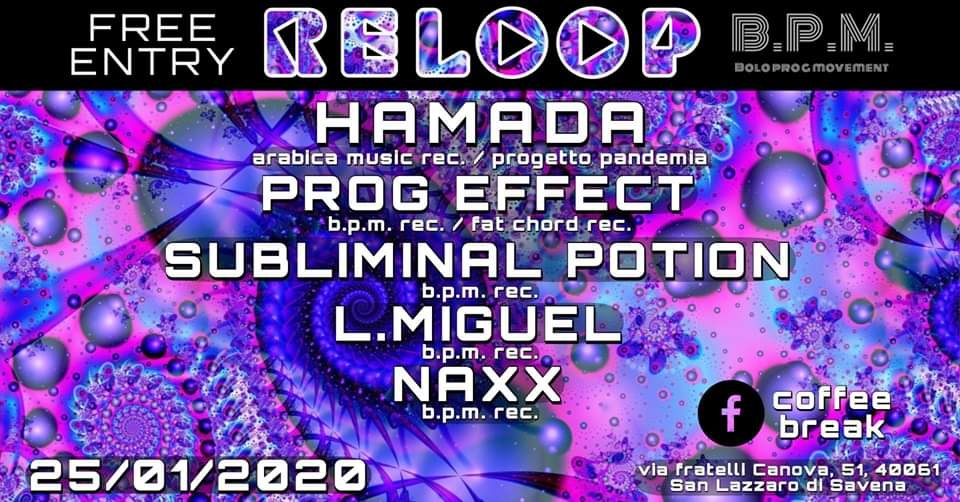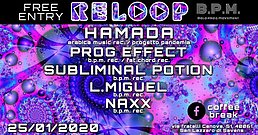 Line Up
➤ B.P.M presenta :
♫´¨`*•¸¸♫ RELOOP VOL.1 (FREE PARTY) ♫´¨`*•¸¸♫
ॐ Progressive Party ॐ
Torniamo carichissimi, con il secondo party al Coffe Break (S.Lazzaro di Savena) e con un nuovo ospite.🔊
✦✦✦✦✦✦✦✦✦✦✦✦✦✦✦✦✦✦✦✦✦✦✦✦✦
FREE ENTRY
●●●●●●●●●●●●●●●●●●●●●●
°°°°°°°°° LINE UP °°°°°°°°°°°°
▶◉ HAMADA
Arabica Music Rec. // Progetto Pandemia
(Psyprog)
soundcloud
Hamada combines eclectic drum rhythms, traumatic EDM breaks, colorful lead riffs and heavy bass shots with a fusion of transcendent elements in order to complete an acoustic voyage.
His debut first album consists by nine psy-progressive tunes of intelligent trance, fabulous monster beats, characterized by punch and innovation.
Hamada made a tremendous progress over the last years, increased his production skills and now he delivered a pioneering pack that must not be missed.
Each story has its own unique sound definition.
A truly elegant album that will leave its traces and stigma around the scene.
Make sure to follow Hamada and his social net, get connected and prepare to experience the new standards of psygressive modern trance!
All tracks where stem-mixed and mastered by HpsyV.
▶◉ PROG EFFECT
(Progressive trance)
B.P.M Rec. Fat chord records
soundcloud
Prog Effect is a project recently born in bologna, created by Denis D'amico and Enrico Sanna, two guys who love progressive trance and good vibes, after a few years of performance in Italian parties they joined in a fresh and new project and they are making themselves known in the European psytrance scene, just launched with the release called ACTIVATION with FAT CHORD RECORDS, always working for the next powerful releases ... it will be a journey
▶◉ SUBLIMINAL POTION
B.P.M Rec.
soundcloud
(Psyprog)
▶◉ L.MIGUEL
B.P.M Rec.
soundcloud
(Psyprog)
▶◉ NAXX
B.P.M Rec.
(Psyprog)
❖ ★ ✶ TIME TABLE ✶ ★ ❖
23 INTRO
00 NAXX
01 L.MIGUEL
02. HAMADA
03. POTION
04. PROG EFFECT
05. CLOSED
LA LOCATION E' FACILMENTE RAGGIUNGIBILE DAL CENTRO DI BOLOGNA CON I MEZZI PUBBLICI.
BUS 19
Grazie per la collaborazione avuta allo scorso evento, come al solito, ti ricordiamo che l'ingresso alla serata è GRATUITO!!
Info
Info
-FREE
-NO TESSERA
-OTTIMI DRINK
-NEW LOCATION
-10 KW SOUND SYSTEM
-INFOLINE: 340/8279006
Location
COFFEE BREAK-VIA FRATELLI CANOVA 51-SAN LAZZARO DI SAVENA (BOLOGNA)
Organizer
Organizer
B.P.M. (Bologna Progressive Movement)