RAVELATIONS Presents DUST ( Looney Moon Records,Italy) & SINGLE VISION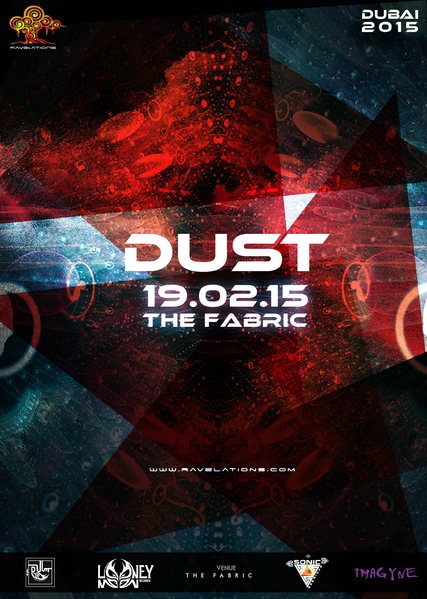 Line Up
Line Up
DUST (Looney Moon Records, Italy)
SINGLE VISION (DigitalOm Productions, Dubai)
Info
RAVELATIONS
Presents
DUST (Looney Moon Records, Italy)
SINGLE VISION (DigitalOm Productions, Dubai)
___________
Artist Profile:
___________
Artist / DJ Name: DUST
Home Country: Italy
Label: Looney Moon Records
Dust's unique sound has been released worldwide since 2008.
Melting groovy, full-on oriented basslines and rhythms with night time psychedelic sounds.
Dust has played live across the globe in countries such as Australia, Usa, Brazil, Israel, Russia, India, South Africa, New Caledonia, Canada, England, Germany, Greece, Austria, Cyprus, Portugal and Turkey.
The debut album " I don't like psychedelics" was released in February 2012 on Looney Moon Records, as well as the new album " My friends love psychedelics" released in March this year.
Alongside his Solo project, Dust is part of a few other collaboration projects such as Foam with Assioma, Dustinface with Phase ,Comadust with Comasector (hypogeo) and Mindshuffle with Ilai
[facebook.com]
[myspace.com]
___________
Artist Profile:
___________
Artist / DJ Name: Single Vision
Label: DigitalOm Productions
Single Vision is Vishal Sabnani from Bombay/Dubai. Having discovered Psychedelic trance through his first Goa Gil cassette in 2003,he got infected by the mystical side of psychedelic sounds. Having explored a mini paradise inspired from the beautiful tunes on the beaches of Goa. At the age of 20 he started playing and experimenting in various genres of Psytrance (morning, full- on and dark) at local shacks in Goa. His journey through psychedelic music took him from Dark ,full-on psytrance into the deeper morning sound of progressive psytrance.
Relocating back to Dubai where he was born, he was taken aback with the energy of the psychedelic trance community "Ravelations"- UAE's premiere psychedelic music portal .In the few years after finding himself and understanding his purpose, his passion was re-invigorated.
Fascinated by uplifting progressive psy sounds, he soon discovered that he was able to process his emotions and thoughts, to form dynamic and catchy tunes, that without a doubt, conquer dance floors!
***************
Entry: AED 100/-
Free entry for ladies & couples till 11 pm
Drink Deals:
FACE & Platinum Card - 50% discount on selected drinks
Venue: The Fabric Dubai Lodge, Oud Metha, Dubai
Doors Open: 8pm
For more Info, Bookings & Table Reservations:
E:
info@ravelations.com
/
ravelations@gmail.com
P: 050 6451119 / 050 882 3435
W:
[ravelations.com]
BBM: 73F4AE7E
Location
Location
The Fabric, Al Nasr Leisureland. Opposite American Hospital, Oud Metha. Bur Dubai.
Entry fee
Entry fee
Entry: AED 100/-
Free entry for ladies & couples till 11 pm