Backend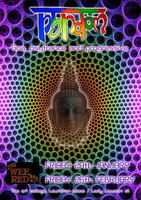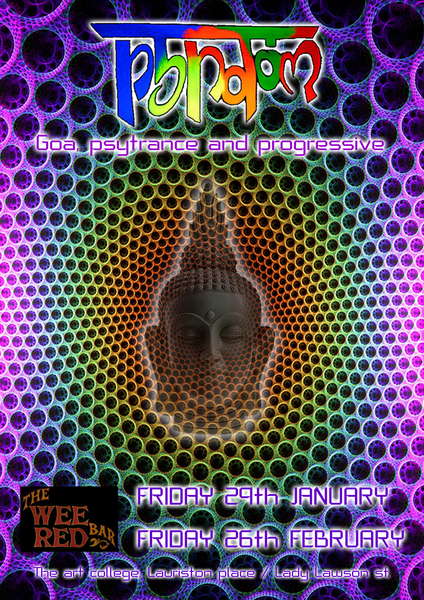 DJs
BIOFA (Namaha Rec. / Brazil)
PROCESS (Artifact Rec. / U.K.)
DARK EL KANTE (Adama Rec. / Spain)
SHOCK WAVE (Shock wave sound system / Italy)
Deco
Visuals by Visual Gnosis
Decor by Random
Info
Random presents a journey through Goa, Psytrance and Progressive with international live acts and dj's, full U.V. decor, visuals, face painting and free cd's.
BIOFA (Namaha Rec. / Brazil)
[myspace.com]
DJ Biofa is native of Rio de Janeiro, Brazil. (based at MADRID-SPAIN) Biofa its a dj set of labels: Namaha Records and Ultravision Records. He moved to Spain in 2001 after getting involved in important events back in Brazil where he discovered psytrance after trying some styles.
In Europe, joined Sinergia and Ganesha Crew and performed many rave parties and festivals with important names such as: GMS, Atomic Pulse, Quantica, Michelle Adamson, Soma, Rinkadink, Poli, Alchemix, Sum Sindhu, Earthling, Brain Hunters, DNI, Biogenesis, Fractal Noise, Ski Fi, Zaidan, Fiuzz, Ruhl, Hilight Tribe, etc... in places like Brazil, Italy, UK, Germany, Portugal, Mexico and Spain where he played at many citys and Ibiza Island at summer festivals and traditionals open air partys.
Biofa s style is characterized by the creativity of his sets, strong beats and melodic moments that make you fly, always offering an innovative and different vision of Psychedelic full-on and some Dark Full-on if the exact moment.
His Dj sets were broadcasted by web radios from Germany, Brazil, Spain and England where he played directly from Trance Moon Studios in London.
In total, his three Dj sets and Psychedelic Vision Dj mix were downloaded more than 140.000 times. This Dj has a brazilian way of living and making the crowd jump with a unique presence and constant empathy with people.
PROCESS (Artifact Rec. / U.K.)
[artifactrecords.com]
He started making music with Pete Martin aka Slide as Satori and released a few singles with Sirius, Aquarius and Matsuri before developing my own style as Process. After releasing a few tracks on Matsuri, Flying Rhino, TIP and Twisted he released One Drop Or Two? on Jens' Creamcrop label. Most of these tracks were made with Benji Vaughan aka Prometheus who gave a really warm melodic element to my more spikey sound design.
He has been lucky enough to play music all around the world and as a result have been able to collaborate with some wonderfully creative people such as AB Didge, Simon Posford, Tsuyoshi Suzuki, Drezz and many others, but it was Drezz who turned me on to Miles Davis and led to a whole new organic approach to making music.
He hasn't made any psy-trance for a while but I hope that any psychedelic heads will appreciate the Mystery School Ensemble and these musical journeys have a habit of coming around full circle so keep watching this space.
DARK EL KANTE (Adama Rec. / Spain)
[myspace.com]
Dark el kante is a game of words that means "to go off key or to act of discordant way" and is the dj name of Jorge Bazán, based in Scotland but native from Spain. It was at the end of the 90's when he discovered psy-trance as music and as a way of life, loving nature, traveling and attending various festivals around the world like in Morocco, Bolivia, Italy , Hungary...or playing in diferent events around the UK, Brazil, Spain, Slovakia, Costa Rica, Colombia, Germany,Latvia, Ireland and Austria or doing on-line dj sets in different internet radio stations like ://www.radioszkocja.pl/ (Poland) and
[radiondadurto.org]
/ (Italy) . Over the past 4 years he is an active participant in the psy scene of Scotland where he currently has residence, being events promoter and DJing at different clubs of Edinburgh as Studio 24, Ego club, The Caves and The Bongo club where he normally organise 2 monthly nights with the Random crew(www.myspace.com/psyrandom) and other with Timelord and Planet Monkey called Cosmic (myspace.com/cosmic_psy), trying to promote the underground scene in the UK and escape of the more commercial sounds. Also has participated in some free parties and raves over the UK, cooperating with different sound systems. His style as psychedelic dj sounds ranging from night twisted full-on psy and forest music to other styles as suomi trance. New mix out now:
[megaupload.com]
SHOCK WAVE (Shock wave sound system / Italy)
[myspace.com]
Location
The Wee Red Bar, The Art College
Lauriston place / Lady Lawson st.
Entry fee
Entry fee
5/4£ Students/members/guests
Added

13y

· Update

12y 11m

·