Rainbow Folks presents "Password is Love"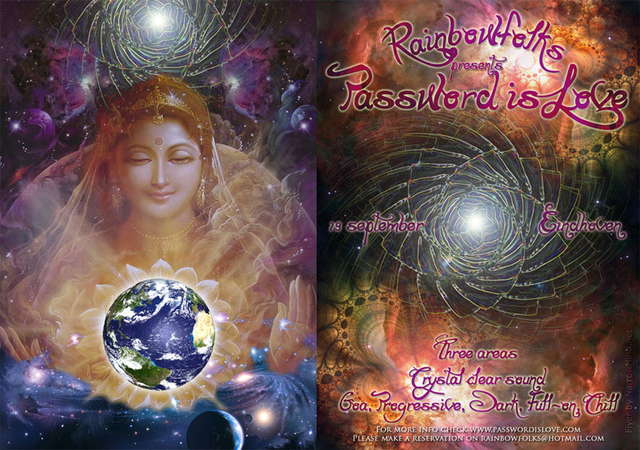 Progressive/Goa area:

Anoebis (BE) (Suntrip Rec)

Inada (BE) (Cronomi Rec)

Kairon (BE) (Neurobiotic Rec)

Froneo (NL) (Boombats)

Liken vs Jemca Explody (NL) (Boombats)



Dark/Fullon:

Strange Attractor (NL) (HCZ)

Bitan Bizarro (PT) (Ritmik State org/ Trailer Park rec))

Gaiana "LIVE" (LIT) (Arkona Creation Rec, Siloka)

Electric Lord (BE) (Madhatter.be)

Haggazussa (DE) (Dirty Dancing Cologne)

Renegade "LIVE" (DE) (H.S.S. Rec. D-A-R-K Rec. Active Meditation Rec.)

NarrowMind (NL) (N.M.I.)



Chill:

Aida (BE)

Antimatter (NL)

Obsidian Projekt (GER) (Tamil/Millennium/D.Frequenz Rec.) CANCELLED !!
REPLACEMENT is Yellow Galactic Sun (BE) - Flower Power 60's and 70's set !

The great escape of human breath (BE) - with LIVE Didgeridoo!
Info
Info
3 areas > Progressive/Goa - Fullon/Dark - Chill
Chai - food - fluo shop.
There will be market stalls with nice handmade art and clothes !

Due to the large interest in this gathering and the limited capacity of the location we have to work with a guest-list. So, no entrance without a reservation or name mentioned on our guest-list! GUESTLIST IS FULL !! SORRY !!

When you have made a reservation the location details will be sent to you this week.

Peace & Love.
Added

11y 10m

· Update

11y 9m

· 1 ·

/ 1