Radio Bäng Bäng VI - the last big bäng!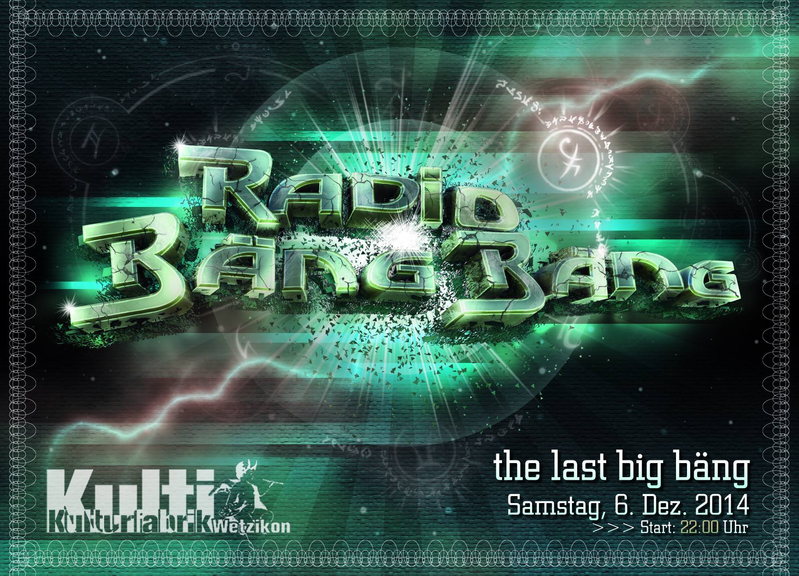 Line Up
time to say goodbye !

Abschied zu nehmen heißt, sich der Endlichkeit des irdischen Daseins bewusst zu werden. Abschied zu nehmen bedeutet aber auch, in eine neue Lebensphase einzutreten. Vollkommen erfüllt mit dem erreichten und all den schönen Momenten möchten wir uns aus der "öffentlichen" Partyszene verabschieden. Zu diesem Anlass werden wir es noch einmal so richtig krachen lassen.


LIVE:
Sun Control Species (AU) / IBOGA
-----
SUNTREE (IR) / IONO MUSIC
-----
RITMO (IR) / IONO MUSIC
-----
Human Element / Dj martin (CH) / IBOGA
-----
Unique Repeat (CH/DE) / PARQUET REC

SET:
Parallel Dialog (HU) / DEEPROG REC.
-----
Bi-Molecular (CH) / APHONIX REC.
Dj Macru / Bi-Molecular (Aphonix Rec.)
DJ Heinz
-----
Nampur (CH) / POLARGROOVE
-----
QMA (CH) / RADIO BÄNG BÄNG
Deco
Deco
╔═.*.══════╗
*** DEKO: ***
***MAE & MOA***
╚══════.*.═╝
Info
Shop:
[natraj.ch]
Natraj Erich und Barbara Serrano Molina
Eintritt: CHF 35.- / Alterskontrolle ab 18 Jahren
ACHTUNG: AUSWEISKONTROLLE ! OHNE AUSWEIS, KEIN EINTRITT !
Radio: Kling und Freitag Sequenza 10
Garderobe vorhanden.
SUPPENBAR UND FOOD VORHANDEN.
GRATIS Z'MORGÄ WIÄ IMMER !
Location
Location
Kulturfabrik Wetzikon
Organizer
Organizer
Radio Bäng-Bäng