QUO VADIS
Bensheim (Hessen)near Darmstadt ·
Germany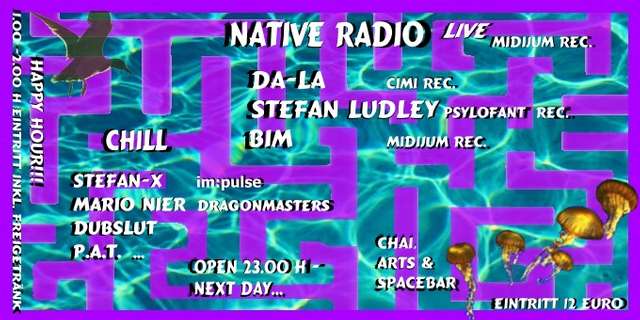 Live
Line Up
Native Radio
and special guests...
DJs
Da - La ( Sweden),
Bim ( Midijum rec.)
Stefan Ludley (Psylofant rec.)
Chill
Stefan-X
Mario Nier
P.A.T.
dubslut
and more
Deco
Deco
Video Projektionen and more..

dragonmasters & silberfisch-design
Info
Wir haben für Euch den roten Teppich ausgerollt... !! Wahnsinns Location.
Faire Getränkepreise Bsp. Bier 2 Euro, Liter Flasche Wasser 2 E, Jägermeister 1,50 E...
Wegbeschreibung:
Bensheim liegt an der A5 Darmstadt - Heidelberg

Autobahnabfahrt Zwingenberg
Von der Autobahn A5 Kommend in
Richtung Bensheim immer dem Berliner
Ring bis zur Weststadthalle folgen.

Autobahnabfahrt Bensheim
Von der Autobahn A5 kommend an der
ersten Ampel links auf den Berliner Ring
einbiegen. Der Straße bis zur
Weststadthalle folgen.
Location
Location
Weststadthalle Bensheim (Hessen)
Entry
Entry
12 EURO
Happy Hour!!!
1.00 h - 2.00 Eintritt inkl. Freigetränk!!!
Organizer
Organizer
movement.of.farmers
Hotline
02604 / 941465 ( 3 days before )
Added

17y

· Update

16y 9m

· 1