Backend
Quest4Goa & Moonblast +:. Sonic Gateway 2010 .: +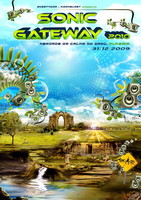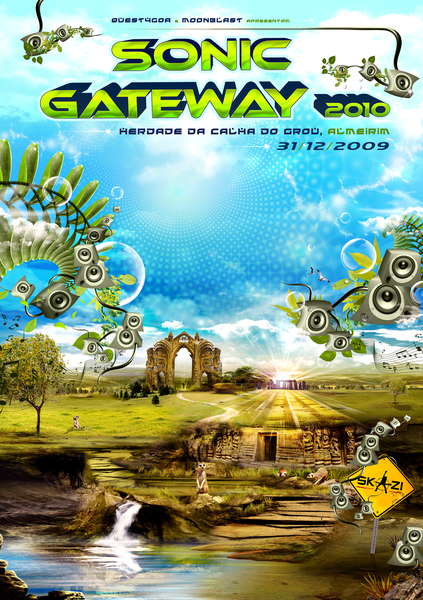 Line Up
SKAZI LIVE in Concert
(Chemical Crew) - ISR
Show Especial com a presença de um baterista!


ABOMINATION
(3DVision) - ISR
Apresentação do 3º álbum a ser editado no 1º trimestre de 2010


FILTERIA
(Suntrip) - SWE
apresentação novo álbum Daze of Our Lives


OUTER SIGNAL
(3DVision) - ISR
apresentação novo álbum Fabrik of Space

MENOG
(Spectral / 3DVision) - PT

ALIENN
(Hypergate) - PT
apresentação novo álbum Cosmic Matter


KHAOS SEKTOR
(HSS/Urban Antidote/Quest4Goa) - PT


PHOTONIK
(Quest4Goa) - PT
KUNTACT
(3DVision / Moonblast) - PT

ABOMINATION
(3DVision) - ISR

TAJMAHAL
(Electrik Dream / Vaporvent) - FR

..::|set especial --- de progressive a downtempo|::..
AES DANA
(Ultimae) - FR

FLUXO vs KAFAR aka TELEPORTERS
(Quest4Goa / Samaveda) - PT

TAMIGANI
(Magnetika Agency / Midway Station) - PT

TATA
(Quest4Goa) - PT
AES DANA
(Ultimae) - FR
apresentação novo álbum "Leylines"

TAJMAHAL
(Electrik Dream / Ultimae) - FR

UASCA
(Electrik Dream / Quest4Goa) - FR / PT
apresentação do álbum estreia a ser lançado em 2010 "Here and Now!"


dj set's

TAJMAHAL
(Electrik Dream) - FR

M&M's
(Electrik Dream / Ajnavision) - PT

LIQUID SHAPE
(Ajnagroove / Ensof) - PT
Deco
Deco: Celsious & LOKOmotion

Visuals: Meskal
Info
...::: ING :::...
Quest4Goa and Moonblast blend efforts on the production of the most awaited new years eve event - SONIC GATEWAY 2010, to happen in the well known Herdade da Calha do Grou, in Almeirim. Following the heritage of the most crazies HOLOGRAPHIC parties, these two promoters commit themselves to present a new, and fresh, experience!
Lots of music, dance and joy spread by two main musical areas:
main dancefloor- "Blasters floor", and chill out zone -"Dreamers area".
SONIC GATEWAY 2010 shows a pristine line-up filled with some of today's leading artists of the psytrance scene. With us, very special guests, one of the most well known live concerts worldwide: SKAZI (Chemical Crew).
SKAZI are composed by Asher (guitar), together with Bbass (keyboards) and Itzhak (drums). They will take us into a mind & body frame of powerful music and unified dance. Not to miss for anything in the world!
For the Blasters floor we underline the live acts and new album presentations of the internacionals, Abomination and Outer Signal, representing 3DVision records, and Filteria for Suntrip records. Also live the portugueses Menog, Khaos Sektor, D_Maniac, Alienn and Photonik. The decks will be controlled by Abomination, Kuntact, Tajmahal, Tamigani, Aes Dana, Tata and the dj duo Fluxo vs Kafar aka Teleporters.
For the Dreamers area we reserved an exclusive presentation of the french master musician AES DANA, with his new album "Leylines", representing Ultimae records. Also featuring live, Tajmahal and Uasca, this last band with their upcoming debut album "Here and Now!" to be released on Electrik Dream in 2010. The dj's on stage are M&Ms, Liquid Shape and Tajmahal.
We'll celebrate the entrance in the New Year together, with fireworks show and champaign / cake for all the presents! During the morning time, we'll offer fresh fruit to restore body energy
Doors open at 22pm and the log in is 25 Gates per person.
Keep tunned to all infos, videos, music e more details about the event at
[quest4goa.com]
–
[moonblast.org]
–
[psygate.net]
See you all at SONIC GATEWAY 2010!
...:::: PT :::..
A Quest4Goa e a Moonblast juntam-se na produção de um dos mais espectaculares eventos do ano!
SONIC GATEWAY 2010 segue a herança das mais loucas festas de fim de ano Holographic, agora com as crews Moonblast e Quest4Goa unidas na materialização de uma inesquecível e renovada viagem!
Contamos com um elenco de luxo, no qual destacamos a presença especial de um dos mais aclamados live concerts da actualidade: SKAZI!!!
Asher juntamente com BBass e o drummer Itzhak, numa performance imbatível, irão proporcionar um concerto inédito até à data em Portugal. A não perder por nada deste mundo
Ainda no line up as prestações ao vivo dos internacionais ABOMINATION, FILTERIA, OUTER SIGNAL e AES DANA, e dos portugueses MENOG, KHAOS SEKTOR, ALIENN e PHOTONIK.
Comemoraremos a entrada no novo ano com um show de fogo de artifício com a oferta de champagne e bolo rei aos presentes! Durante a manhã oferecemos fruta fresca de forma a repor energias e vitaminar os corpos!
..::: Artistas Info:::...
SKAZI ->
[myspace.com]
ABOMINATION ->
[myspace.com]
FILTERIA ->
[myspace.com]
OUTER SIGNAL ->
[myspace.com]
MENOG ->
[myspace.com]
ALIENN ->
[myspace.com]
KHAOS SEKTOR ->
[myspace.com]
PHOTONIK ->
[myspace.com]
KUNTACT ->
[click here]
TAJMAHAL ->
[myspace.com]
AES DANA ->
[myspace.com]
FLUXO vs KAFAR ->
[myspace.com]
&
[myspace.com]
TAMIGANI ->
[myspace.com]
TATA ->
[myspace.com]
..::: Promotoras:::...
Quest4Goa ->
[quest4goa.com]
Moonblast ->
[myspace.com]
Location
Almeirim, Fazendas de Almeirim, Herdade Calha do Grou
Organizer
Organizer
Moonblast & Quest4Goa