Backend
Quant'Om Ritual #1 w/ Dhatri, Sativa, Orysha, Elfie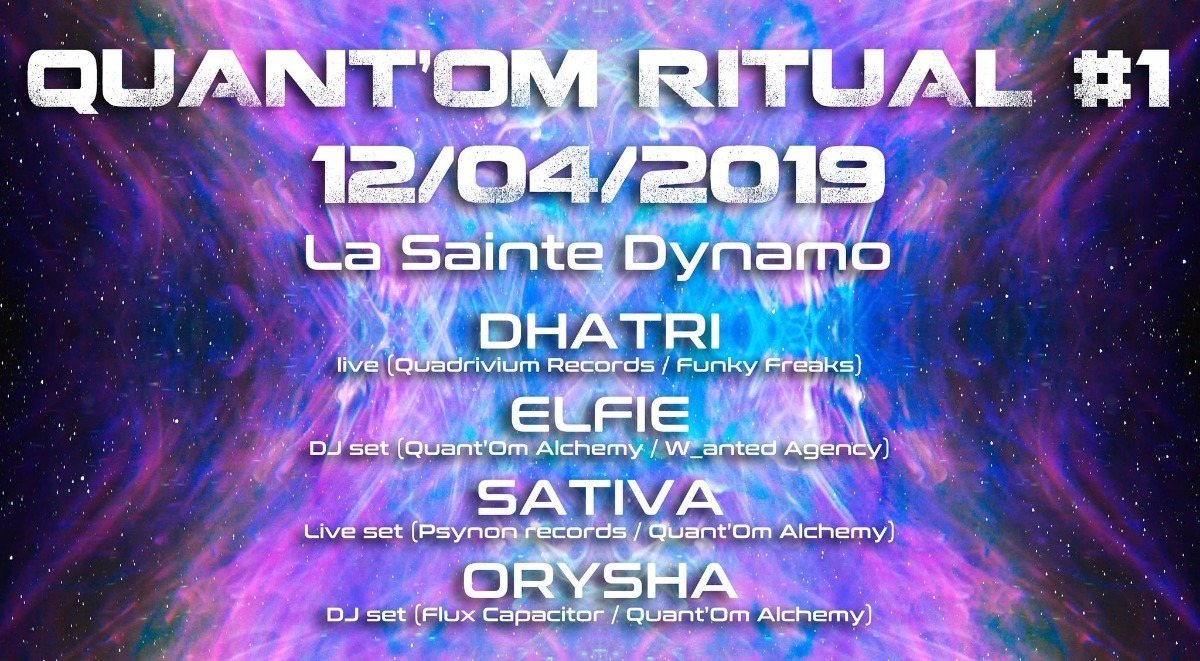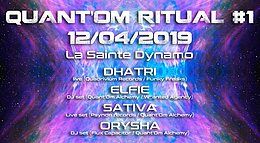 Line Up
Si on vous dit vierge marie, étage et centre ville, ca ne vous rappelle pas quelque chose ?
Allez faites un effort, nous sommes sûr que vous ne l'avez pas oublié !
Après le succès de la Trance fusion au père peinard, nous avons décidé de tout mettre en oeuvre pour vous faire danser dans une salle connue de tous, une salle mythique qui tombait petit à petit dans les souvenirs de la musique électronique toulousaine.
Et oui ! Quant'Om Alchemy est fier de vous inviter le 12 avril prochain pour LE GRAND RETOUR DE LA PSYTRANCE À LA DYNAMO !
Pour l'occasion, on va pas faire les choses à moitié !
Un line up varié comme on les aime, allant de la dark prog énervée et féline d'Eflie membre de l'ex-duo Cat's paws à la forest bien deep de Dhatri et Sativa tout en passant par la psy morning bien groovy de ce bon vieux Orysha !
Alors préviens tous tes potes que la psytrance est bel et bien de retour à la dynamo et que ca va etre malaaaaade !
Alors pour cette belle occasion les amis, grosse déco et mapping en perspective et je pense qu'aucun d'entre nous n'a déja vu cette salle décorée comme elle le sera le 12 avril !
Alors préviens dès aujourd'hui tes parents et grands parents pour dire que tu ne sera surement pas à l'heure pour l'anniversaire de ton petit cousin Quentin le lendemain midi car tu va finir en PLS !
S'ils te demandent pourquoi, dis leur que c'est LE GRAND RETOUR DE LA PSYTRANCE À LA DYNAMO !!!!!!!
On te filera un justificatif si jamais ils ne te croient pas !
Petite piqure de rappel, la Dynamo c'est en centre ville, rue Amélie. Tu payes ta place à l'entrée 8 euro, tu peux sortir fumer ta clope et re rentrer tranquilou berlou, tu peux aussi la fumer dans le coin fumeur si tu es un adept des aqua de fumée de galos ;)
Si jamais tu te sens trop à l'étroit dans la fosse, tu peux aussi prendre un peu d'air et de hauteur en allant danser à l'étage, bref la dynamo quoi.
Aller, trêve de plaisanteries, place au line up :
💥 DHATRI (Quadrivium records / Funky freaks records)
🎵 Forest
soundcloud
DHATRI est un projet de Forest Psytrance créer en 2016 par Alexis Chevrin. En 2017 il monte le Label « Quadrivium Records » avec le soutien d'une poignée de jeunes artistes français tel que Omja, Dewaka, Solarythm, Krapul, Psychoacoustique, ect…
Fusionnant un mélange subtil d'atmosphères, de percussions tribals, et d'une basse profonde, sa musique a pour but de transporter votre conscience à travers des émotions tant bien lumineuses qu'obscures.
💥 SATIVA (PSYNON RECORDS)
🎵 Forest
soundcloud
Sativa offre un style forest qui reflète son identité musicale. Son style est caractérisé par des leads déjantés qui se répondent les uns aux autres dans une conversation psychédélique, alors qu'il joue avec les cutoff de ses filtres, le pitch et le pan de ses oscillateurs, ainsi que les cloches de ses equaliseurs. Ajoutez à cela une grosse dose d'atmosphère étrange allant de gauche à droite comme un delay, et une reverb pour donner encore plus de psychédélisme à ses productions.
Au même titre que la plante, les tracks de Sativa vous procureront une bonne dose d'énergie et le sourire, qui aideront à augmenter votre activité cérébrale, pour être connecté avec les autres sur le dancefloor.
💥 ORYSHA dj ( FLUX CAPACITOR/Quant'Om Alchemy )
🎵 Psytrance morning
soundcloud
Julien aka Orysha, collectionneur passionné de psytrance depuis le milieu des années 90. Ex-manager du label Nun Shaker Records, on lui doit notamment la compilation Toxic Breakfast, parue en 2008.
Alliant technique et savoir-faire en matière de sélection, les mix de DJ Orysha vous embarqueront dans un tourbillon psychédélique, duquel seuls les vrais pirates reviendront sains et saufs.
Il a partagé la scène avec plusieurs artistes comme Dust, Ninesense, Kindzadza, Neuromotor, Fungus Funk, Parasence, Ocelot, Hyper Frequencies, Witchcraft, Nukleall, Mr What, Illegal Machines, Toto, Eden Lake, Phatmatix, Helwinn, Phonic Request, Module, Anakis, Organic Hybrid, Triskell, Electric Mirror, Pirated Machines.
Il travaille maintenant sur son projet nommé Flux Capacitor (twisted psy, et twilight psytrance).
NO TRAKTOR , NO SYNC
handmade mix for dusty freaks 🙂
💥 ELFIE LEEWAY (Quant'Om Alchemy/ W_anted Agency)
🎵 Dark prog
soundcloud
Toulousaine passionnée de musique électronique sous toutes ses facettes ; et plus particulièrement de Techno, Progressive Techno, Trance Progressive, Psygressive et Psytrance, Elfie est Co-fondatrice de l'association Quant'Om Alchemy et membre du label W_anted Agency.
Parcourant les festivals et organisant de nombreux événements depuis 2014, elle partage ses découvertes musicales au travers de Djs Set Psytrance / Psygressive / Trance Progressive / Dark Progressive / Psy Dub.
C'est au fil des rencontres qu'elle puisa ses influences avec des grands noms comme Occular, Talpa, Radikal Moodz, Ajja, Earthling, ZZBing, Illegal Machines, Synthetic Chaos, Eden Lake, Fighting Shadows, Chris Rich, Dirty Saffi, Psymmetrix, … et plein d'autres encore !
Se lançant depuis quelques temps dans la production et vous pourrez suivre son avancée via les quelques extraits disponibles sur sa page soundcloud !
Retrouvez-là sur le dancefloor pour un tapage de coussinet affirmé !
🌀 STAGE DESIGN / VIDEO / MAPPING 🌀
💥 STRING&DELIK 💥
[facebook.com]
Creators of psychedelic art installations and visual landscapes for Trance events. Founded and directed by Guigui & Adri !
🌀 INFOS PRATIQUES 🌀
🌍: LA SAINTE DYNAMO - 6 RUE AMELIE - 31000 Toulouse (METRO JEAN JAURES)
🕒: 22h-3h30
💰: 8 euros sur place / pas de préventes
Location
Location
6 rue amelie - LA SAINTE DYNAMO