Backend
Quadradelic Open Air Gathering 2018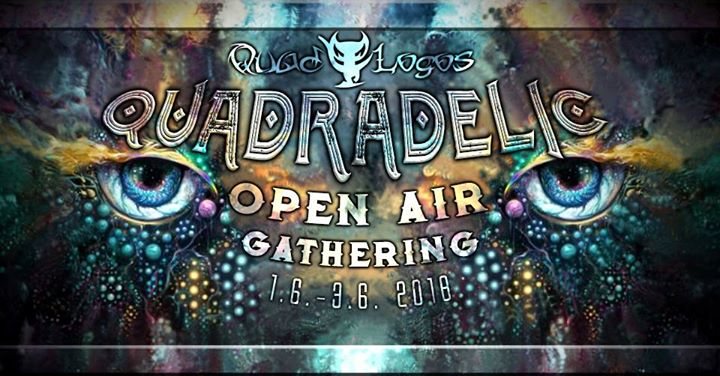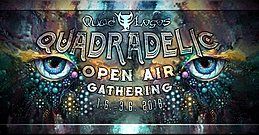 Line Up
❖❖❖❖ Quadradelic - Open Air Gathering 2018 ❖❖❖❖
SLO: Z navdušenjem napovedujemo, da bo ob začetku outdoor sezone v idilični naravi v okolici Ljubljane potekala letošnja edicija Quadradelic Open Air Gathering 2018! Skrbno smo sestavili internacionalni Line up iz : Avstrije, Bosne in Hercegovine, Hrvaške, Grčije , Nemčije , Italije in Slovenije , ki vključuje DJ-e in LIVE acte iz različnih spektrov psihadelične glasbe.
ENG: We are super excited to announce Quadradelic Open Air Gathering 2018! It will be located in idyllic Slovenian nature near Ljubljana and will bring you a carefully selected international Line up from : Austria, Bosnia and Herzegovina, Croatia, Greece, Germany, Italy and Slovenia , with high variety of DJs and LIVE acts from different spectrums of psychedelic music.
⏩⏩⏩⏩⏩ LINEUP ⏪⏪⏪⏪⏪
✬✬✬✬✬ LIVEACTS ✬✬✬✬✬
✬ CONFO (Parvati Records, Greece)
Thanasis Confo is dj/producer based in Athens.
Born with an italian/greek background he started, very young, to study music theory and play violin.
Elctronic music became part of his life after getting into the greek party scene and so he started first to collect and mix trance music and shortly after to produce it.
Travels are also big part of Confo's life, he is often in Goa or playing his music and djing around the world.
He's been signed by Parvati Records in 2013 and have as well released tunes on other underground trance labels.
►
[facebook.com]
►
youtube
►
soundcloud
✬ ISOMETRIC (GloOm Music / Catar Records, Austria)
Daniel Grassmann, also known as Isometric or MrGrassmann, is a young spanish Dj and producer born in Ibiza in 1994.
Daniel started Djing in 2009.Quickly he started playing in the famous ibiza campo partys and start to help organizing them.
Finally one year later he had his first gig en Las Dalias, ibiza with 16 years. After this he was invitaded in typicall ibiza psytrance partys like Wild Winter, Ibiza Vibestyle, Ibiza Psytrance Frequency, Shambala...
Later on he start to be dj for the Sumeria collective.,
And in 2012 he start to form part as DJ of Zero Gravity records.
2015 he joined the young promising spanish underground label GloOm music, where in June 2015 he released his first compilation "The Ancient Scrypts".
The second Chapter of the "Ancient Scrypts" series followed in November 2017.
The first EP "Lost in Paradise" was released in March 2017 also by GloOm Music,
The Music spectrum of this Live project is focused in groovy, funky, intelligent night time music. Ranging from 148 to 160 bpms.
From now on he played his live set and dj sets in countrys like Spain, Portugal, Germany, UK, Switzerland, Austria, Croatia, Hungary, Czech Republic and Slovakia
►
[facebook.com]
►
youtube
►
soundcloud
✬ KALA (Forestdelic Records, Slovenia)
Developing it's authentic sound and having passed through different levels in exploration of music production techniques, Kala is now a synonym of pure groovy dancefloor psychedelica fully present in the debut album 'Cosmic Caravan' and the latest EP on native Forestdelic records. The sound is a pretty diverse array of moods and rhythms which works in almost every indoor and outdoor party or festival setting as long as true psychedelic stomping music is required, the evidence of which you can find amongst the many witnesses from the many dancefloors around the world from Germany, Austria, Serbia, Slovenia, Macedonia, Ukraine, Russia, Georgia, Malta, Croatia, Bosnia, Brazil, Lebanon, Swisserland, Albania, Bulgary, Slovakia, Chez Republic, Hungary, Portugal, Nedherlands. And if you want an ear-on proof of the cosmic experience that happens on Kala's performances, be sure not to miss the next time you see it on your party or festival line-up.
►
[facebook.com]
►
youtube
►
soundcloud
✬ ANTHILL (Forestdelic records, Macedonia/Slovenia)
Band members: Ognen Zafirovski (Yudhisthira) & Darko Toromanoski (Kala)
►
youtube
►
soundcloud
►
[facebook.com]
✬ GENERATION Y (KlammHeimlich Production, Germany)
Bo and Wayne started this Project in 2015. In 2017 Joseph Wild also joined our production. We love all different styles of music. We produce hip hop, liquid drum&bass, techno, deep house, Psytrance, Forest, Hitech. We started djing in 2015 and stated producing one year later. We traveld already alot of different places with our music and meet a lot of awsome people from all around the world. Our plan is to created our first album and live act till next year .
Music is freedom, dancing is to see the hearts speak.
►
[facebook.com]
►
soundcloud
✬ NOCTURNAL // NEUROSYSTEM (Geomagnetic Family ,Digital Drugs Coalition, Kaoslab Crew, Croatia)
Nocturnal's music is synonymous with all that is exciting about techno,psytrance and ambient. Having emerged as the figurehead of so prolific Croatian psytrance scene, Nocturnal focused and considered approach to his craft has worked to confirm his position as a globally uprising DJ from Croatian outdoor gatherings and clubs. However life in music began for Nocturnal down in the grassroots; making the most of Croatian scene and working in his current company, Cosmic Production. It was here that Marko hooked up with the triumvirate of Simon Posford, Talamasca, Dark Whisper,Raja Ram,Orestis,Celestial Intelligence, and many more, sharing a passion for dynamic and diverse psytrance which inevitably led to the beginnings of production experimentation and musical exploration which has maintained to the present day.
Nocturnal is best known for his twisted sunrise DJ sets, bridging night into morning. His style ranges from foresty and twilight psytrance to deep & uplifting Goa sounds with a signature mature complexity that's ripe for a true psychedelic dancefloor adventure.
Neurosystem is a new side project, live experimentation.
►
soundcloud
✬ SUN WU KONG (Flying Carpet, Slovenia)
►
soundcloud
✫✫✫✫✫ DJs ✫✫✫✫✫
( Psytrance / Forest / Dark / Prog / Techno / Chill / Dub / Ambient )
• ALLAN (Kaos Lab/CRO)
soundcloud
• DAMZAH (Forestdelic/BIH)
soundcloud
•FLOW (Sundose/AT)
soundcloud
• HIGASHI (Flying Carpet/SI)
[hearthis.at]
• HAZE (Sundose/AUT)
soundcloud
• INTIP (Quad Logos/SI)
soundcloud
• NIBIRU (Dancing Dragon/SI)
soundcloud
• Dj URICH (World People Production/SI)
soundcloud
• NEXETUKU (MizzART/SI)
soundcloud
• N.E.S. (Dream Project Records/IT)
soundcloud
• RECRUIT (Headroom productions/SI)
soundcloud
• SHAMANIAK (Banyan Records / Shipibo Sounds/AUT)
soundcloud
• SKOKNIPALOKNI (Forestdelic/SI)
soundcloud
• SINONIMOUS (Mami's Magic/SI)
soundcloud
• SYNAPSIS b2b HAZE IN DUB
soundcloud
• SELGOR
soundcloud
• TISCHEENA (Mami's Magic/SI)
soundcloud
• VOLTAGE SELECTOR (Dream Project Records/IT)
soundcloud
• WINPA (Insectik records/CRO)
soundcloud
• WILLSON (Quad Logos/SI)
soundcloud
• ZWOOK (Kaliwood, Dancing Dragon, Spiritual SubMarine/SI)
soundcloud
+ TBA
Doors open at : 4PM
---------------------------------------------------------------------------
• Heavymedia 20 KW MARTINS AUDIO BLASTING SOUNDSYSTEM
----------------------------------------------------------------------------
✺✺✺ UV DECORATIONS & VISUAL MAPPING ✺✺
• Magic Mushroom
[facebook.com]
• Psy-Fly Psychedelic Decorations
[facebook.com]
• Quad Logos Organic decoration
----------------------------------------------------------------------------
✺✺✺SPORT & RECREATION WORKSHOPS✺✺✺
• Yoga
• Slackline
• Circus Workshops (contact ball, staffs, juggling, hula hoop, devil sticks..)
• Cloathing Shops & Workshops
----------------------------------------------------------------------------
✺✺✺LOCATION✺✺✺
GOSTINCA at Zalog, Ljubljana (Slovenia)
• Coordinates: 46.0696070, 14.6678680
• Google maps:
[goo.gl]
----------------------------------------------------------------------------
✤✤✤ FREE CAMPING ✤✤✤
❋❋❋ 24/7 OPEN BAR ❋❋❋
✩✩✩ Vegan & non-vegan FOOD ✩✩✩
✧✧✧ Chai & Sweets ✧✧✧
ONLY 18+
----------------------------------------------------------------------------
SUPPORT: One day: 12€ < 22.00h < 14 € / Weekend pass: 20€
Reservations on
quadlogospsy@gmail.com
----------------------------------------------------------------------------
•●●•٠ LOVE & PEACE •●●•٠ BoOoM !! •●●•٠
Location
Location
Zalog Ljubljana, (Slovenia) Coordinates: 46.0696070, 14.6678680
Organizer
Organizer
QuadLogos Psychedelic