Backend
QuadLogos presents: Ondrej Psyla & Damzah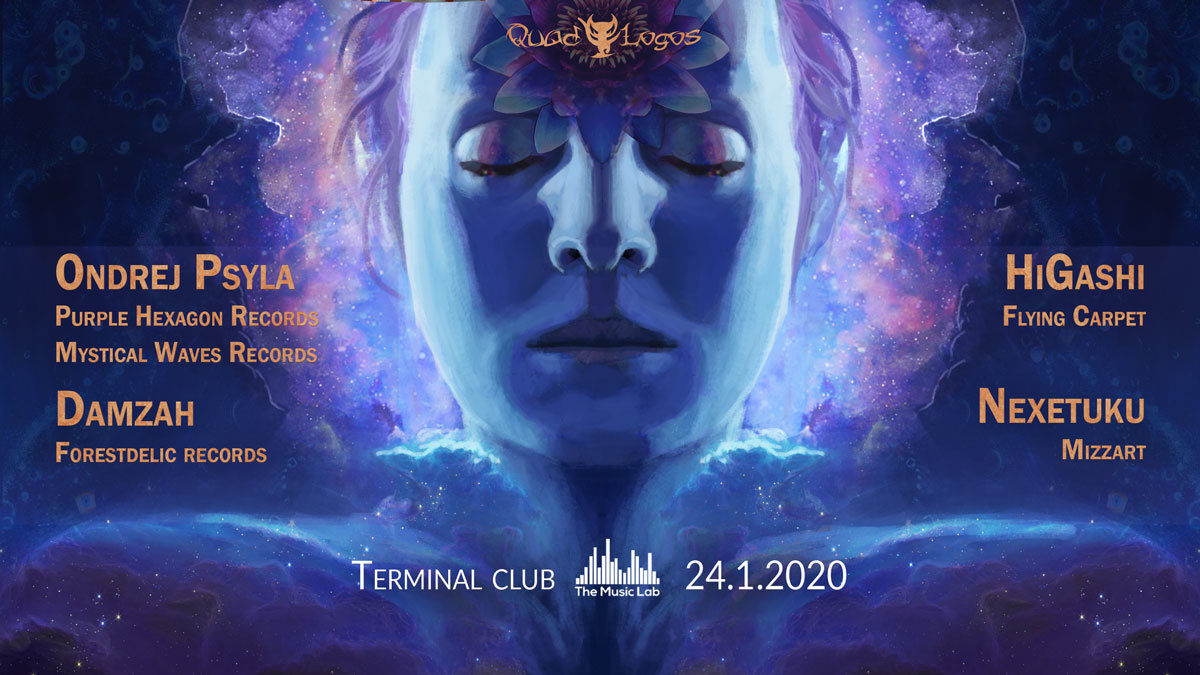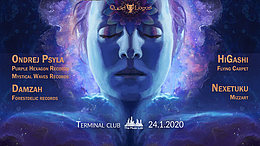 Line Up
٠•●●•٠ QuadLogos presents: ONDREJ PSYLA & DAMZAH ٠•●●•٠
V letu 2020 nadaljujemo s serijo indoor eventov. Tokrat v Ljubljani gostujemo dva izkušena DJa: Ondrej Psyla je član založbe Purple Hexagon Records, poleg tega pa je tudi ustanovitelj Mystical Waves Records, pri kateri je izdal 8 kompilacij. Njegov glasbeni repertoar se razprostira skozi dinamično paleto psihedeličnih zvokov, od progressiva in full-ona do nočnih temačnic, je pa tudi eden od organizatorjev festivala Digital Forest. Damzah se je s sukanjem elektronske glasbe začel ukvarjati že na začetku tisočletja, leta 2012 pa ga je pod svoje okrilje vzela založba Forestdelic Records. Je privrženec podtalnega psihedeličnega sounda, tuje pa mu niso tudi goa trance klasike. Gostoma se bosta pridružila izkušena sukalca psihadelije HiGashi in Nexetuku, ki na slovenskih plesiščih redno ustvarjata raznolike glasbene zgodbe.
-----------------------------------------------------------------------------
LINEUP:
ONDREJ PSYLA (Purple Hexagon Records / Mystical Waves Records) CZ
►
soundcloud
►
[bandcamp.com]
►
soundcloud
DAMZAH (Forestdelic Records) BiH
► soundcloud.com/damzah
► mixcloud.com/damzah
►
[bandcamp.com]
►
[facebook.com]
HIGASHI aka AGENT MUSHROOM (Flying Carpet)
►
soundcloud
►
[hearthis.at]
►
[facebook.com]
NEXETUKU (Mizzart)
►
soundcloud
►
[facebook.com]
-----------------------------------------------------------------------------
ONDREJ PSYLA (Purple Hexagon Records / Mystical Waves Records) BIO:
As the label manager of Mystical Waves Records, he has promoted many prolific producers, releasing 8 compilations, managing artists bookings for the Digital Forest Festival and organising parties in Czech Republic. With a passion for old classics and for finding new sounds to bring to the dancefloor, Ondrej regularly plays at festivals across Europe. In his sets he transmits the best of his rich and forever expanding collection of music, mixing beats ranging from 140 bpm (progressive psy) to 152 bpm (night psytrance).
He joined Purple Hexagon Rec. as a label dj in 2019, bringing with him his wide knowledge of psytrance music and his long experience in connecting artists and dancefloors in East Europe and beyond.
DAMZAH (Forestdelic Records) BIO:
Psychedelic trance DJ from Banja Luka, Bosnia & Herzegovina. His first contact with electronic dance music was at the end of the year 1995. In the beginning it was Hard Trance, Acid and Hardcore-gabba. Few months later he meets Goa Trance through the sound of projects like Eat Static, Total Eclipse, Astral Projection, Juno Reactor, Cosmosis etc. In 1996 he began to take Goa / Psychedelic sound much more seriously, and started to collect tapes and CDs with this kind of music.
He started DJing in 2003, and cofound DJ association Inner Sunrise in 2005. In his DJ sets he plays styles depending of the time in which he plays. From Deep Dark psytrance, through Forest, to total psychedelic sound. He is also a good connoisseur of old school sound, which he began with.
In May 2012 he became official DJ for Forestdelic records.
DaMzaH performed all across Bosnia & Herzegovina, Croatia, Italy, Macedonia, Serbia, Slovakia, Slovenia at the various parties and festivals such as Life Celebration, Sonica, Elysium Island, Free Mental, Psyalaska(we are in space), Inner Frequencies, Tides of Youth, Quadradelic... with artists such as Atriohm, Confo, Diksha, Fungus Funk, Malice in Wonderland, Kliment, Druru Nevil, ManMachine, UX/Kris Kylven, Ocelot, Chromatone, Power Source, Dimension 5, Altöm, …etc
The last few years he devoted himself to issuing a compilations, which are Branch Nutation (2015), Quantum Transitions (2016), Modicum (2018) signed for Forestdelic records.
He is considered as one of the pioneers of psychedelic music and culture in Bosnia & Herzegovina.
-----------------------------------------------------------------------------
Ξ SPECIALS
Tequila shot ali viljamovka 2,5 €
Safety cups.
-----------------------------------------------------------------------------
Dekoracije/Decorations:
► Psy-Fly Psychedelic Decorations & Quad Logos Decorations
-----------------------------------------------------------------------------
Vstopnina / Entrance fee: 8 €
Starostna omejitev / Age limit: 18+
-----------------------------------------------------------------------------
Lokacija / Location: Terminal Club - The Music Lab
Trg Osvobodilne fronte 6
Glavna Železniška postaja Ljubljana
1000 Ljubljana
--------------------------------------------------------
:: TAXI ::
T: 041 97 00 00
--------------------------------------------------------