Backend
QuadLogos presents: Isometric (Live!)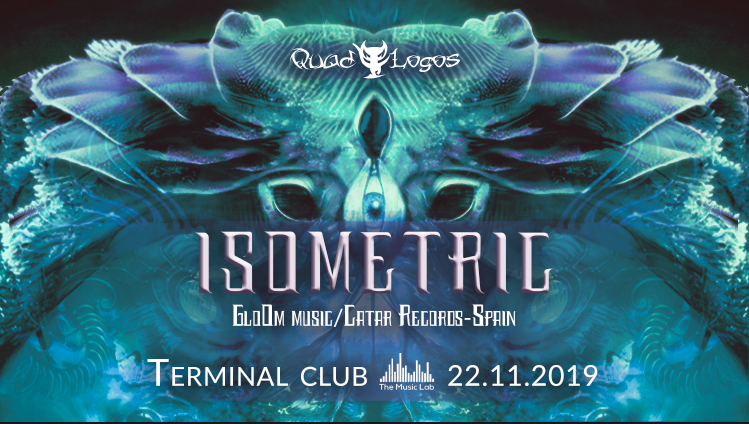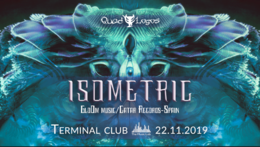 Line Up
•●●•٠ QuadLogos presents: ISOMETRIC Live! ٠•●●•٠
Ekipa Quad Logos nadaljuje s serijo indoor psytrance dogodkov. Tokrat v Ljubljano prihaja producent in DJ Daniel Grassman, ki ga psytrance entuzijasti bolje poznajo pod psevdonimom Isometric. Slednji sodi v kategorijo producentov, ki kujejo sodobno podobo podtalnega psihedeličnega trensa. Pri rosnih 25-ih letih pod svoje okrilje šteje 2 EP-ja in kopico drugih komadov. Isometric, s svojim zunajzemeljskim, energičnim, neizprosnim in organskim soundom poslušalcev ne pušča ravnodušne, o čemer pričajo nastopi na številnih eventih in festivalih (Modem Festival, Master of Puppets...).
-----------------------------------------------------------------------------
LINEUP:
✬ ISOMETRIC Live! (GloOm Music / Catar Records) Spain
► SC:
soundcloud
► BC:
[bandcamp.com]
► FB:
[facebook.com]
► IG:
soundcloud
✬ SHAMANIAK (Banyan Records, Shipibo Sounds) Austria
►https://soundcloud.com/shamaniak
►https://www.facebook.com/shamaniak23/
✬ CHEMICAL CONTENT (Transcape Records, Quad Logos)
►
soundcloud
✬ NIBIRU (Chagga Records)
►
soundcloud
✬ WILLSON (Quad Logos)
►
soundcloud
►
[facebook.com]
-----------------------------------------------------------------------------
ISOMETRIC (GloOm Music / Catar Records) BIO:
Daniel Grassmann, also known as Isometric or MrGrassmann, is a young spanish Dj and producer born in Ibiza in 1994. Daniel started Djing in 2009.Quickly he started playing in the famous ibiza campo partys and start to help organizing them. Finally one year later he had his first gig en Las Dalias, ibiza with 16 years. After this he was invited in typicall ibiza psytrance partys like Wild Winter, Ibiza Vibestyle, Ibiza Psytrance Frequency, Shambala...
Later on he started to be dj for the Sumeria collective.
And in 2012 he start to form part as DJ of Zero Gravity records.
2015 he joined the young promising spanish underground label GloOm music, where in June 2015 he released his first compilation "The Ancient Scrypts".
The second Chapter of the "Ancient Scrypts" series followed in November 2017. The first EP "Lost in Paradise" was released in March 2017 and the second "Different Perception" in May 2019 also by GloOm Music,
The Music spectrum of this Live project is focused in groovy, funky, intelligent night time music. Ranging from 148 to 160 bpms.
From now on he played his live set and dj sets in countrys like India, Spain, Portugal, Germany, Greece, UK, Switzerland, Austria, Croatia, Hungary, Czech Republic and some more!
-----------------------------------------------------------------------------
Dekoracije/Decorations:
► Psy-Fly Psychedelic Decorations & Quad Logos Decorations
-----------------------------------------------------------------------------
Vstopnina / Entrance fee: 10 €
Starostna omejitev / Age limit: 18+
-----------------------------------------------------------------------------
Lokacija / Location: Terminal Club - The Music Lab
Trg Osvobodilne fronte 6
Glavna Železniška postaja Ljubljana
1000 Ljubljana
--------------------------------------------------------
:: TAXI ::
T: 041 97 00 00
--------------------------------------------------------
Location
Location
Terminal Club - The Music Lab
Trg Osvobodilne fronte 6
1000 Ljubljana