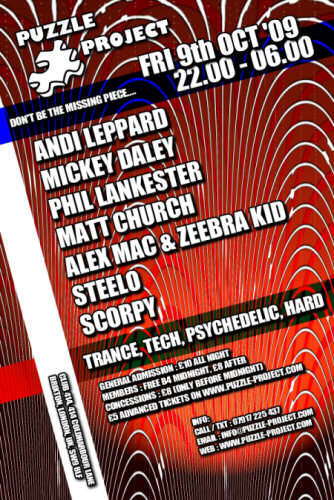 DJs
Andi Leppard
Mickey Daley
Phil Lankester
Matt Church
Steelo
Scorpy
Alex Mac & Zeebra Kid
Info
EVENT: Puzzle Project
WHERE: Club 414
ADDRESS: 414 Coldharbour Lane, Brixton, London, SW9 8LF
DATE: Friday 9th October 2009
TIMES: 10pm - 6am
MUSIC: Trance, Psy & Hard Dance
DJ's:
Andi Leppard
Phil Lankester AKA Libra 9
Mickey Daley
Alex Mac & Zeebra Kid
Steelo
Matt Church
Scorpy
MAIN WRITE UP:
Firstly, thanks to all those who joined in making last months 4th Birthday celebrations such a resounding success. Not only was a packed 414 the ideal setting to blow out the candles on our cake it was also a tremendous send-off for Puzzle Project resident/co-founder Ben Bennett as he ventures into new projects. Bennett fans need not fear though - you can look forward to guest appearances from him in the future.
Looking toward our 5th year you can continue to rely on us to provide quality line-ups, intelligent musical progression and an electrifying atmosphere in London's longest established dance venue.
If you haven't paid our beloved 414 a visit recently come and check out the improvements from recent refurbishments. If the tight but polite security, friendly and efficient bar staff and the happiest, bounciest crowd you're likely to encounter in an intimate and imaginatively decorated environment aren't enough to tempt you, perhaps October's offering of award winning DJ talent will…..
Phil Lankester aka Libra9 - The Puzzle Project founder and resident will be celebrating his birthday with the party on which his burgeoning wider reputation is built. Therefore you can expect blistering psytrance played with the skill and finesse you would associate with someone recently made a mainroom resident of Halcyon - the new regular psy night of London's prestigious Matter @ o2 venue.
Matt Church - The Puzzle Project co-founder and resident prides himself on rocking dancefloors. And rock them he certainly does as regulars and newcomers alike never fail to be impressed with his smoothly mixed blend of quality trance. Pounding, euphoric and guaranteed to leave you begging for more. A recently overheard comment - "I don't like trance….. except when Mattie plays it" really says it all.
Andi Leppard - Andi's original influences include such legendary parties as Escape from Samsara, Return to the Source and Pendragon. If we also tell you his Antiworld residency has seen him recently play alongside such luminaries as Astrix, Infected Mushroom, Laughing Buddha and Eskimo it shouldn't take you many guesses to conclude you'll be in for a psychedelic treat. Having seen him successfully promote Jarred (Portsmouth/Bristol) and with DJ sets having spanned the UK and international scene for nearly 10 years, we can't wait to see what he has in store for us as he makes his Puzzle Project debut!
Steelo - A welcome return to Puzzle Project for the Prince of the Rinse! His DJ CV reads like a "Who's Who?" of clubbing. Besides our good selves - Peach, Ministry of Sound, Party Proactive and Chew the Fat have all previously played host to his talents. An integral part of the breakbeat scene for years he retains his shake yo ass roots whilst showcasing his new minimal sound. As a DJ who is very selective about which promotions he will play for, don't miss this relatively rare opportunity to see a true legend in action!
Mickey Daley - No stranger to the 414, he first played the venue over 15 years ago! Since cutting his teeth in Coldharbour Lane, Mickey has been making big waves (har har!) on the south coast with his promotion and residency of Bournemouth's undisputed number one Psytrance night - EDEN. We made the trip down to check it out for ourselves and were simply blown away by this mans energy and enthusiasm. The decision to have him come and play at Puzzle Project wasn't simply decided on that criteria though. It was more the fact he had us and the rest of the capacity crowd dancing like rabid, deranged, salivating loonbags!
Scorpy - Touring the length and breadth of the country alongside the almighty Diablo-Traxx collective hasn't been enough to satisfy Scorpy's hunger for devastated dance floors. We are delighted to present this emerging talent, covering the harder shades of the dance spectrum.
Alex Mac & Zeebra Kid - With a plethora of production/remix credits and numerous gigs to their name you might already have an idea of just how awesome this duo are! Prepare to be taken on a journey of scintillating hard house and sizzling hardtrance with a smidgen of freeform and acid sauce on the side!
With all that to look forward to, you could be forgiven for thinking that it's likely to be an expensive night out. Rest assured limited advanced tickets available for only £5.00, you can have a fantastic night out without having to pull a pair of tights over your head and wandering into the Post Office with a loaded shotgun!
COST:
Advance tickets ONLY £5 on
[puzzle-project.com]
£8 B4 12pm, £10 after
Concessions £8 B4 12pm (Names
info@puzzle-project.com)
Members FREE B4 midnight £8 after
CONTACT:
07917 225 437 / 07835 033 007
info@puzzle-project.com
FLYER LINKS:
[co.uk]
[co.uk]
TRANSPORT:
Tube = Brixton (Victoria Line)
Rail = Brixton mainline station
Bus - Main Daytime buses = 2,3,35,37,45,59,109,118,133,159,196,250,322,333,345,355,415,432,P4,P5
Night buses = N2,N3,N35,37,N133,N159,250,689,690
[londonbusroutes.net]
RELATED WEBSITES:
[puzzle-project.com]
Puzzle Website
[facebook.com]
PP facebook Fan Page
[facebook.com]
PP Facebook Group
[bebo.com]
PP Bebo Group
[dontstayin.com]
PP Dont Stay In Group
[dontstayin.com]
April's DSI Group
[co.uk]
Matt Church
[libra9.com]
Phil Lankester AKA Libra 9
[dontstayin.com]
Mickey daley DSI Page
[myspace.com]
Andi Leppard Myspace Music
[myspace.com]
Alex Mac & Zeebra Kid Myspace
[co.uk]
Red Sky Digital
[myspace.com]
Red Sky Digital Myspace
Location
Location
Club 414
414 Coldharbour Lane
Brixton
London
UK
SW9 8LF