Pura Vida presents: Trancelucid 2017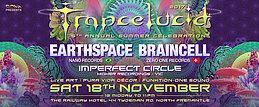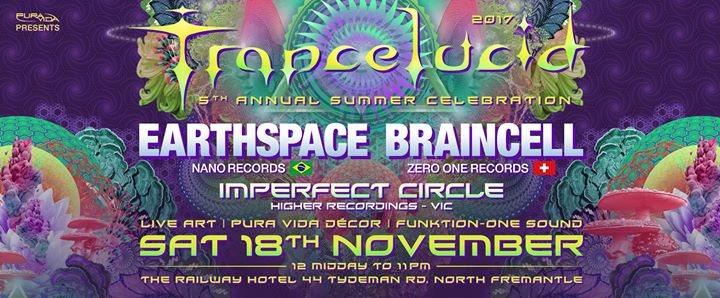 Line Up
Pura Vida proudly presents our 5th annual summer celebration: TRANCELUCID 2017 !!!
For half a decade now our tribe kicks off the beginning of the great Aussie summer with the best celebration in town.
With winter behind us, as the temperature rises, festival season is about to start, exams are just finished and it's that time of year for all you creatures to come out of hibernation and get your colourful vibes on.
We've missed our Pura Vida family and can't wait to be all together again for another epic psychedelic experience that will keep you buzzing all through the summer.
Get your colourful dress-up ready, your chakras buzzing and your bodies pumping and reunite our beautiful tribe.
Lots of surprises, amazing lineup, mind blowing décor, vibed-up loving dancefloor, thumping Funktion-One sound and misty sprinklers to cool you down when it all gets hot!
For this year's Trancelucid we are excited to have one of the best lineup's ever landed in Perth.
BRAINCELL (Zero1 Rec / Switzerland)
-------------------------------------------
Having started in 1994 as a producer and DJ, Ralph founded the project Rastaliens together with his friend Jay. In 2003 they released the album «Xplore The Wild Side» on BooM! Records. At the same time he moved to Switzerland with his wife and decided to start his own project called 'Braincell'. His first album «Universal Language» was released in 2005, which was followed by an impressive string of releases on various compilations and major labels. Two years after his debut, his second album «Transformation of Reality» came out. The last Rastaliens album «Back on Earth» was released in 2007. One year after, Braincell's third album «Frequency Evolution» was released on Glowing Flame Records and in 2010 his fourth album «Intelligent Being» came out on Free Spirit Records. These CD's were followed by several releases on various compilations. The «5th» album was released back on 'BooM! Records' and the 6th album «Connecting Multiverses» was released on 'Blue Hour Sounds' 17. February 2017.
Since 2007 Ralph has also been producing tracks by the project name 'Solar Spectrum', which represents the more progressive side of his creativity. Solar Spectrum's debut album «Planes of Existence» was released on Free Freak Records in 2009 and his second album «(R)Evolution of Consciousness» was released two years after on Free Spirit Records. «The Reunion» EP was released on BooM! Records in 2013 together with his 3rd album «Source Energy Creations» (re-released on Ovnimoon Rec.) and 4th album «Droplets from the matrix» (Ovnimoon Rec.) followed by several releases on various VAs and Labels. The 5th album «Divine Energy» was released on Furthur Progressions Rec. in December 2016.
In 2013 it was time for an Ambient/Chill/Downbeat project which was realized under the name 'Unknown Reality'. Releases are available on unknownreality.bandcamp.com and the 2nd full length album is on its way.
Beside he is involved in other projects like The Rave Commission & Brainalien, he has several collaborations coming up with other artists from the international Psytrance scene like 'Melting Point' (together with Earthspace) and
'Driftsetters' (with Maluns).
To date Ralph have been playing on every major continent; in countries like: USA, Brazil, Mexico, Australia, South Africa, India, Thailand, China, UK, Switzerland and all over Europe etc. and received much praise for his energetic and emotional live shows, DJ sets and production skills.
soundcloud
[facebook.com]
EARTHSPACE (Nano Records / Brazil)
-------------------------------------------
Earthspace is the psychedelic musical expression of young Brazilian groove maestro, Matheus Nogueira. With over a decade of sound tinkering savvy, he is already revered as one of the most dynamic & cutting-edge psytrance producers on the international circuit, having done remixes for and collaborated with some of biggest names in the scene. He is also half of the recently formed Melting Point (together with Braincell), as well as part of the infamous RaveCommision conglomerate. No matter the project, the pure passion he puts into every creation can be felt throughout his productions, with his full-power performances consistently elevating dancefloors into heaving frenzies of merry madness. He recently joined the ranks of renowned Nano Records family, where he has unleashed his much anticipated debut album, 'As Above So Below'.
One of the biggest upcoming artists who have rocked the biggest dancefloors around the globe will be coming to Australia for the first time to rock our Pura Vida psychedelic playground.
soundcloud
[facebook.com]
IMPERFECT CIRCLE (Higher Recordings / VIC) - Techno set
------------------------------------------------------
Iranian-born Imperfect Circle (aka Sanad Zadeh), has been involved in the electronic music scene since late '90s. As a progressive-psychedelic trance producer, he creates music that radiates energy; his tracks are saturated with driving bass-lines, deep harmonic build-ups and melodically enhanced glitch flourishes, depending on the style of the track. Sanad's tracks are engaging and uplifting- the kind of music that will get a dancefloor pumping vigorously with an abundance of unique, masterfully crafted rhythms and percussive sounds.
Inspired by bands such as Pink Floyd, Deep Purple and Metallica, Sanad began developing his musical skills with drumming. From there he travelled the globe developing his musical repertoire and studying various musical callings- various ethnic musics, jazz and electronic and classical music production.
The diverse experience in music and dynamic sounds have enabled Sanad to cross the divide of language through his music. Since 2012, he has been continuously building momentum as a producer and appearing on many releases. Imperfect Circle, has been a successful act at various festivals such as Maitreya Festival, Brainforest, Yemaya, Soliton Drop and Rainbow Serpent Festival 2014 and 2015.
After playing at 2 Pura Vida gatherings 2012 & 2013 Sanad will be coming back to visit his WA family with a special tachno set.
soundcloud
soundcloud
(Techno project)
[facebook.com]
LOCALS
----------
ILUSHA
SPACE PIXIE
DANIEL SUN & PSYM
LIVE ART
-----------
- Lasse Topbjerg Visionary Art
[facebook.com]
- Kicks
[facebook.com]
- Tanka Teo
[facebook.com]
- Bee St Apples
FOOD:
Yummy wood fired pizza by Pizza Trip
Get ready as the Pura Vida vibes are in the air and coming your way !!!
Info
Info
facebook.com/puravidalove
Location
The Railway Hotel - 44 Tydeman Rd, North Fremantle