Backend
Pulsar Festival - Berlin Edition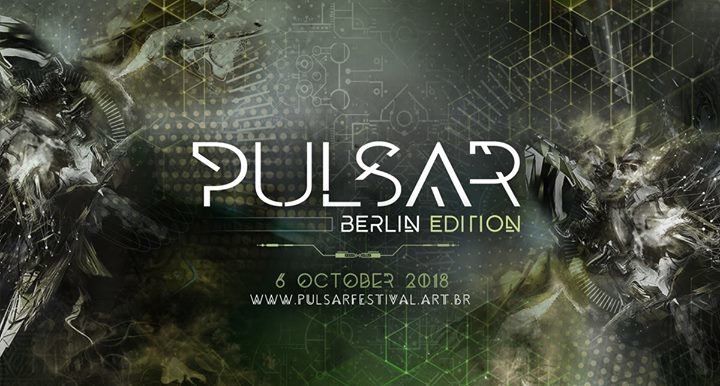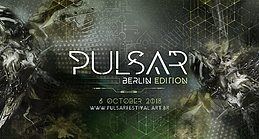 Line Up
Willkommen beim Pulsar Festival!
Am 6. Oktober landen wir in Deutschland mit der Cosmic Stage vom Pulsar Festival.
In einer bisher unbekannten und neuen Indoor Location für Psy Trance Partys in Berlin laden wir Euch ein.
Wir wollen euch ermöglichen das Festival welches seine Wurzeln in Brasilien / Minas Gerais hat, in dem National Park Mata Do Limoeiro, ein Stück näher zu bringen.
Das Pulsar Festival in Brasilien ist umgeben von einer bergigen Region mit einer wunderschönen Natur, Wasserfällen, Mineralien, Wanderwege und Aussichtspunkte über die Täler.
Der Dancefloor liegt auf einem Plato am Berg, wo er dieses Jahr am 30.05.2018 zum vierten mal eröffnet wird und mit einem Blick übers Tal einlädt.
Die Cosmic Stage in Berlin sollte uns allen genug Platz zum tanzen anbieten und um ein Teil des Konzeptes vom Festival dort zu präsentieren. Wir möchten euch in diesem Kontinuum der Zeit einen Raum erschaffen in dem sich Menschen aus den verschiedensten Orten versammeln können um ein Fest der Intuition, des freien Geistes und des Bewusstseins zu gestalten.
Ganz im Stil der Cosmic Stage werden wir euch 12 intensive Stunden mit deep psychedelischem Sound, Dekoration und Mapping ermöglichen.
Wir werden euch über die Entstehung der Cosmic Stage in Berlin in den nächsten Wochen und Monaten auf dem Laufenden halten!
Wir freuen uns auf Euch.
________________________________________________________________
Welcome to the Pulsar Festival!
On October 6th we land in Germany with the Cosmic Stage from the Pulsar Festival.
We want to enable you to get closer to the festival, which has the roots in Brazil / Minas Gerais, in the National Park Mata Do Limoeiro.
The Pulsar Festival in Brazil is surrounded by a mountainous region , which one is rich on a beautiful nature, waterfalls, valleys, minerals.The dancefloor is located on a plato on the mountain. Where it will be opened for the fourth time this year at 30.05.2018. This space invite with a wonderful view over the valley.
The Cosmic Stage in Berlin would give us a nice big space to dance and to realize a part of the concept from the festival.
In this continuum of time what we have there , we would like to give a space where people from different places can gather together to create celebration of intuition, free spirit and consciousness.
In the style of the Cosmic Stage, we will give you 12 intense hours of deep psychedelic sound, decoration and mapping.
We will updating step by step the next weeks and months the set up of the Cosmic Stage in Berlin!
We are looking forward to you.
____________________________________________________________________
- Line Up
Live:
>>>>>> Nargun (Parvati Records) <<<<<<
>>>>>> Fako (Parvati Records) <<<<<<
>>>>>> Elowinz (Parvati Records) <<<<<<
>>>>>> Chromarepo (Deviant Force Records) <<<<<<<
>>>>>> Megalopsy / Zigurat ( Dark Prisma Records) <<<<<<
.
Dj:
>>>>>> Jairam & Abralabim <<<<<<
( Fractal Nebula Rec. / Real Vision Music ) ( Fractal Nebula Rec. / Alice-D Production)
Decoration:
>>>>>> Free Optics <<<<<<
- Mapping
- Art & Photo exhibition
___________________________________________________________
Art design by Felipe Undurraga Gesh
Soundcloud :
soundcloud
Location
Festsaal Kreuzberg
Am Flutgraben 2
12435 Berlin
next train station: Schlesisches Tor or Treptower Park
Organizer
Organizer
Pulsar Festival