Psytrance Night en Madrid con Hypnoise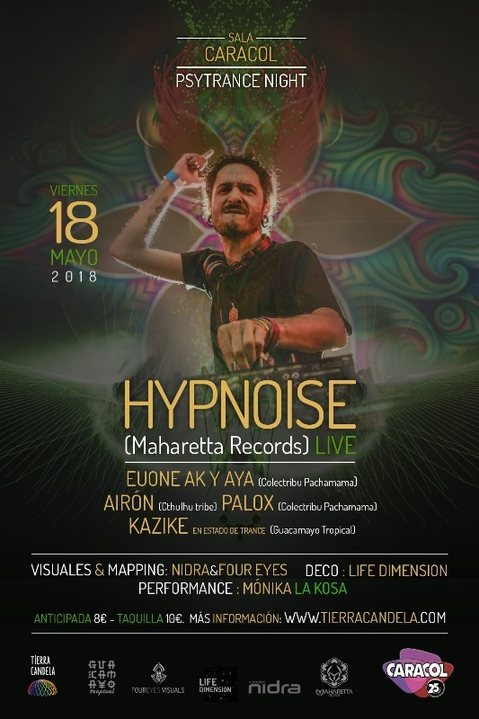 Line Up
El próximo viernes 18 de mayo Guacamayo Tropical, Tierra Candela, Life Dimension, Maharetta Records, Four Eyes Visuals y Visuales Nidra estaremos celebrando en la Sala Caracol de Madrid un reencuentro con la escena del PsyTrance.
Para ello contaremos con un line-up de lujo compartiendo viaje sensorial con viejos y nuevos amigos.
Sois todxs bienvenidxs!!
Hypnoise (live). Maharetta Records.
[hypnoise.com]
[maharettarecords.com]
Hypnoise es el proyecto en solitario de Juan Fontoira. Colaborando desde 2010 con los sellos Antu Records y Maharetta records, del cual es fundador.
Su primer release L.S.D. (Logical Structures Database) fue un éxito total alcanzando el Top 5 en varios rankings a nivel mundial, convirtiendo a Hypnoise en una referencia en la escena psicodélica.
Tras lanzar varios tracks en diferentes sellos, lanza su segundo EP Organic Machinery, esta vez ya en su recién creado sello Maharetta Records y poco después lanza su 3 EP de remixes con la colaboración de los ya conocidos Sonic Species, Tron e Ital, y de nuevo fue un éxito total en rankings y dancefloors de todo el mundo.
Su álbum debut Dimensional Shifting lanzado en 2014 por Antu Records alcanzó el Top 1 y desde entonces ha estado tocando y viajando a los festivales más grandes y conocidos mundialmente incluyendo Boom Festival (Portugal), Freqs of Nature (Germany) , Shankra (Swiss) , The Experience (Thailand), Sunburn (India), Ritual (Mexico), Rezonance (South Africa), Origin (South Africa), y la lista continua.
Mientras tanto ha estado lanzando tracks en varios sellos de gran prestigio como Nano Records, Free Spirit, 24/7 recs y trabajando en colaboraciones con los artistas de más renombre de la escena.
Incansable en la continua investigación y evolución de su sonido, Hypnoise consigue a través de su creación alquímica aportar producciones de dimensiones elevadas que enriquecen la escena del trance psicodélico.
En 2018 firma con el reconocido sello Sacred Technology y Lanza su segundo álbum Dance Among the Spirits.
Euone Aka y Aya (Colectribu Pachamama)
(
[click here]
)
Airón
mixcloud
Dj Palox (Colectribu Pachamama)
soundcloud
Kazike (Guacamayo Tropical)
soundcloud
Todo esto ambientado con visuales, video mapping e interactivos de la mano de Visuales Nidra (Fabiola Simonetti & Sole Bo) y Four Eyes Visuals, además de una performance a cargo de Monika La Kosa (Argentina).
Deco: Life Dimension & Guacamayo friend´s.
Entradas:
Anticipadas: 8 euros
En taquilla: 10 euros
Más información en
[tierracandela.com]
Location
Location
Sala Caracol. C/ Bernardino Obregón, 18. Madrid.