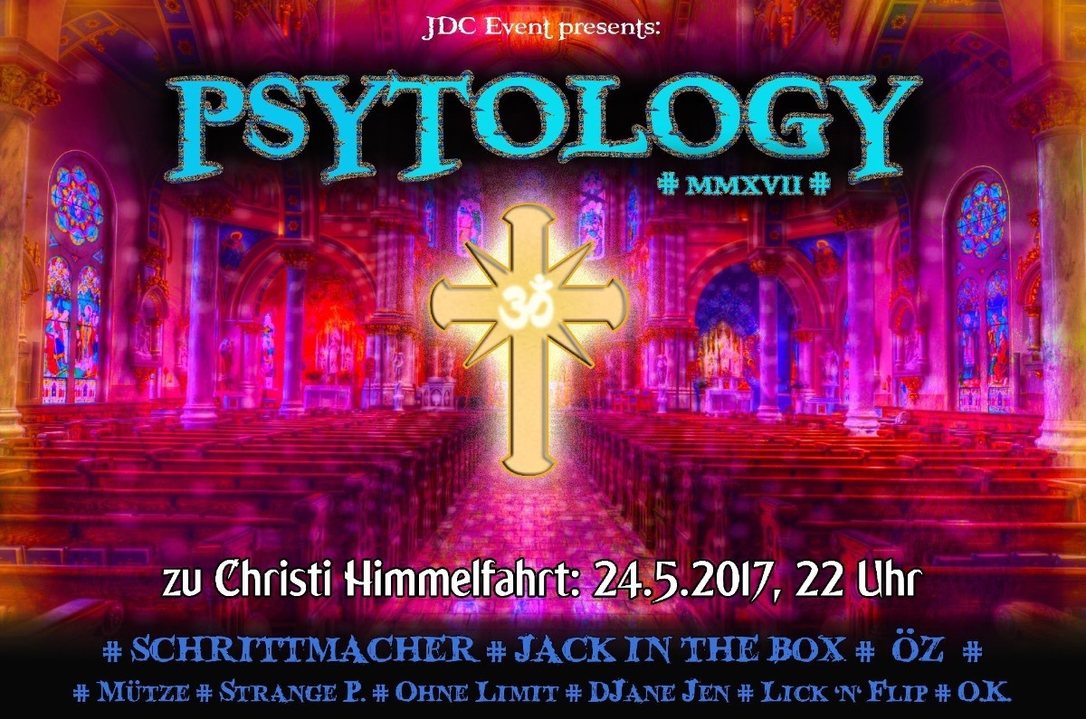 Line Up
2 Live Act's
Ein 2,5h Special Set
One Supriseact
12 DJ's
3 Floor's
LASERSHOW & Visual Art
♫ Für euch an unseren Psychodelischen Orgeln auf 3 Floors ♫
。☆*Psytology Area¨*•♪♫
。☆*Blue Diamond Stage¨*•♪♫
。☆*Ambient & Groove Room¨*•♪♫
♕→ Live Act's ←♕
First Time in Hamburg:
►ॐ Jack in the Box - Live - (Mexico)
♫
soundcloud
►ॐ LICK N FLIP - Live - with Percussions - (ov.silence Music)
♫
soundcloud
______________________________________
♕→ 2,5 Hours Special Set ←♕
►ॐ Schrittmacher - Special Set - (worldwidetribe events)
♫
soundcloud
______________________________________
♕→ Dj Sets ←♕
►ॐ Ohne Limit ♦ Gestört aber Doll
♫
soundcloud
►ॐ Djane Jen ♦ Savva-Records // Goa Geflüster
♫
soundcloud
►ॐ Mütze ♦ Blue Diamond Rec.
♫
soundcloud
►ॐ Dj Öz ♦ Spirit of Moksha
♫
soundcloud
►ॐ Lick `N`Flip ♦ OV.Silence Music
♫
[click here]
►ॐ Strange Personality ♦ Hamburg
♫
soundcloud
►ॐ DJ O.K ♦ Blue Diamond
♫
[click here]
►ॐ PsyAerox // Global Minds
♫
►ॐ TBA
♫
►ॐ SUPRISEGUEST ♦ :)
______________________________________
►Bodypaint by tba
______________________________________
Ambient & Groove Room
ॐ Psychedelic Trance meets Chillgressive ॐ
Zuerst erwartet euch Grooviger Psytrance-Sound, den der ein oder andere DJ wird
sich hier her verirren und ordentlich Dampf machen :)
Im Anschluss bekommt ihr sanfte Klänge zum Mitwippen, dazu Chai, Tee und wonach
das Herz für eine Chillout Runde begehrt.
Info
ॐ KOMM IN DIE KIRCHE DES PSY ॐ

Über 500 Pilger besuchten uns am großen Abend 2016 in der Kapelle 119! Nun gilt es den Gottesdienst zu erweitern! Wir feiern dieses Jahr groß! Auf drei Floors mit vielen neuen Priestern!
Unsere Religion, unsere Regeln. Wir tanzen nicht, wir stampfen bis in den Morgen.

____________________________________

Nach 40 Tagen der Ruhe im Reich des Todes, fuhr er auf und ließ sich zur Rechten seines Vaters nieder. Dies feiern wir auf unsere Art, ab jetzt, immer am Vorabend zu Christi Himmelfahrt (dem Vatertag)!

Lasse dich ein, auf ein großes Fest der Sinne. Die Kapelle ist erweitert worden und bietet uns nun noch mehr Platz! Verlasse dich auf deine Gefühle und pilgere heraus aus der lauten Stadt, konzentriere dich auf die schillernde Musik unserer Orgeln. Werde ein neuer Mensch, führe ein besseres Leben in Frieden und Harmonie. Tanze und erfreue dich, denn du wirst genug Platz haben. Verliere keinen Schweiß in deinen Mühen, Luft und Wasser bleiben stets kalt und frisch. Denke stets an Mitmenschen, hilf und nimm Hilfe an. Genieße in vollen Zügen!

Das ist die Religion von Psytology. Erlebe Sie wieder in 2017! Lerne sie kennen! Werde ein Teil davon.
Location
Kapelle 119

Kirchweg 119

JDC Eventcenter


Anfahrt:

Nördlich von Hamburg gelegener Club:


Kapelle 119 // JOY
Kirchweg 119
24558 Henstedt-Ulzburg


Auto:
A7 Richtung Norden, Ausfahrt Henstedt-Ulzburg (3. Ausfahrt nach Schnelsen)
Nach einem Kilometer rechts in die Gutenbergtrasse einbiegen und dem Strassenverlauf ca. 600m folgen!

Es gibt genügen Parkplätze vorm Club


Bahn:
AKN Linien – A1 & A2 & A3 bis Henstedt-Ulzburg (700m zu Fuß)
Taxi ca. 5 Euro bis vor die Tür der Location.

Bus:
Linien 196 & 293 & 616 bis Gutenbergstraße / Kirchweg
Entry fee
Entry fee
15€ inkl. Stoffbändchen
Organizer
Organizer
JDC Events

DJ Mütze

Blue Diamond Records