PsyStream - Digital PSYKOVSKY in concert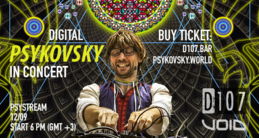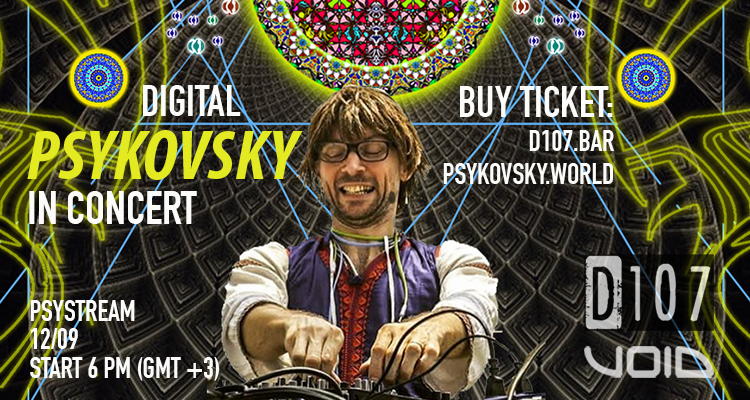 Line Up
Line Up
Welcoming All of You to a first of its kind streaming presentation - ultimate Psykovsky performance experience captured in real time by webcast professionals 📹 Intended to shoot in the specially decorated D107bar ambience with appointed audience, debuting 2 hours program will be demonstrated on September 12th 18:00 UTC+3 through servers all over the world!

Presentando un primer PsyStream con 2hr LIVE especiales de Psykovsky 📹. Para ver, presione BUY y regístrese ahora para obtener su boleto. El comienzo de la actuación 12/09/2019 a las 18:00 UTC +3.

Convido vocês para ver o primeiro PsyStream com 2hr LIVE especial por Psykovsky 📹 12/09/2019 a las 18:00 UTC +3. Para assistir, pressione BUY e inscreva-se agora para obter seu ingresso.
Location
WORLD WIDE WEB
PSYKOVSKY.WORLD
Entry fee
Entry fee
There will be three waves of tickets pre-sale.
First wave is from 28 Aug till 03 Sep - 200 RUR equivalent to 3 US $,
2-nd wave of pre-sale tickets will be live at 4 Sep and will end the day before event, 11 Sep - 260 RUR equivalent to 4 US $.
The price at the date of the event will be - 330 RUR equivalent 5 US $.
The currency and exact price wll be shown in paywall and depends on payment system you will choose.

The tickets are only for the live event. You can not watch the video after the event is over.
Organizer
Organizer
D107.bar & Psykovsky present
Added

3y 4m

· Update

3y 4m

· 1