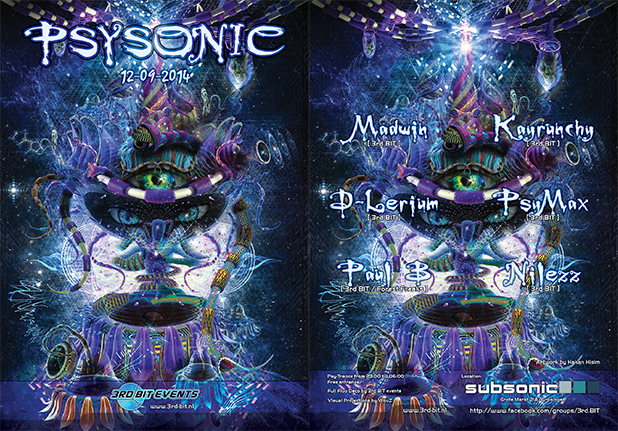 Line Up
Line Up
Madwin [ 3rd BIT ]
Kayrunchy [ 3rd BIT ]
D-Lerium [ 3rd BIT ]
PsyMax [ 3rd BIT ]
Paul B [ 3rd BIT / Forest Freaks ]
Nilezz [ 3rd BIT ]
Deco
Deco
Full fluo deco by: 3rd BIT events
Visual Projections by: WouZ
Artwork by: Hakan Hisim
Info
Info
In Groningen, 3rd BIT has teamed up with Subsonic to be able to deliver our Psy-Trance vibes right to the center of the city.

Subsonic has a good thing going, providing a forum with a huge array of music, ranging from Drum & Bass, Hip Hop to Metal, Techno and last but not least: Goa! The name Psysonic was the obvious choice for our parties at this excellent location.

Subsonic is situated right under a Japanese restaurant in the city's central square. This subterranean party-location hosts one of the most versatile and loyal crowds in the city.
Location
Location
Subsonic, Grote Markt 21A