PsynOpticz & Easy Company presents AFRIKADABRA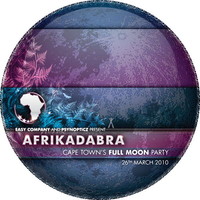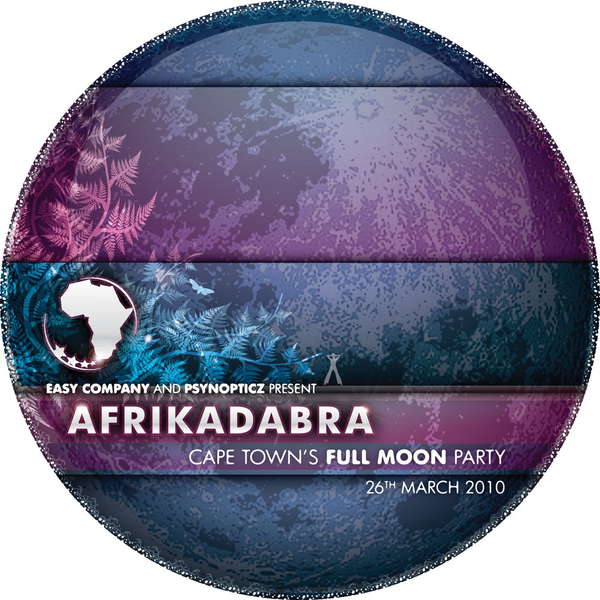 Line Up
REGAN (NANO)

GANDALF (ALCHEMY)

BIORHYTHM (DISASTERPEACE)

HYPHEN (AFRICAN DOPE/HOMEGROWN)

BROKEN SWITCH (PSYNOPTICZ)

JAM JAR (AFRICAN DOPE/THE VILLAGE)

DEAF PENALTY (TEKNOTRIBE)
Info
Welcome to Afrikadabra, Cape Towns Full Moon event. Since the dawn of time people have used the light and energy of the moon to create, embrace and enjoy the beauty of life. Join us in a gathering under the Full Moon for a celebration of music, art and dance. With a great variety of music ranging from minimal tech, dubstep, progressive and psychedelic we will soothe and stimulate your mind body and soul. For the first time in South Africa we bring you Carin Dickson and Artescape's psychedelic art gallery.
We have chosen The Castle of Good Hope as our venue as it has a detailed history just like the myths and beliefs behind the Full Moon. We will be hosting Afrikadabra in the Dolphin section. You will be floating through the delicious and psycedelic decor and onto the dancefloor filled with groovy beats and like minded peeps.
So its time for a NEW experience, one that you have never had before... one thats gonna keep you coming back for more :)
Doors open at 18H00
Carin Dickson & Artescape present The First Psycehdelic Art Gallery
A Display with pieces from Cape Town's eclectic mix of expressionism and hedonism.
<~<-Info & Bookings->~>
Contact Mike or Kade
info@easycompany.co.za
Calvin
psynopticz@gmail.com
<~<-Web->~>
[co.za]
[co.za]
[facebook.com]
[myspace.com]
[co.za]
Location
The Castle of Good Hope
Corner of Strand & Buitenkant Street
Entry fee
Entry fee
5 Tickets for R350
10 Tickets for 600

R80 - Early Bird Presale
R90 - Concession List Presale (Closes 24th March)

R100 - Door
Organizer
Organizer
PsynOpticz Productions & Easy Company Events
Added

12y 11m

· Update

5m 21d

·