Backend
PSYMOON PARTY- THE GATHERING EDICION- GUIMAR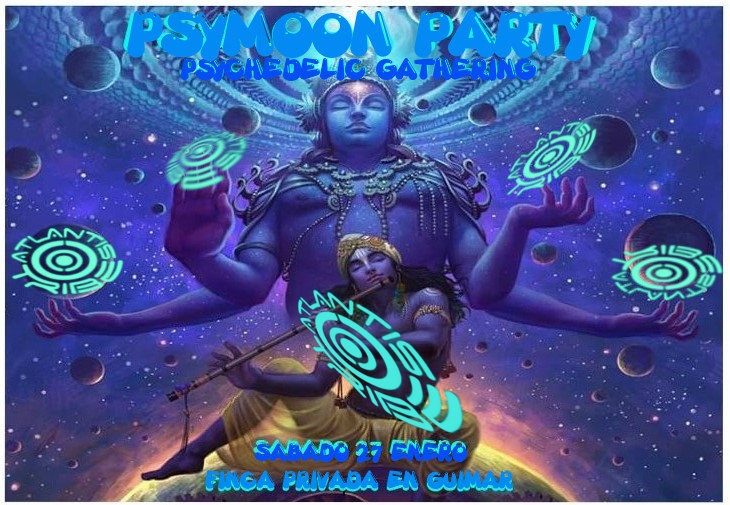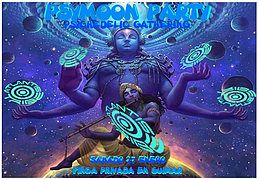 Line Up
INDYRA 22.30 00.30
Atlantis Tribe

FA-B-IA 00.30 02.30
Atlantis Tribe

PAKO 02.30 04.30
Atlantis Tribe

ATOM 04.30 06.30
Atlantis Tribe

DALLONJI 06.30 08.30
Atlantis Tribe

DARLEZAR 08.30 10.30
Atlantis Tribe

MIMOSA 10.30 TO END .. (closing set!!)
(Indipendent)
.
Deco
Deco
MIMOSA- ATLANTIS TRIBE ,FA-B-IA PROYECTIONS
Info
THE GATHERING EDICION QUIERE SER UN ENCUENTRO (de momento mensual )DE ARTE Y CULTURA PSYCHEDELICA QUE POCO A POCO IREMOS FORMANDO EN ESA FINCA PRIVADA EN GUIMAR, LA NUEVA SEDE DE ATLANTIS TRIBE. SERá DEDICADA AL DESARROLLO DE CUALQUIER FORMA DE ARTE INHERENTE CON LA PSYCHEDELIA. QUIEN QUIERA COLABORAR,AYUDAR O NECESITAS UN ESPACIO AL ABIERTO PARA REALIZAR SU PROPRIA FORMA DE ARTE PODRÁ CONTACTAR CON NOSOTROS A TRAVÉS DE LA PAGINA DE ATLANTIS TRIBE EN FACEBOOK.

EN ESA PRIMERA EDICIÓN ESTARÁN NUESTROS DJS Y AMIGOS, CON SU MÚSICA AUNQUE TENDREMOS EL VOLUMEN REDUCIDO CON RESPECTO A UNA FIESTA NORMAL.

ESTARÁN TAMBIÉN DECOS Y VÍDEOS Y CON EL TIEMPO IREMOS MONTANDO INSTALACIONES

NUESTRA AMBICIÓN LLEGA A SONAR UN JARDÍN LLENO DE ARMONÍA Y FELICIDAD EN MEDIO DE ARTE Y DONDE APARTE LA OBSERVACIÓN DE LAS ESTRELLAS PODREMOS COMPARTIR EXPERIENCIAS Y EMOCIONES PSYCHEDELICAS EN COMPLETO RESPECTO DE LA NATURALEZA (estamos a 100mt del espacio natural protegido) Y DE SUS VECINOS.

SÁBADO 27 ENERO PRESENTAREMOS ESE ESPACIO EN EL VERDE DEL BARRANCO DE BADALOJ .VOS ESPERAMOS TODO ARTISTAS Y PSYTRANCERSSS!!!! :)

TENDREMOS UN BAR, FLUOSHOP,BODYPAINTING,CHAISHOP CHILLOUT ZONE Y ESPERAMOS TB LAS PRESENCIAS DE OTROS MERCADILLOS QUE NOS IRÁN A CONFIRMAR LA PRESENCIA.


POR FAVOR RECUERDA :

NO LLEVEN BOTELLA DE VIDRIO!!!

NO SE PUEDE ENTRAR CON PERROS!!

NO SE PUEDE HACER BOTELLON EN EL APARCAMIENTO TENEMOS VECINOS DURMIENDO!!

RESPECTEN EL ENTORNO !! TIREN SUS COLILLAS EN LA BASURA !!

.
Location
GUIMAR- FINCA PRIVADA - DESDE NORTE O SUR /FROM NORTH OR SOUTH :

SALIDA GUIMAR EL PUERTITO Y SUBIR POR GUIMAR CENTRO. A LA GASOLINERA DE LA SHELL A IZQUIERDA POR "LA MEDIDA" , 100 MT Y AL SEMAFORO A DERECHA PARA TF 28 . SEGUIR TF 28 HASTA EL KILOMETRO 27 Y 300 MT DESPUES HAY UN DESGUACE DE CAMIONES DE LA BASURA A MANODERECHA Y PEGADA UNA CASA CON UN CAMINO DE TIERRA A LADO . (PAISAJE LAS ROSAS ) TOMAR ESE CAMINO Y 50 MT APARCAR Y SEGUIR ANDANDO.

SI EL PRIMER APARCAMIENTO ESTA LLENO SEGUIR BAJANDO EL CAMINO HASTA EL SEGUNDO O TERCERO APARCAMEINTO.
ATTENCION : hay vecinos que viven justo a lado del aparcamiento por lo cual no podemos hacer botellon en el aparcamiento.

ENGLISH :

EXIT GUIMAR EL PUERTITO AND GO UP TO GUIMAR. WHEN YOU ARRIVE AT SHELL GAS STOP TURN ON THE LEFT TO "LA MEDIDA" AND 100 MT AFTER ON THE RIGHT TO TF 28. FOLLOW TF 28 TILL KM 27 AND 300 MT AFTER THERE IS A PARKING WITH OLD RUBBISH CAR AND JUST AT THE FINAL OF THAT PARKING AN HOUSE WITH A DIRTY ROAD ON THE RIGHT. (PAISAJE LAS ROSAS) FOLLOW THE DIRTY ROAD AND LET YOUR CAR IN THE PARKING.

ATTENCION PLEASE : do no make too much noise in the parking zone beacause there are house very near!!
Entry
Entry
PEDIREMOS UN DONATIVO PARA SEGUIR DELANTE CON ESE PROYECTO. AUNQUE NO SEA OBLIGATORIO ESPERAMOS EN UNA VUESTRA COLABORACIÓN.
Organizer
Organizer
ATLANTIS TRIBE,MIMOSA
Web
FACEBOOK = ATLANTIS TRIBE CANARY ISLANDS