Backend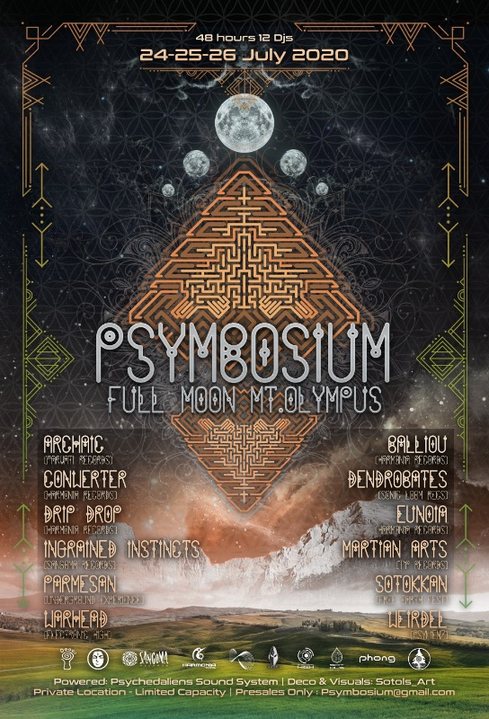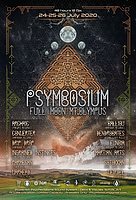 Info
To Psymbosium είναι μια γιορτή που θα γίνει στους πρόποδες του Ολύμπου!
Στην αρχαιότητα οι πρόγονοι μας διοργάνωναν συχνά συμπόσια (συν + πίνω) με σκοπό τη διασκέδαση τους και οι 12 θεοί ήταν πολλές φορές τα τιμώμενα πρόσωπα !
Είμαστε στο έτος 2020 στην ίδια περιοχή και έχουμε τώρα την ευκαιρία να συνευρευθούμε με σκοπό να γνωριστούμε ,να χορέψουμε και να νιώσουμε τις αρχαίες αυτές ενέργειες.
Οι 12 οντότητες που θα μας καθοδηγήσουν μουσικά σ΄ αυτο το συμπόσιο έχουν επιλεχθεί προσεκτικά,ωστε να οδηγήσουν στη αναβίωση αυτων των εορτών με τον καλύτερο δυνατο τρόπο!

Το Psymbosium θα λάβει μέρος σε ιδιωτικό χώρο όπου έχει φανταστική θέα προς τον βουνό των Θεών , υπάρχει πρόσβαση σε πόσιμο νερό , χώρους υγιεινής,ντουζιέρες καθώς και χώρος κατασκήνωσης κάτω απο δέντρα!
Τα εισιτήρια θα είναι περιορισμένα και θα διατίθενται μόνο ως προπώληση η οποία θα σταματήσει με την εξάντληση τους.
Δεν θα υπάρχει δυνατότητα αγοράς εισιτηριου στην είσοδο καθώς η εκδήλωση είναι ιδιωτικού χαρακτήρα !

Θα έχουμε τη τιμή να παρουσιάσουμε τη γιορτή μας με το καλύτερο δυνατό ηχοσύστημα και διακόσμηση για αυτή την τόσο σημαντική εκδήλωση που ετοιμάζουμε για όλους μάς !

English Version :

Psymposium is an event that will take place at the foothills of mt.Olympus.
Since the ancient times our ancestors organized symposiums,intending to celebrate life and the 12 gods were often the guests of honor!
We are in 2020,in the same magical place and we have that chance to get together, dance, celebrate and feel the same energies our ancestors felt back then.
The 12 beings which will lead us to these music journey are chosen wisely, in order to help us revive this ancient symposiums in the best possible way!
Psymposium will take place in a private property with a stunning view of the mountain of Gods.
There will be access to water supply, sanitary facilities and also camping space under the trees!
The event's tickets are limited and 'presale' only untill sold out.
There will be no ability to buy tickets at the doors due to the private character of the event!
Come along to enjoy the best sound system and unique decoration especially prepared for this event at the foothills of the mountain of the Gods!

4 hours Live and Set by each Artist !!!