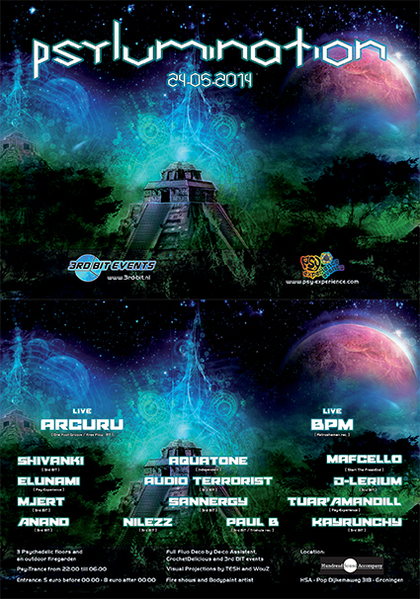 Line Up
Live:
Arcuru [ One Foot Groove / Free Flow - PT ]
Button Pushing Monkeys [ Retroshaman rec. ]

DJs:
Aquatone [ Independent ]
Mafcello [ Start The FreakEnd ]
Elunami [ Psy-Experience ]
Tuar'Amandill [ Psy-Experience ]
Shivanki [ 3rd BIT ]
Audio Terrorist [ 3rd BIT ]
D-Lerium [ 3rd BIT ]
Sannergy [ 3rd BIT ]
Mjert [ 3rd BIT ]
Anand [ 3rd BIT ]
Nilezz [ 3rd BIT ]
Kayrunchy [ 3rd BIT ]
Paul B [ 3rd BIT / Trishula rec. ]
Deco
Deco
3 Psychedelic floors and an outdoor firegarden
Full Fluo Deco by De-co Assistent, CrochetDelicious and 3rd BIT Events

Visual Projections by TESH and WouZ

Sound by Psy-Experience

Bodypaint artist
Info
Info
This cooperation between 3rd BIT Events and Psy-Experience is aiming to provide you a refreshing psychedelic experience!

At Psylumination you'll find three beautifully decorated stages: Chill-Out, Light stage and Night stage, all with their own style of music and visuals. The music will range from psychedelic Chill-Out to Prog and Full-On. And as you can expect, there will be a healthy dose of Dark-Psy and Forest.

The party doesn't end here. When you step outside, you can have fun in the Fire Garden and have a smoke in the heated party tent. There also will be lots of extras like fire shows and bodypainting.
Location
Location
Hundread Sound Accompany, Pop Dijkemaweg 31 B
Entry fee
Entry fee
5 Euro before 00:00 - 8 Euro after 00:00
Organizer
Organizer
3rd BIT Events & Psy-Experience