Psyload Night of Psycho - Alien Project (H20 Records) Live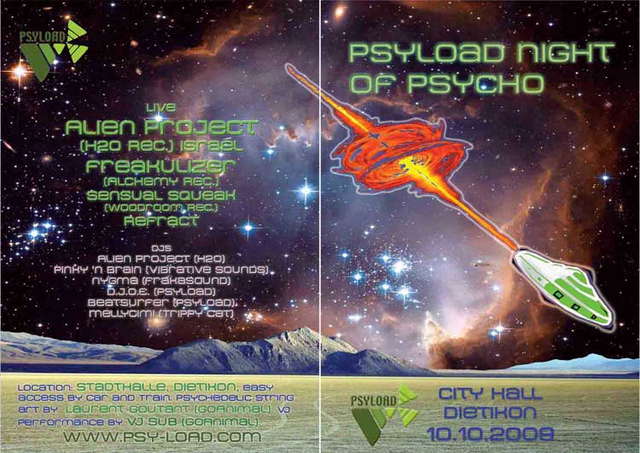 Live
Line Up
Alien Project (H20 Records Israel)
Freakulizer (Alchemy Records)
Sensual Squeak (Woodroom)
Refract
DJs
Alien Project (H20 Records)
Pinky n Brain (Vibrative Sounds)
Nygma (Fraka Sounds)
D.J.O.E. (Psyload)
Beatsurfer (Psyload)
Mellycimi (Trippycat)
Deco
Deco
Laurent Goutant (GoAnimal)
VJ EXIT FX (GoAnimal UK)

To help create the right atmosphere for this crazy night of Psychedelic Music, we will be having the assistance of the Psychedelically tallented Laurent Goutant (GoAnimal), who is decorating all around the world, from the Burning Man, to Paris, to Dietikon! His partner VJ EXIT FX (GoAnimal) will be flying in from the UK and will be performing as VJ to accompany our live performances.
Info
Presenting "Psyload Promotion's" first event in Switzerland. We are excited to be able to bring to you Alien Project (Ari Linker) from Israel, a true veteran of the Psy-Trance scene since 1994. Always progressing in time with the music scene, his music is developing into a fascinating array of styles, which he will mix up in to one of his unmissable and legendary groovy sets.

LINE-UP ONLINE NOW!

22:00-23:30 Beatsurfer (Psyload)
23:30-01:00 Mellycimi (Trippycat)
01:00-02:00 Refract LIVE
02:00-03:30 Pinky n Brain (Vibrative Sounds)
03:30-05:00 Alien Project LIVE (H20 Records)
05:00-06:30 d.j.o.e (Psyload)
06:30-07:30 Freakulizer LIVE (Alchemy Records)
07:30-09:00 Alien Project (Save the Robot DJ Set)
09:00-10:00 Sensual Squeak LIVE (Woodroom)
10:00-12:00 Nygma (Fraka Sound)
Location
Stadthalle Dietikon
Autobahn A1, exit 58 towards Dietikon. At the next major junction, turn left onto the Überlandstrasse. Stadthalle Dietikon is signed on the right after 500m. Parking is in the main cityhall car park. Check for PSYLOAD signs.
From the Train station 1.5km. Follow Stadthalle Dietikon signs.
Stadthalle Dietikon
Fondlistrasse 15
8953 Dietikon
For further information, please contact me on
event@e-junkies.ch
.
Organizer
Organizer
Psyload Promotion
Added

11y 11m

· Update

11y 8m

· 7 Parties ·

/ 9