Psylloween 2019 with E.V.P and Krosis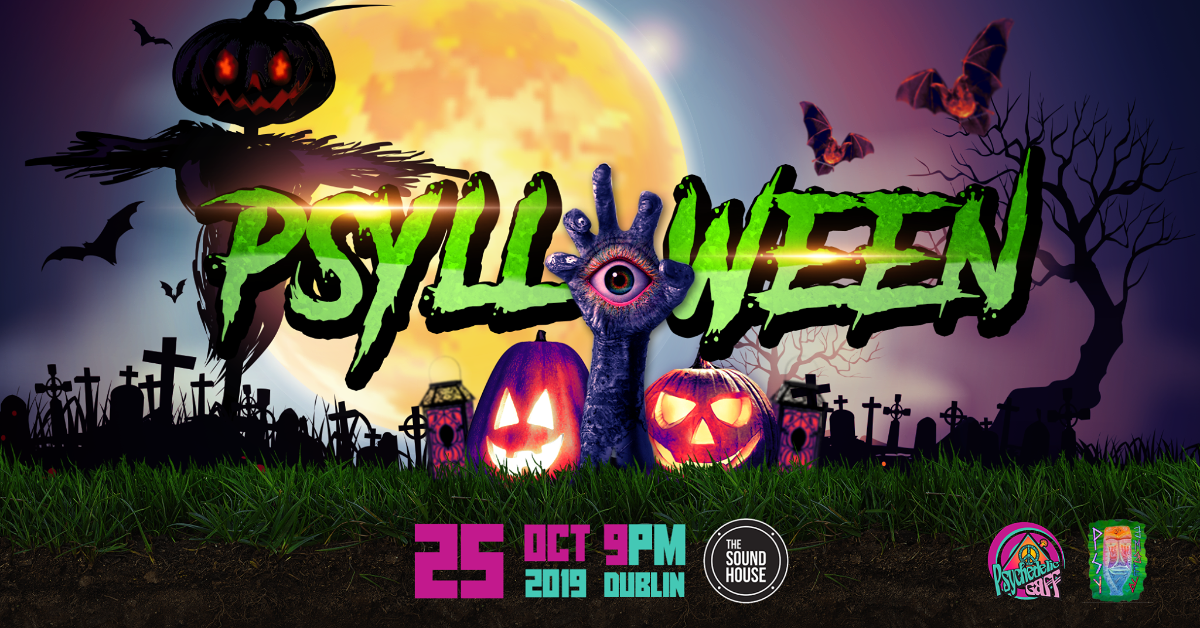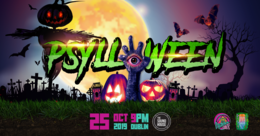 Line Up
Psylloween party is back in 2019!! 😆
Psychedelic Gaff and PsyEmber are mixing their magic potions to bring this unique night to Dublin again!
And if you don't want to dress up like a monster or something creep, dont worry, let's make this Psylloween funnier and more colorful 🌈 any costume will be allowed 😁 use your imagination! 💭
* After the success of a sold out night last year we strongly advise you to buy your ticket in advance *
⬛◼◾▪ LINE UP ▪◾◼⬛
▪ LIVE ▪
🎃 E.V.P (Wildthings Records) - UK
🎧
soundcloud
🎃 KROSIS (Blue Hour Sounds/ Woo-Dog Recs) - UK
🎧
soundcloud
▪ DJs ▪
🎃 Wirey Wizard (GNOMADS)
🎧
soundcloud
🎃 JuliosMap Vs. Organic Joy (Psychedelic Gaff/Oggy Psy Club/Galactic Groove Records)
🎧
soundcloud
🎧
soundcloud
🎃 Space S (Oggy Psy Club Dublin)
🎧
[click here]
/
soundcloud
▪ Drum & Bass SMOKING AREA/TERRACE powered by Initial djs ▪
WAH -
soundcloud
🎧
DEGREE -
soundcloud
🎧
JMC -
soundcloud
🎧
◼◾▪ LOCATION ▪◾◼
The Sound House
Doors open at 9pm
Over 18's (ID required)
◼◾▪ TICKETS ▪◾◼
Link:
[eventbrite.ie]
Early Bird: 12€ + Ticket fee
General Admission: 14€ + Ticket fee
At the door: 15€ all night
▪ DECORATION by Fractal SOUL Décor & PsyEmber
▪ FUNKTION-ONE Sound System
▪ DIGITAL ART/DESIGN by DP - Graphic Designer & Guitarist
____________________________________________________
▪ ABOUT THE DJS ▪
🎃 E.V.P
Alex Diplock has been producing psychedelic trance under the name E.V.P since 1995. Including his side project RealityGrid Alex has already released 7 solo albums, and more recently his first digital only E.P - 'Wildscape' (WildEP 008). The release exploits the legendary Kyma sound design system and many other high end tools such as 3D spatial audio processing to produce a truly immersive and cinematic experience on the dance floor.
His uniquely positive, groovy and deeply psychedelic approach to music production and also mastering business Wild Mastering has earned him well deserved respect among the global production community.
Originating from psychedelic rock music he first attended Guitar Tech at brunel university at the age of 16, however deciding that electronic production was his path, he began with electronic music production. He later obtained his production skills learning to record, mix and master rock bands using SSL mixing consoles and pro-tools with Logic audio back in 2000, after which he obtained an RSA approved level 3 GNVQ studio engineer certificate.
Along with Beardy Weardy he runs Wildthings Records delivering all the creative aspects including album covers, promo graphics and website content and also A&R. He has been traversing the globe spreading the music to far off lands for a number of years now stimulating minds and bodies globally, and has now long been a regular fixture in the international festival circuit. He also works professionally in the field of Motion Capture, and 3D interactive software & show development.
In the last 10 years Alex has played in more than 60 countries, ranging small parties to huge festivals his festival bookings among others have included Soulclipse festival Turkey, Universo Parallelo Brazil, Nagisa Festival Japan, Exodus and Super Freak Festival Australia, Hadra Festival France, Aurora Festival Brazil, Intriyami festival Peru, Universal Religion Nepal, Future Nature Festival Croatia and Ozora festival, Boom Festival, Blackmoon, Momento Demento festival and many others.
He is now working with creative partner and mastermind programmer DJ Apex (Neil Mendoza) to create a Next Gen 3D/AV experience.
FB:
[facebook.com]
SC:
[click here]
[co.uk]
🎃 KROSIS
Krosis is a DJ and producer born from the vibrant Bristol Psytrance scene. With a background of extreme metal, and blasting a twisted blend of gnarly, yet groovy styles, he is intent on bringing a variety of soundscapes to the scene. With tracks ranging from chunky, high-energy groovers to squelchy and organic darkness, he creates tracks that twist and turn, taking the listener on a journey. He joined Woo-Dog Recordings in March 2014. Since then, he released two EP's, and in June 2015, taken a residency at TriBE of FroG (Bristol), joining Blue Hour Sounds in January 2017. He continues to develop his sound to showcase it to the international psychedelic community.
FB:
[facebook.com]
SC:
[click here]
[bluehoursounds.com]
🎃 WIREY WIZARD
Zenon, Techno and Psytrance dj!
SC:
[click here]
🎃 ORGANIC JOY
Brazilian artist based in Ireland, has attended more than 10 years of psytrance parties and have been playing in the biggest psytrance festivals/clubs in Ireland for the last few years. Co-founder of the Psynonymous parties, started DJing in 2014 progressive psytrance and has now shifted to a more energetic Twilight/Night Full on under the Irish label Galactic Groove Records.
FB:
[facebook.com]
SC:
[click here]
IG:
[instagram.com]
🎃 JULIOSMAP
Julio began his contact with electronic music in 2006 when he attended to a dj course in his hometown São Bernardo do Campo (Brazil). For a few years varied his style between Electro, Minimal and Techno, when he also organized his first party called "Astech", back in 2008. But in 2011 after his first festival dedicated to the psytrance culture he fell in love with the people and the music and began to explore the fastest BPM's in his mixes.
With his untiring search for new songs, he has a characteristic style exploring psytrance and its variations, playing without rules and making his mixes a moment where he can enjoy doing what he loves to do.
Based in Dublin since 2014, few years later he started to organize the indoor party "Psychedelic Gaff" trying to bring what he experienced in different festivals to the parties, has already brought many artists to play in Ireland, some of them for the first time!
During this time he had the opportunity to play in festivals around Europe as S.U.N. Festival (Hungary), Solar Seeds Transylvania (Romania), Alien Vibrations (Ireland), Sundown Gathering (Ireland), Fuinneamh (Ireland) and Audio Garden (Ireland).
FB:
[facebook.com]
SC:
[click here]
IG:
[instagram.com]
YT:
[youtube.com]
🎃 SPACE S
SC:
[click here]
MC:
[click here]
Location
Location
The Sound House (inside The Wiley Fox)
28 Eden Quay - Dublin 1 - Dublin/Ireland
Entry
Entry
◼◾▪ TICKETS ▪◾◼
Link:
[eventbrite.ie]
Early Bird: 12€ + Ticket fee
General Admission: 14€ + Ticket fee
At the door: 15€ all night