Psyhead Community pres, DEEP PURPLE HAZE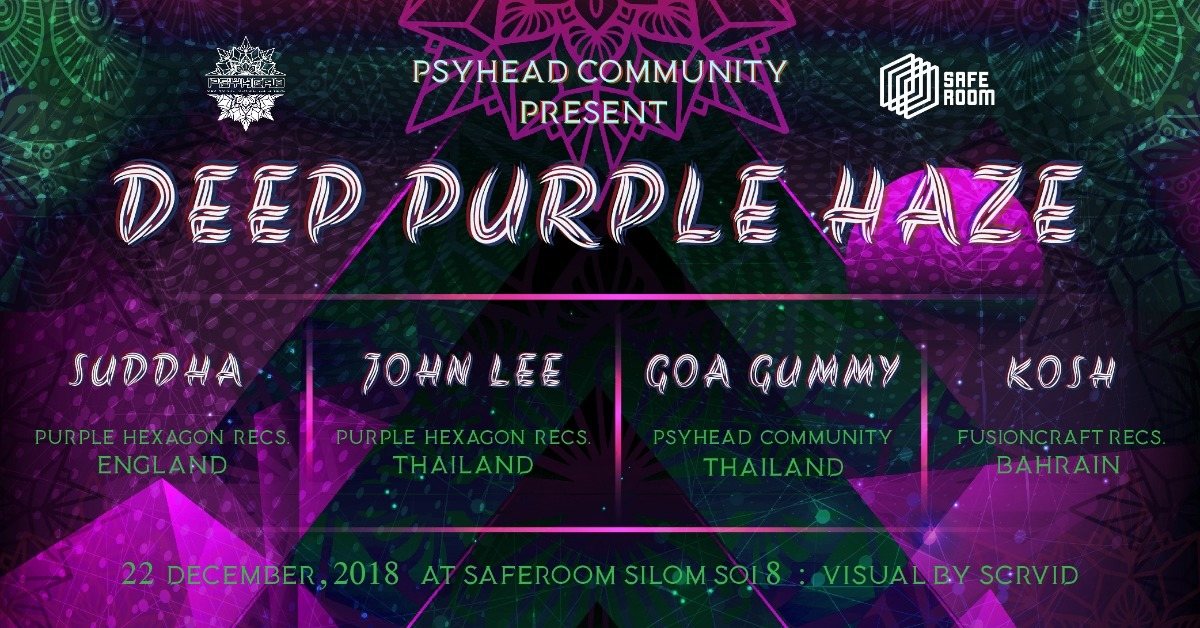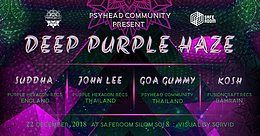 Line Up
Line Up
SUDDHA : Purple Hexagon Recs / England

JOHN LEE : Purple Hexagon Recs / Thailand

KOSH : Fusioncraft Recs / Bahrain

GOA GUMMY / Psyhead Community / Thailand
Deco
Deco
VJ :
SRCVID / Thailand

Lazer:
Spark Industries / Thailand
Info
Thai Winter coming and this time we go "HARDER" then enter to the next year!!!
Before all of u the real "Psyheadz" will heading to celebrate and crossing time together at The Experience Festival we will have an unforgettable night in our Capital which u also have NOT TO MISS!!!
Psyhead Community pres. DEEP PURPLE HAZE
The last one for this year from us, we always carefully choose only proper sounds! This time we are proudly to represent 2 of our long time friends from The Italian/Bali label "Purple Hexagon Records" Suddha and John Lee to provide you their Deep Purple Sounds! Hosted by Goa Gummy and the last one coming with the warm "Zenon Sounds" set by our dude "KOSH" from Fusioncraft Recs.
As the previous 2 times we've got the strong , twist n' distort Visual trip by "SCRVID" then..... of course he will be there! And this time we give you more "Mind n' Eyes blowing" with Lazer show by local artist "Spark Industries" debut for us.
Sometimes we all can't explain everything so just come to see n experience together!
Saturday 22nd of December @ Saferoom , Silom rd. , Bangkok
Pre pare your body , your mind and your soul then goes deeeeeeeeeep!!!
:ARTIST INFO:
DJ:
SUDDHA : PURPLE HEXAGON RECORDS / ENGLAND
[facebook.com]
soundcloud
JOHN LEE : PURPLE HEXAGON RECORDS / THAILAND
[facebook.com]
KOSH : FUSIONCRAFT RECORDS / BAHRAIN
[facebook.com]
GOA GUMMY : PSYHEAD COMMUNITY / THAILAND
[facebook.com]
soundcloud
VISUAL:
SCRVID / THAILAND
[facebook.com]
SPARK INDUSTRIES / THAILAND
[facebook.com]
Location
Location
Saferoom @ Whiteline , Silom soi 8.
Entry
Entry
300THB only at the door.
Organizer
Organizer
Psyhead Community