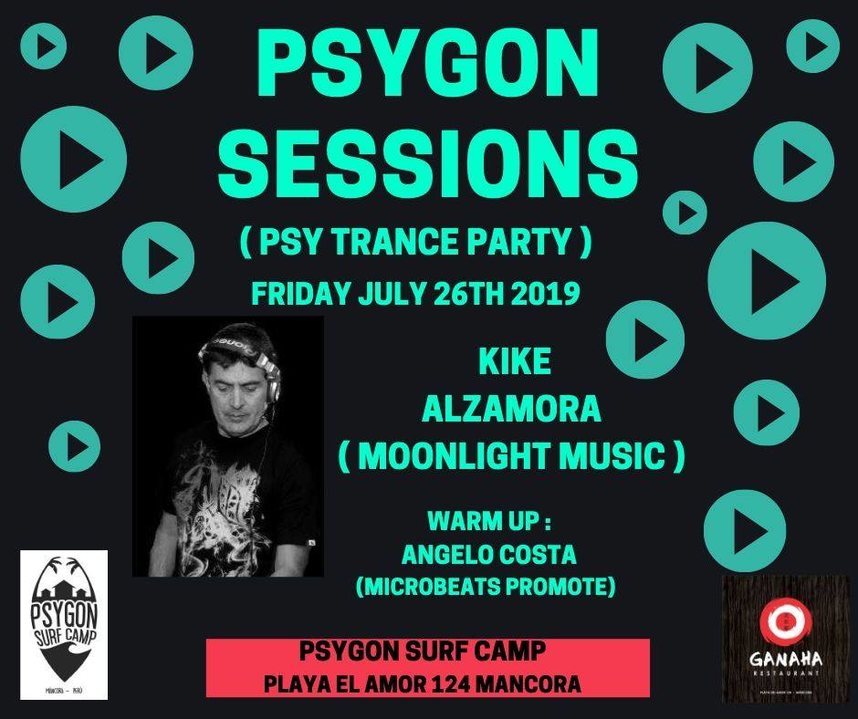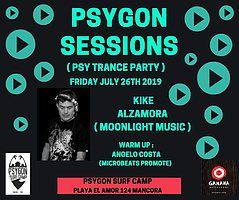 Line Up
Line Up
*KIKE ALZAMORA (MOONLIGHT MUSIC) Psytrance, Goa
* ANGELO COSTA (MICROBEATS PROMOTE) Warm up
Info
Psygon Surf Camp es un cálido hostel que se caracteriza por su buena virba y el espíritu joven y aventurero que tienen los huéspedes e integrantes del staff.
Se encuentra a solo 20mts del mar y las olas son el primer sonido que se escucha al despertar.
El establecimiento cuenta con piscina, bar, restaurante, sector de fogata y hasta nuestro propio escenario donde suelen presentarse artistas en vivo.
A solo 15 minutos a pié de uno de los más interesantes y recurridos spots de surf y kitesurf de todo el Perú.
Servicios y Actividades:
• Recepción de 8 am – 6 pm
• Desayuno incluido 8.30 am – 10.30 am
• Bar
• Agua caliente
• Wi fi
• Tv por cable y dvd
• Piscina
• Intercambio de libros
• Hamacas
• Alquiler de surfboards
• 2 salas de tv
• Sala de entretenimiento y juegos de mesa (mesa de billar, mesa de ping pong, dardos…)
• Clases de jiu Jitsu
• Clases de muay thai
• Clases de surf
• Clases de kite surf
• Tours & surf trips
• Housekeeping
• Almacenamiento de equipaje
• Servicio de lavandería
• Información turística
Habitaciones privadas, compartidas de 6 camas y compartidas de 8 camas.
//////////////////////////////////////////////////////////////
Psygon Surf Camp is a hostel where relaxation and comfort is prioritized, just meters from the sea.
It's special for young people, great prices, beach atmosphere, cozy, quiet place, accessible location, friendly staff, almost family .
Amenities such as swimming pool, shared kitchen, bar, chilling area outdoors, board games, bicycles…
The Psygon Surf Camp is located at only 150 meters from the kitesurf spot and at a 10 minutes walking distance from the surf spot (the point) or 5 minutes in moto taxi.
Security is pretty good
Services and Activities:
• Reception 8 am - 6 pm
• Breakfast included 8:30 a.m. to 10:30 a.m.
• Bar
• Hot water
• Wi fi
• Cable TV and DVD
• Pool
• Book Exchange
• Hammocks
• Rental of surfboards
• 2 TV rooms
• Entertainment room and board games (billiards, table tennis, darts ...)
• Jiu Jitsu Classes
• Classes Muay Thai
• Surf lessons
• Kite surf lessons
• Tours & surf trips
• Housekeeping
• Luggage storage
• Laundry
• Touristic Information
Private rooms, shared with 6 beds and shared with 8 beds.
Información general
Para contactarnos escríbenos a
psygonsurfcamp@gmail.com
Teléfono: (073) 411532 / 968-439983
Psygon Surf Camp (Fb Link)
[facebook.com]
Location
Location
Psygon Surf Camp, Playa el Amor 124 Mancora - Perú
Organizer
Organizer
Psygon Surf Camp