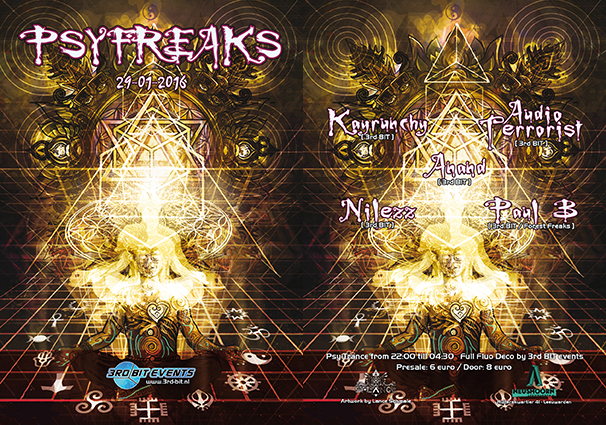 Line Up
Line Up
Kayrunchy [ 3rd BIT ]
Audio Terrorist [ 3rd BIT ]
Anand [ 3rd BIT ]
Nilezz [ 3rd BIT ]
Paul B [ 3rd BIT / Forest Freaks ]
Deco
Deco
Full fluo deco by 3rd BIT Events
Info
Info
Psy-Trance in Neushoorn! Leeuwarden based organization 3rd BIT Events comes to blast the Arena with a new concept.

3rd BIT Events has been organizing Psy-Trance events since 2002 and is known by many for its Psychedelic Anniversary and Progress In Trance nights. PsyFreaks is a new concept by 3rd BIT Events for this special new location.

For this night a lineup has been compiled with resident DJs from 3rd BIT, whom have made their name on many parties and festivals, both at home and abroad. 3rd BIT Events is not only known for its Full Power Psy-Trance, but also its Full Fluo decoration is very much worth your while to come and admire.
Location
Location
Neushoorn, Ruiterskwartier 41
Entry fee
Entry fee
Presale: € 6,-
Door: € 8,-