Psydeffects meets Sangoma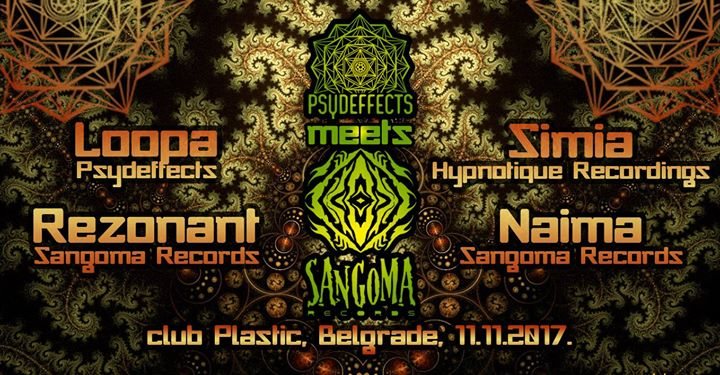 Line Up
11.11.2017.
Club Plastic
Psydeffects sound and visions presents 100% pure uncompromising psychedelic trance party
LINE UP:
►LOOPA / Psydeffects
►SIMIA / Hypnotique Recordings
►REZONANT / Sangoma Records
►NAIMA / Sangoma Records /Austria
BIO:
Sarah Naima grew up in an old hippi environment and extraordinary musical family, these love and sensitivity for the music came quite early in her life. Already at the age of 6 she started playing keyboard and since then her passion for music grew steady.
In the year 1996 she came in touch with electronic music for the first time. Since then she has been following many different styles in the electronic scene with big enthusiasm until she made the experience of a Psychedelic- Trance Party in the year 2003.
She was instantly hooked with this scene and she fell deeply in love with the music, the energy and all these inspiring, magical places and people surrounding her.
Naima started her journey as a DJ seriously 2009, in her sets she symbolize psychedelic sounds, mystical & powerful deep tunes for colourful nights or energetic mornings.
The style and the kind of music she chooses for her Sets depends on the atmosphere and energy around but also on the setting and at which time she plays. Her aim is to take people on a mystical-musical-journey with real psychedelic qualities and vibes.
During the last years Naima grew as an international DJ,and she has performed on various international Parties and some of the best Festivals all around the world like Experience – Thailand, Belantara – Malaysia, Galaxy Evolution Festival – India, Midnightsun Festival – Norway, MoDem Festival – Croatia, Antaris, Freqs of Nature, Waldfrieden,VuuV – Festival – Germany, Blackmoon Festival -Italy, Solstice Festival – Netherlands, Transahara – Marocco, One Love – Switzerland, Kosmos Festival – Finnland, Yaga Gathering – Lithuania,Spiritual Ritual Festival- Nepal.
So far she played in: Australia, Austria, Belgium, Canada,Croatia, Czech Republic, England,France, Finland, Germany, Greece, Hungary, India, Italy,Malaysia, Nepal, Netherlands, Norway, Lithuania, Portugal, Poland, Romania, Russia,Spain,Sweden,Switzerland,Slowenia, Thailand, Turkey.
Naima is signed as a Label – DJ for Sangoma Records.
.......................................................................
Rezonant is a project initialized by Jovan Tot, aka as Middle Mode/ Sufis life from Serbia. From early beginning he was attracted by hard beats (rock, psychedelic rock, etc..) and started his career as a Psytrance dj in Serbia. He spent 10 years on learning, creating proper sounds and technique, and in 2010 founded the project Middle Mode with his partner Ivan Jovicic. But soon after he discovered a passion for deeper and more psychedelic sounds. In 2016 the project Rezonant was born, fueled by twilight, complex synthesis, acid trippy sounds and groovy atmospheres, which brings you closer to your inner self. His first release was collaboration with Macedonian artist Djantrix released on Digital Om Production. Soon after he was signed exclusively to the Sangoma family where he's busy working to bring you a new wave of aural psychedelica.
.......................................................................
Simia is the psychedelic trance project founded in 2014 by Matia Salai from Serbia .
Born and raised in Belgrade , Matia was surrounded by many musical cultures and influences which eventually spawned his interest for experimenting with sound playing the piano from a very young age .
After being introduced to the psychedelic trance scene few years back he further continued these experiments with sound through production and also as a psytrance DJ .
Matia also involved himself in visuals , décor and organizing workshops as he got to travel more and participate in various parties and festivals .
This in turn gave him time and space to keep evolving his skills and creativity in the art of production which eventually led to his first few releases on Psymoon records .
In 2015 Matia was asked to join the Hypnotique Recordings family by Trailoka after they realized they had similar interests in the direction of music .
.......................................................................
Loopa play all styles of psychedelic music. In 2015 he become a family member of Psydeffects Sound and Visions, together with Marko Psymoon.
.......................................................................
links:
[sangomarecords.com]
soundcloud
[sangomarecords.com]
soundcloud
[radiozora.fm]
[bandcamp.com]
[facebook.com]
[facebook.com]
Keep it psychedelic!
Location
Location
Plastic Klub
Ugao Takovske i Dalmatinske
Belgrade