Backend
PSYDANCE - A PSYCHEDELIC EXPERIENCE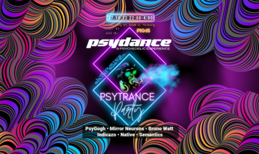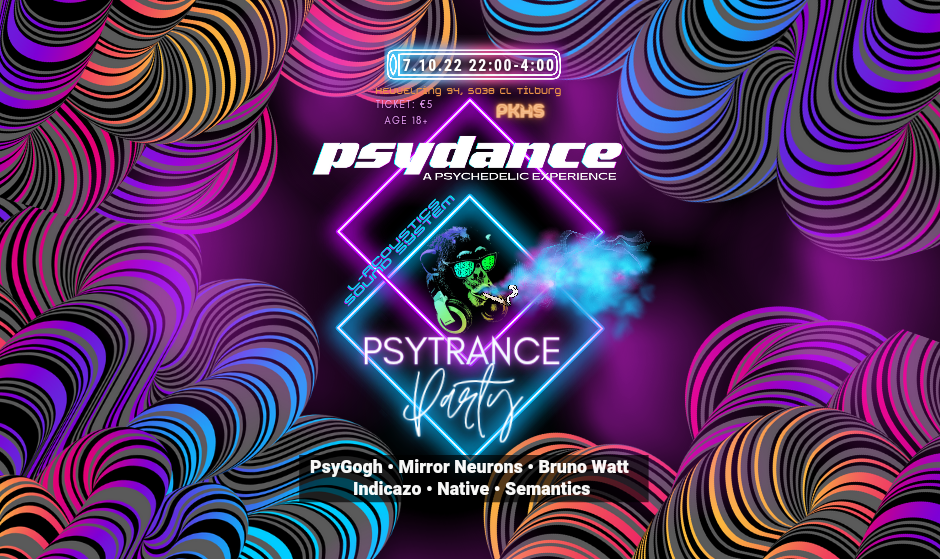 Line Up
Line Up
Psygogh: 10:00/11:00
Mirror Neurons: 11:00/12:00
Bruno Watt: 12:00/01:00
Indicazo: 01:00/02:00
Native: 02:00/03:00
Semantics: 03:00/04:00

Accompanied by Gio's Live Drums!
Info
ॐ--------------ॐ--------------ॐ
Join us for a colorful psychedelic experience in this new edition of Psydance!
Where you will connect, dance and explore deeper into the cosmic dimensions beyond time and space...
Accompanied by the best local artists we will stimulate your brain to achieve higher state's of consciousness for your listening pleasure.
What's more fun than a party?
A PSYCHEDELIC PARTY!
+++++
FACILITIES
✓ Lockers
✓ Smoking Area
✓ Chill area
✓ Cigarettes
✓ Earplugs
✓ L-Acoustics soundsystems
+++++
ENTRANCE
5,- EURO
+++++
FACEBOOK:
[facebook.com]
FACEBOOK:
[facebook.com]
INSTAGRAM:
[instagram.com]
WEBSITE:
[PKHS013.nl]
+++++
VENUE INFORMATION
Date: 7.10.2022
Time: 22:00 – 04:00
Where: PKHS
City: Tilburg
Streetname: Heuvelring 94, 5038 CL
Age: 18+
Flyer and Artwork thanks to @geertjepinksteren
ॐ--------------ॐ--------------ॐ
Location
PKHS
Heuvelring 94
5038 CL Tilburg