PSY_CTRL: Energetic Philanthropy
· Tomorrow ·
Starts in

1d 15h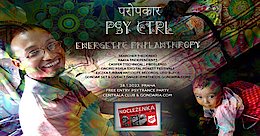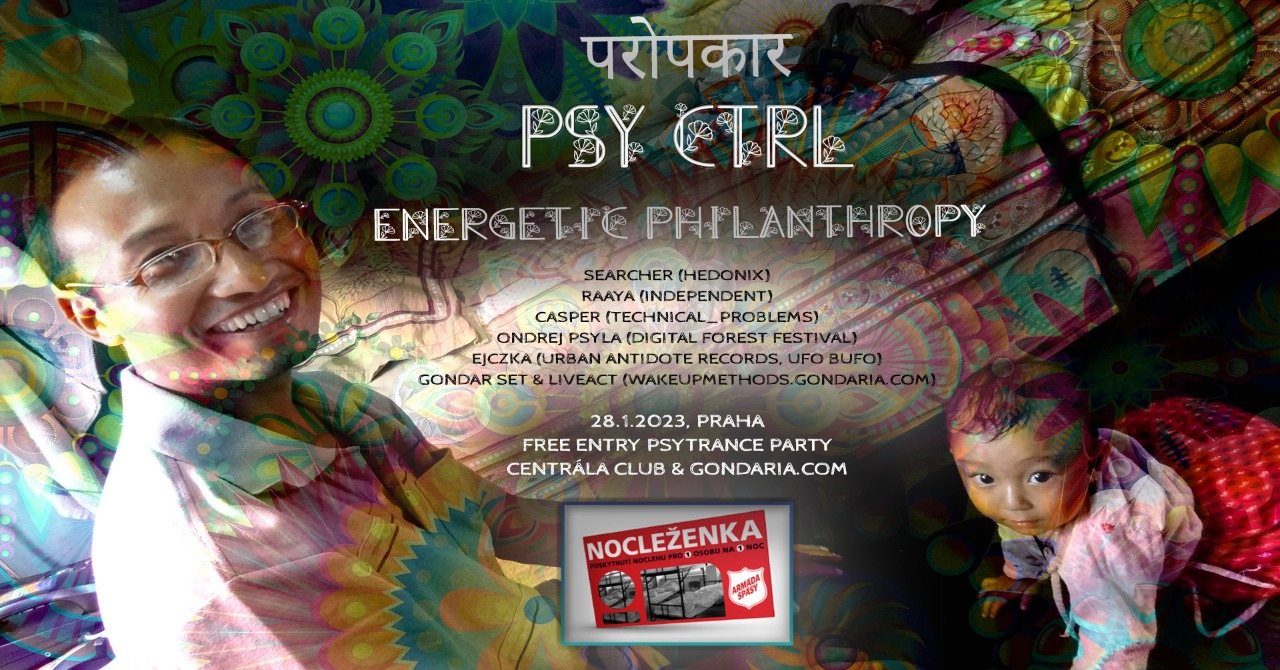 Line Up
Line Up
Raaya (Independent) live set
Casper (Technical_Problems)
Searcher (Hedonix) set & live set
Ondrej Psyla (Digital Forest Festival)
Ejczka (Urban Antidote Records, Ufo Bufo)
Gondar (WakeUpMethods.Gondaria.com) set & live set
Info
FREE ENTRY PSYTRANCE PARTY
(use google translator ⬇️:)
Začneme happy endem. I jím skončíme! Na minulé Psy Ctrl: Kukubaba zahrál Filip Westerdijk, plzeňský DJ Geneogen. Po nějaké době nahodil následující příspěvek, ve kterém se rozhodl pomoci Milanovi. Milan je slepý a bez domova. Druhé zmíněné se mu pravděpodobně podařilo minimálně na nějaký čas vyřešit 😉
[facebook.com]
V tomto díle opět našlápneme naše dopaminové receptory z radostného poskakování na stage. Ale zároveň pošťouchneme i trajektorii naší časové linie. Jinými slovy zlepšíme si karmu 🙂 Psy Ctrl se totiž vyznačuje tím, že je vstup zadáčo. Tentokrát bude nahoře na baru klobouk / kasička / cosi, kam můžete přispět kilčem (Hrdinové noci bezlimitně více). Obsah tohoto objektu bude po akci poslán na účet noclezenka.cz, někdo tedy díky nám stráví noc(i) v teple, s jídlem a sprchou.
Příspěvky Hrdinů noci (pokud se jím chceš stát, vyskytnout se tu a motivovat tak další, napiš! 😉 tralalol @ protonmail . com):
500 Štěpán Gondar
500 Honza Ejczka (Beztize.cz)
500 Štěpán Casper
500 Pišta Hufnágl
200 Oswald (Klub Centrála)
200 Raaya
500 Ondřej Psyla
(up-to-date at the fb event)
V příspěvcích pod eventem nahoďte, kdy jste ze sebe měli opravdu radost z toho, že jste někomu něčím pomohli. Nestyďte se, oceňte se 😉 Berte to tak, že třeba váš příspěvek inspiruje k podobné pomoci někoho dalšího, jako nyní Filipův. Můžete také přidat, jakou energetickou filantropii nabízíte průběžně třeba ohledně vašeho povolání.
A jak jste u Psy Ctrl již asi zvyklí, na celou záležitost se v příspěvcích podíváme (sledujte event v následujících dnech) i z pohledu Tvorby vlastní reality a co vlastně pomocí druhým v předivu našeho matrixu děláme. Ano, protože jsou ostatní projekcí z našeho fraktálu, ve skutečnosti pomáháme sami sobě 🙂
Budeme moc rádi za sdílení eventu a pozvání vašich fb přátel (i když se třeba nebudete moci zúčastnit).
Těší se na vás Klub Centrála a Gondaria . com 🙂
lineup:
2100-2230 Casper
2230-0000 Ejczka & Psyla
0000-0200 Gondar
0200-0330 Raaya
0330-0500 Searcher