PsycoholiX presents: Ritual of Lunatism vol. 5 - OPEN AIR - ab 21 Jahren!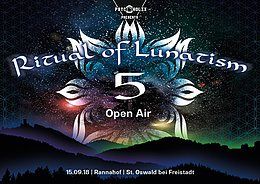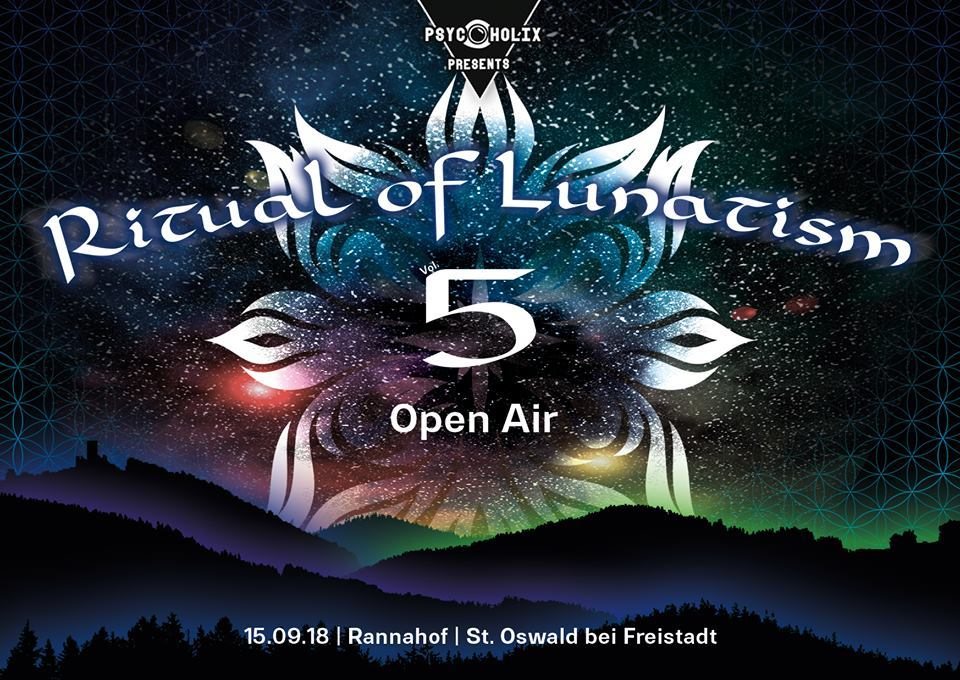 Line Up
[►] KALA live! (SL)
(Forestdelic Records)
soundcloud
[facebook.com]
Developing it's authentic sound and having passed through different levels in exploration of music production techniques, Kala is now a synonym of pure groovy dancefloor psychedelica fully present in the debut album 'Cosmic Caravan' and the latest EP on native Forestdelic records. The sound is a pretty diverse array of moods and rhythms which works in almost every indoor and outdoor party or festival setting as long as true psychedelic stomping music is required, the evidence of which you can find amongst the many witnesses from the many dancefloors around the world from Germany, Austria, Serbia, Slovenia, Macedonia, Ukraine, Russia, Georgia, Malta, Croatia, Bosnia, Brazil, Lebanon, Swisserland, Albania, Bulgary, Slovakia, Chez Republic, Hungary, Portugal, Nedherlands. And if you want an ear-on proof of the cosmic experience that happens on Kala's performances, be sure not to miss the next time you see it on your party or festival line-up.
[►] EXCULCO (D)
(Monkey Business Records)
soundcloud
[facebook.com]
[►] MONOCON live!
(Independent)
youtube
[►] RETIC aka SYCO
(Phi Rec. / PsycoholiX)
soundcloud
[►] SHROOMSY
(Independent)
soundcloud
[►] SLAMONIX
(Psychedelic Animals)
soundcloud
[►] BIG HEAD
(PsycoholiX)
[facebook.com]
[►] ONURIS
(Klangwelten)
soundcloud
----------------------------------------------------
Info
Zum fünften Mal in Folge veranstalten wir das Ritual der Mondsüchtigen am wunderschönen Rannahof mit Aussicht auf die malerischen Hügel des Mühlviertels.
Wie immer feiern wir im kleinen Kreise und unter ausgewählten Gästen ab dem 21. Lebensjahr.
Jeder Gast ist dazu angehalten weitere "Auserwählte" zur Veranstaltung einzuladen.
Freut euch auf 12 Stunden feinsten Sound von #Minimal bis #Progressive, #Fullon, #Psychedelic und #DarkPsy unter freiem Himmel!

☞ Eintritt ab 21 Jahren (Lichtbildausweiskontrolle)
☞ Die Party findet bei jeder Witterung statt.
(Der Floor im Innenhof kann überdacht werden.
☞ Die Location ist 30 Min von Linz entfernt
☞ WERFT BITTE EUREN MÜLL UND ZIGARETTENSTUMMEL IN
DIE VORBEREITETEN MÜLLSÄCKE!!!
☞ Das Betreten unbefugter (PRIVATER) Räume, Treppen oder
Balkone ist verboten.
☞ Die Lautstärke der Anlage kann auf grund der umliegenden
Nachbarn nicht lauter gedreht werden. Es könnte sonst zu
einem Abbruch der Party führen. Qualität vor Quantität!

Bitte haltet euch an die Regeln und schaut aufeinander, damit wir in Zukunft auch weiterhin Partys auf dieser wundervollen Location veranstalten können!


Special Features:
� Lagerfeuer
� Jamsession
� Camping Area
� Chai Bar
� Indoor Chillout Area
� Feuershow
� Druid wear Shop
Location
Rannahof
Etzelsdorf 7
4271 St. Oswald bei Freistadt
Entry fee
Entry fee
20:00 - 22:00 = 10 Euro
ab 22:00 = 15 Euro
Added

5y 1m

· Update

4y 6m

·

/ 1