PsycoholiX presents: Ritual of Lunatism III OPEN AIR (ab 21 J.)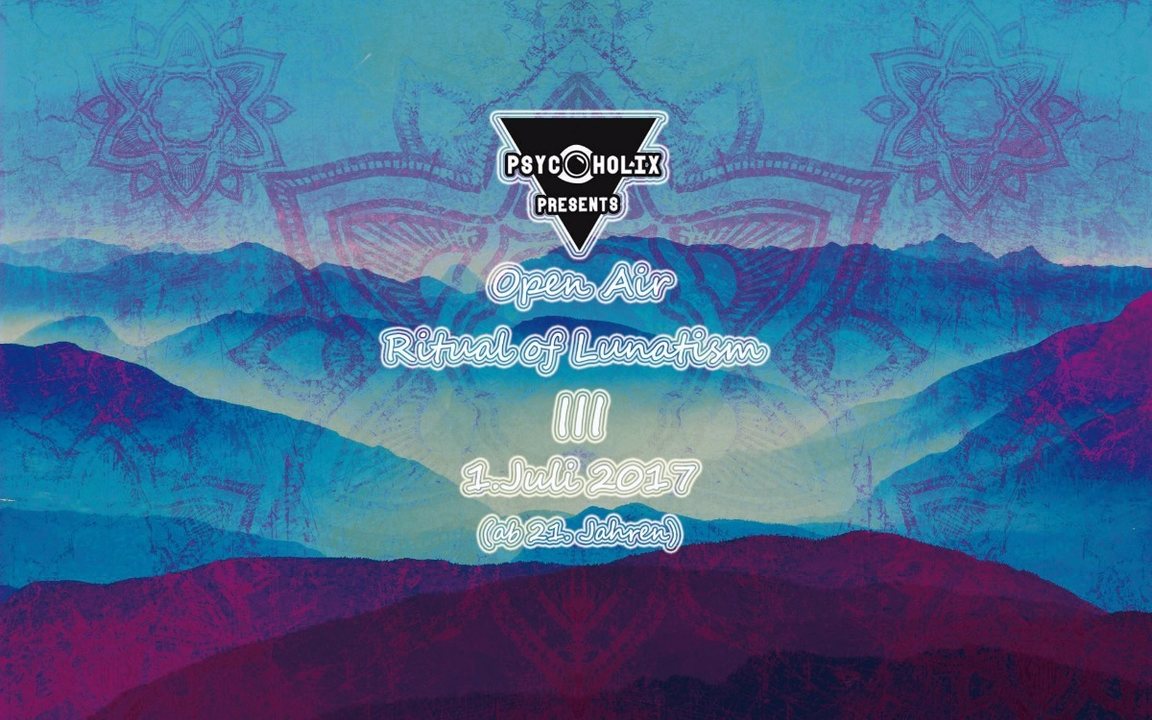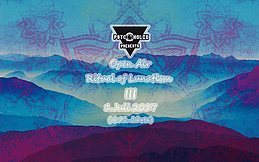 Line Up
[►] OPEN TRIBE live!
[ Monkey Business Records / Crispy Chaos Crew ]
soundcloud
Open Tribe is a 23-year old Psytrance producer from Vienna/Salzburg in Austria. His style is best described as a mixture of psytrance and modern fullon.
Combined with a variety of instruments such as Guitars, Baglama, Didgeridoo and Percussion his music has a natural, organic touch to it.
His Live Sets feature instruments as well such as a pair of Bongos and a Baglama he combines with his studio productions.
So far he played shows in clubs and festivals in Austria, Germany, Czech, Hungary, Italy and Suisse - Portugal coming up in summer 2017!
[►] ANANDA live!
[ Crispy Chaos Crew ]
soundcloud
Ananda plays live-acts using midi controller to trigger synthesizers, several percussive instruments and different modulation FX.
Born and raised in Vienna, Ananda always had a passion for music. He learned to play several musical instruments in early years and started producing electronic music in 2015. Since then he has been combining melodies with psychedelic soundscapes, driving basslines and groovy percussions.
Anandas music stands for positive psychedelic vibrations.
His Style is hard to describe, containing elements of Progressive Psytrance, old school Goa-Trance, and Fullon, but it's also experimental and always melodic.
In 2017 Ananda started playing his first live acts.
DJs:
[►] FÜNGUS
[ PsycoholiX ; Optix Tripe ]
soundcloud
[►] NADA MAU
[ Independent ]
soundcloud
[►] KAYLA
[ PsycoholiX ]
soundcloud
[►] SHPERE OPTIK
[ Sonorum ]
soundcloud
[►] BIG HEAD
[ PsycoholiX ]
Info
Ihr seid herzlich eingeladen den Sommer mit uns am idyllischen Rannahof im Mühlviertel zu feiern!
Zum dritten Mal in folge zelebrieren wir unser exklusives Ritual der Mondsüchtigen und auch dieses Jahr soll es wieder im kleinen Kreise unter Erwachsenen, mit Rücksicht aufeinander und im Einklang mit der Natur statt finden!

WICHTIGE INFOS:

☞ Eintritt ab 21 Jahren (Lichtbildausweiskontrolle)
☞ Die Party findet bei jeder Witterung statt. (Der Floor im Innenhof
kann überdacht werden.
☞ Die Location ist 40 Min von Linz entfernt
☞ WERFT BITTE EUREN MÜLL UND ZIGARETTENSTUMMEL IN
DIE VORBEREITETEN MÜLLSÄCKE!!!
☞ Das Betreten unbefugter (PRIVATER) Räume, Treppen oder
Balkone ist verboten.

!!! Bitte haltet euch an die Regeln und schaut aufeinander, damit wir in Zukunft auch weiterhin Partys auf dieser wundervollen Location veranstalten können!!!!

Special Features:

♥ Lagerfeuerstelle -> (Grillen möglich)
♥ Jamsession
♥ Camping auf Anfrage möglich
♥ Chai Bar & Chillout Area
♥ Feuershow
♥ Druid wear Shop
♥ Schnapsbar
Location
Location
Rannahof
Etzelsdorf 7
4271 Sankt Oswald b Freistadt