PsycoholiX presents: Ritual of Lunatism II - OPEN AIR - ab 21 Jahren!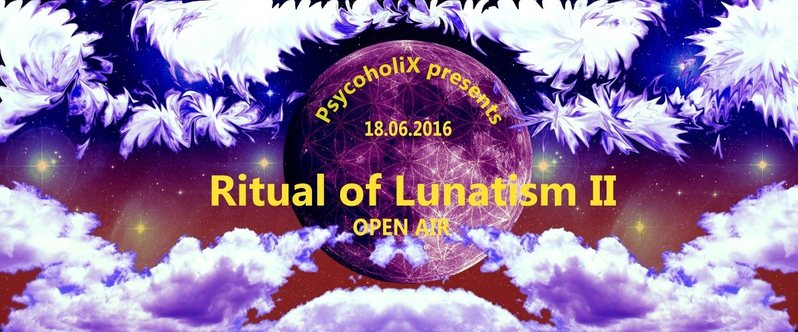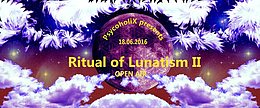 Line Up
✽✽✽ DHARMA (Italy) live!!!
[ Looney Moon Records ]
soundcloud
[facebook.com]
DHARMA is a Project started in 2009 in the city of Udine (IT) by Enrico Alpini. After 8 years studying as a drummer, several years of djing, and thanks to the inspiration of many events he attended in the past, he threw himself into producing psytrance music.
Due to the strong inspiration and good quality of the music, and a long friendship from the italian parties, even before having a live act ready, Dharma joined forces with Looney Moon Records to spread his fresh and original underground sound all over the globe.
Characterized by powerful funky basslines, researched acidic atmospheres and a happy and mild forestish sound choice in the leads, all his bright influences will transport you to a dynamic and euphoric journey into new sound lanscapes.
Simplicity, humility and passion are the core values at the root of this project, along with brotherhood, cosmic love, holographic awareness and quantum enightenment!
✽✽✽ FUTURUM SONAT live!!!
[ Psycana Rec. / Freigeist ]
soundcloud
[facebook.com]
✽ RETIC
[ PsycoholiX / PHI Rec. ]
soundcloud
[facebook.com]
✽ FÜNGUS
[ PsycoholiX / Optix Tribe ]
soundcloud
[facebook.com]
✽SHAMANIAK
[ Shipibo Sounds / Banyan Rec. ]
soundcloud
[facebook.com]
✽ KAYLA
[ PsycoholiX ]
soundcloud
[facebook.com]
✽ NEBOKAD
soundcloud
[facebook.com]
✽ PSYDROSCH
[ Independent ]
[click here]
[facebook.com]
✽ SHROOMSY
[ Gecko Acoustic ]
soundcloud
[facebook.com]
✽ SUNTRAX
[ Mukkepack ]
soundcloud
[facebook.com]
✽ PSEUDONYMOS - Acid tekno live!!!
[ S.P.K ]
soundcloud
●●●●●●●●●●●●●●●●●●●●●●●●●●●●●●●●●●●●●●●●●●●●●●●●●●●●●●●●●●●●●●●●●
Info
Das Ritual der Mondsüchtigen geht in die zweite Runde!
Der Sommer kommt bald, die Sonne ist zurück und so verschlägt es uns wieder in unsere kleine, versteckte und geheime Lieblings-Location - den idyllischen Rannahof!
Und diesmal könnt ihr euch auf eine verlängerte Party bis in die Nachmittagsstunden freuen, mit vollem Programm!
◄◄◄ ACHTUNG, die Party ist ab 21 Jahren, es wird Lichtbildausweis-Kontrollen geben ►►►
"SPIELREGELN"
Liebe Gäste, der Rannahof ist die letzte Location die uns geblieben ist und wir würden liebend gerne noch weiter dort Partys veranstalten, dass geht allerdings nur wenn wir uns alle an ein paar Regeln halten:
☮ Das Betreten der gekennzeichneten Räume und Balkone ist verboten.
☮ Die Lautstärke der Musik ist so angepasst, dass die Nachbarn nicht gestört werden, es wird nicht lauter gedreht. - Dafür haben wir dann beim Feiern unsere "Ruhe" und werden nicht gestört.
☮ Werft euren Müll in die vorbereiteten Müllsäcke und Mistkübel und seid achtsam im nahe gelegenen Wald und auf der Campingwiese. - Selbst-mitgebrachte Soundsysteme oder Lärm am Campingplatz wird nicht toleriert und könnte zu einem vorzeitigen Abbruch der Party führen!
☮ Hunde, egal wie klein sind am Gelände nicht erlaubt.
☮ Nehmt Rücksicht aufeinander und passt aufeinander auf.
So können wir noch viele Partys auf dieser einzigartigen, jedoch "sensiblen" Location feiern. :-)
●●●●●●●●●●●●●●●●●●●●●●●●●●●●●●●●●●●●●●●●●●●●●●●●●●●●●●●●●●●●●●●●●
✽ SHOP-AREA ✽
✽ Druid wear
[facebook.com]
✽ Samiya Sapna
[facebook.com]
✽ Nebelwand Design by Valentina
●●●●●●●●●●●●●●●●●●●●●●●●●●●●●●●●●●●●●●●●●●●●●●●●●●●●●●●●●●●●●●●●●
Special Features:
☮ Outdoor Floor (teilweise überdacht)
☮ Camping Area ab 18:00 geöffnet
☮ großes Lagerfeuer
☮ Jamsession
☮ Feuershow (01:00)
☮ Schnapsbar by Wechselzwerg
☮ Chaibar, Coffee, and Special Food by Mala Patil
☮ Poetry Slam by Post Skriptum (13:00)
Wir freuen uns drauf! - See you @ the dancefloor!
●●●●●●●●●●●●●●●●●●●●●●●●●●●●●●●●●●●●●●●●●●●●●●●●●●●●●●●●●●●●●●●●●