PSYCHOACTIVE NIGHT // 3 FLOORS // Ears & Eyes Event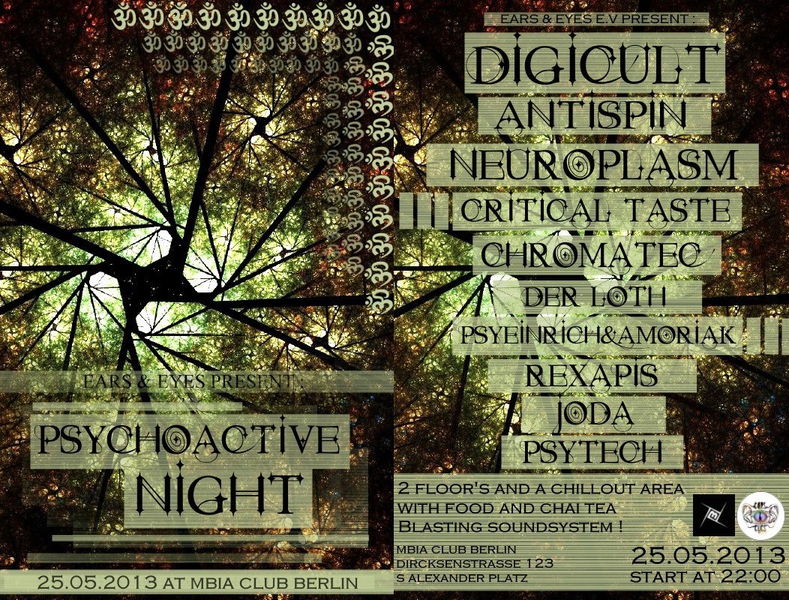 Line Up
★ DIGICULT ★ (Dacru rec.) BELGIUM
soundcloud
★ ANTISPIN ★ (Digital Psionics rec.) UK *FIRST TIME IN BERLIN*
soundcloud
★ NEUROPLASM ★ ( 24/7 Records ) UK * FIRST TIME IN BERLIN*
soundcloud
★ CRITICAL TASTE ★ (Soundviecher/Ears and Eyes) BERLIN
soundcloud
★ CHROMATEC ★ (Deviant Force rec.) DE
soundcloud
Special Guest:
★ DJ ANT ★ (Labelchef Mind Expansion) DE
and more..
DJs
DJ ANT, the head of the label Mind Expansion with a special 4 Hrs Set
PSYEINRICH & AMORIAK
REXAPIS
PSYTECH
JODA
DER LOTH

and more..
Chill
On the Chill Out Floor our CATERING TEAM will offer to you FRUITS, CHAI and other delicious SNACKS.
Deco
Deco
Every Floor will get his own design by our DEKORATION TEAM. They invest a lot of months preparation to show the conception of the Ears & Eyes association in the best way. Discover by yourself their creations.
Info
ONE PSY/FULL ON STAGE
ONE DARKPSY/HIGH-TECH STAGE
CHILL OUT AREA
BLASTING SOUND SYSTEMS ON EVERY STAGE!
TIME TABLE:
PSY FLOOR
22:00-23:30 Turk
23:30-01:00 Psyeinrich with Live Guitar
01:00-02:30 Neuroplasm LIVE
02:30-04:30 Psytech & Amoriak
04:30-06:00 Antispin LIVE
06:00-07:30 Joda
07:30-08:30 Digicult LIVE
08:30-10:00 Critical Taste LIVE
10:00-12:00 Der Loth
12:00-14:00 Rexapis
14:00 -Open End Surprise :)
DARK/HIGHTECH FLOOR
00:00-02:00 Rexapis
02:00-06:00 Dj ANT
06:00-07:30 chromatec LIVE
07:30-10:00 Masusadu
09:30-11:30 Alien Techno
11:30-13:30 Psyeinrich & Amoriak
13:30 - Open End Surprise :)
VISIT US ON FACEBOOK:
[facebook.com]
Location
Location
M-BIA , S + U Bhf. Alexanderplatz Dircksenstr. 123 10178
Entry fee
Entry fee
12€ bis 12:00
15€ bis 06:00
5€ ab 07:00