PSY&CHO MAGIC BEACH FREEP@ Vaivé (Xiringuito Cabrera de Mar)
Cabrera De Mar (Barcelona) ·
Spain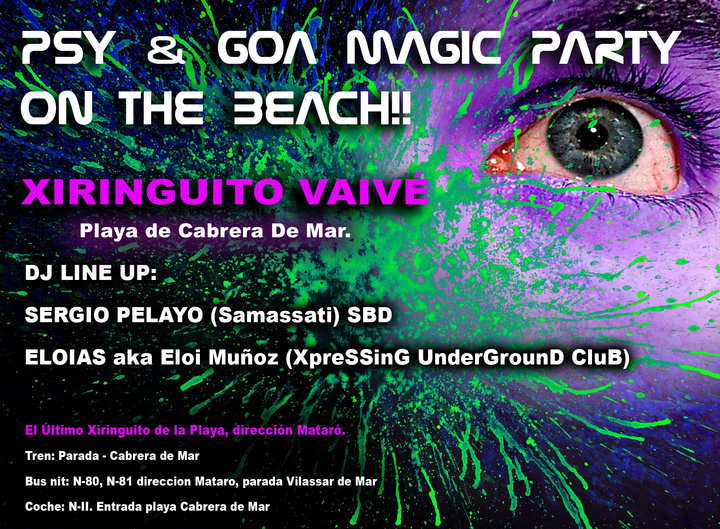 Live
Line Up
SERGIO PELAYO with DIDGERIDOO!!!

MACK YIDAKI WITH DIDGERIDOO!!!
DJs
DJ LINE UP:

SERGIO PELAYO (Samassati/TranCeOceaniC Lovers) SBD

ELOIAS aka Eloi Muñoz (XpreSSinG UnderGrounD CluB/TranCeOceaniC Lovers) Cabrera

MACK YIDAKI (TranCeOceaniC Lovers) CHILE
Deco
Deco
FLUOR DECO ART !!

&

BODY PAINTING !!
Location
En:


XIRINGUITO VAIVÉ ...
Playa de Cabrera De Mar.
El Último Xiringuito de la Playa, dirección Mataró.

Cómo encontrarlo?
En Tren:
Estación de Cabrera, Salir a la playa, i caminad dirección Mataró, mirando el mar a la Izquierda, unos 600 metros, pasareis por detrás del Club Nautico de Cabrera de Mar. pokos metros después se acaba la zona de parking, i empieza un paseo, unos 200 metros más i llegareis al Xiringuito VAIVÉ, el último de esta playa, i el más lleno de energía positiva y buenas vibraciones.

En Coche:
Por N-II, después de la estación de tren, Cabrera de Ma, unos 50 metros, entrada a la playa, es un paso subterraneo. Girar izquierda, parking en esa zona. Avanzat, dirección nautico de Cabrera de Mar, passatlo y justo después empieza un pequeño paseo, Seguid 200 etros, i llegareis al xiringuito, VAIVÉ!!!


En NIT BUS:
Parada Cabrera de Mar N-II. Ir al paseo maitimo de la playa, i caminar 600 metros dirección Vilassar de Mar. El primer xiringuito, será el vaivé.
Para volver para, Mataró, Argentona, Vilassar, Premia, Masnou o Barcelona, el mismo trayecto pero al revés.

_____________________________________________________________

VAIVÉ (Xiringuito)
Cabrera De Mar, El último de la playa de Cabrera dirección Mataró.
El mejor rincón de nuestra playa!!
Las mejores energias i vibraciones.
PRECIOS POPULARES!!!

VEN A DESCUBRIRLO!!!
Entry fee
Entry fee
FREE N TRANCE!!

PARTY ON THE BEACH!!!

CENAS
BEBIDAS A PRECIOS POPULARES
BIRRA 1'80€
Session de 21h a ...
Organizer
Organizer
TRANCEOCEANIC LOVERS!!