Backend
***PsychedelicA***Lightfull Music&Art of Goa***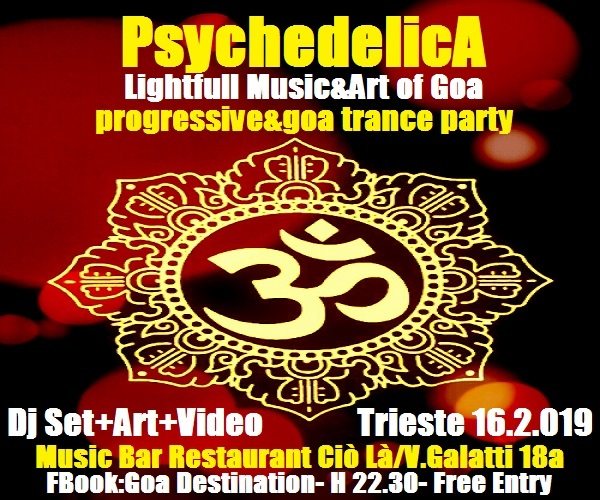 Line Up
Line Up
INTRO: FabioOldWood (Sacred Mantra&Psychedelic Chill Out)
PARTY: Mauro Solibiza (From Minimal&Progressive to Goa Trance)
Info
Info
Dj Set: Mantra-Psychill-Minimal-ProgressiveTrance-FullOn-Goa Trance
H 24.00: Opening Party Mantra to Opening Heart
Art: Traditional Uv Banner (Ohm,Oriental Mandala,Buddhist Flags,Sun,Moon,Stars,Tao...)
Video Trailer: The Fantastic World of Goa (by PsychedelicA)/Festivals/ Art
PLEASE: Respect the People and the Location. Come in peace or rest out. Drugs,drive with alcool and violence its prohibited by the laws.
PLEASE: Turn up the info of the Party to your Friends. Help us to create and defende the space for the Music,the Party and the Friendship for all in the center of the city.
OFFICIAL FB PAGE: Goa Destination
GOA: The Place to Opening Energy,Fantasy and Spirit. Enjoy!
Location
Music Bar Restaurant CIO' LA'/Via Galatti 18 (Lato Posta Centrale)
FREE ENTRY
Organizer
Organizer
PsychedelicA Staff/ TRIESTE