Backend
Psychedelic Trance Party Cordoba Argentina march 2008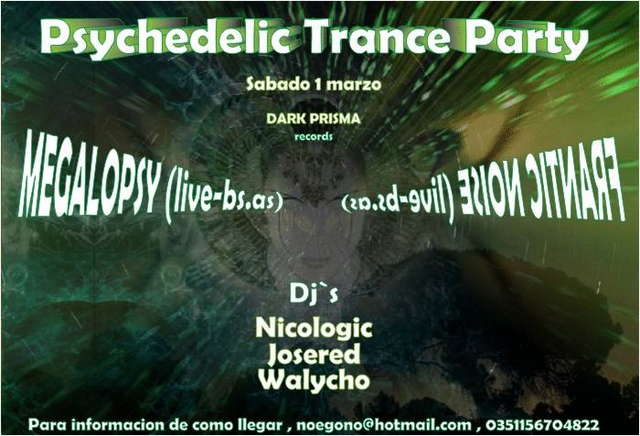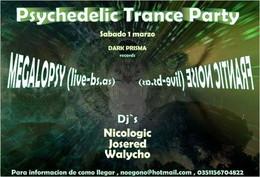 Live
Line Up
Frantic Noise (Live.Bs.As)
Megalopsy (Live.Bs.As)
DJs
Dj Nicologic
Dj JoseRed
Dj Wallycho
Location
Location
Party location is in a easy accesible area not more than 1 hour away from cordoba city.

IF IT RAINS THE PARTY TAKES PLACE ANYWAY

NO SE SUSPENDE POR LLUVIA

Location will be revealed when you buy your entry fee.

El lugar de la fiesta queda a una hora de la ciudad de Córdoba es de fácil acceso y será revelado en el momento que compren la entrada.
Entry
Entry
$ 20 (pesos argentina) = less than 7 dollars (ANTICIPATED)
DOORS 30$
You only can buy entry fee anticipated at Kilili Shop Rafael Nuñez Avenue 3972 (Cerro de las rosas, córdoba) or by phone call to (0351) 156-704-822 or by email
noegono@hotmail.com
La entrada a la fiesta tendra el valor de $20 y solo se podra conseguir en forma anticipada hasta el 29 de febrero en el local de KILILI de la rafael Nuñez 3972 (Cerro de las Rosas) o llamar al (0351) 156-704-822 o escribir a
noegono@hotmail.com
From
sierrapsicodelica ·
1,956