Psychedelic Trance Music and Art Show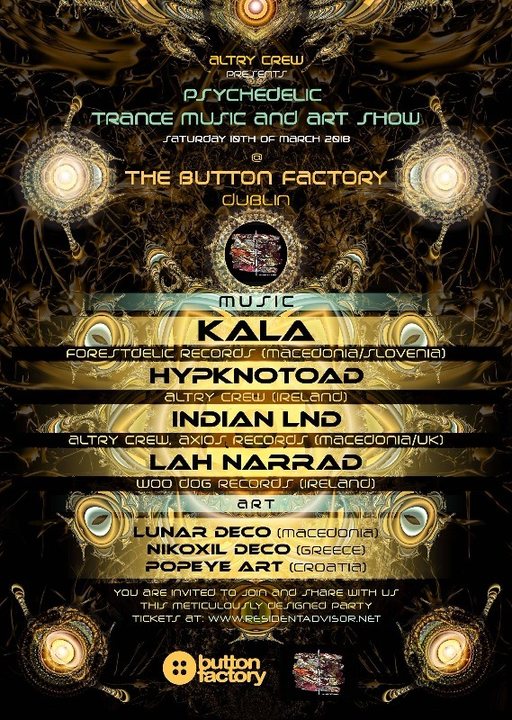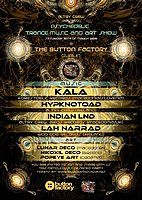 Line Up
Altry Crew Presents
Psychedelic Trance Music and Art Show
To kick start our first party in Dublin we have precisely selected producers and artists for this very special occasion.
We are bringing, for first time in Ireland the label owner of Forestdelic Records – Kala alias Darko. His current schedule includes, playing all over the globe. Kala at this event will broadcast music from his not yet released album with Yudhisthira that is due to be released this spring. Kala is well known for his groovy forest sounds and we are eager to hear it here in Dublin.
Kala - Forestdelic Records ( Macedonia/Slovenia)
soundcloud
[bandcamp.com]
Furthermore, local residents behind the desks;
Hypnotoad - Altry (Ireland)
soundcloud
Indian Lnd - Altry, Axios Records (Macedonia/UK)
soundcloud
Lah Narrad - Woo-Dog Records (Ireland)
soundcloud
Deco
For our visual delight we are happy to have two international guests Lunar Deco and NikoXil art.
Lunar Deco is a well-known artist in the psychedelic trance scene. He has been decorating events for many years around Europe. His idea and vision is to create and empower people to feel consciously trippy. His creations are expression of what is hidden from the ordinary human eye, through his art he is opening different perspectives that cannot be touched or explained.
Lunar Deco - Macedonia
[facebook.com]
NikoXil art and deco is a project from Athens – Greece. NikoXil is multi-talented artist and designer. His current work include uv acrylic paintings and sculptures. His backdrops are known for the bright colours and futuristically urbanised creatures. For this event NikoXil will exhibit a specially designed mythical monster sculpture.
[deviantart.com]
[facebook.com]
PoPeye Art - (Croatia)
You are invited to join and share with us this meticulously designed party.
Location
Location
The Button Factory
Entry
Entry
€15 Presale

More at the door...