Psychedelic Therapy: Bristol Session 1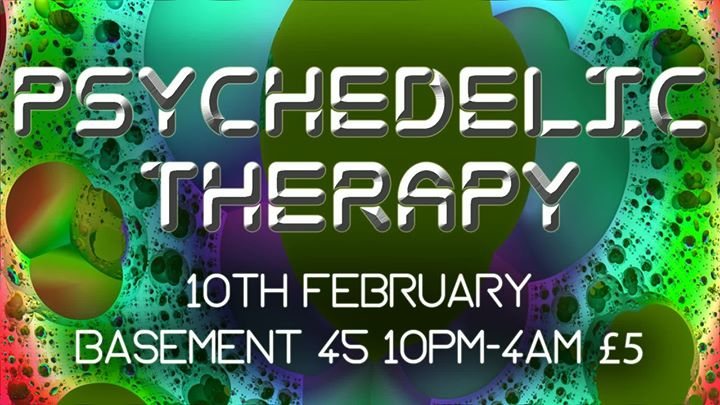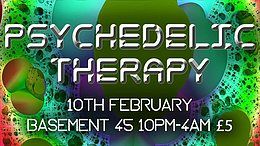 Line Up
Psychedelic Therapy Bristol: Powered By Lysergic Sounds
Bringing our first Therapy Session to Bristol For an intimate night of Psy Trance and Dub. In room 1 we have the hefty Lysergic Sounds rig for its first outing in the city. In room 2 Psychedelic Jelly will be working their downtempo magic.
Room 1: Psytrance Powered by Lysergic sounds
Expect Progressive Trance, Psy Trance and Dark Psy straight from the Forest
Occular (Bom Shanka music) Bristol UK
soundcloud
His sound combines driving bass lines with groovy and hypnotic leads, with a daytime influence that is made for any time of day!
Occular continues to build on his psychedelic sound and trip over on the astral turf..
LS~ME (Psychedelic Therapy) London UK
Bringing heavy Progressive and dark sounds and a set full of twists: LS:ME will be playing tunes that he has collected in his years of exploring the London Underground scene.
Shwiff D (Psychedelic Therapy) Bristol UK
soundcloud
Bristol based producer and DJ Shwiff D will be bringing his fresh and well crafted Full on sounds to our night of Psychedelic fun. Expect a set packed with energy.
Full line up: TBA
Room 2: Downtempo Room Hosted by Psychedelic Jelly
Line up:
Nimi [Visionary Shamanics Records] - Bristol UK
soundcloud
"In terms of style, Nimi's music falls anywhere on the melodic psychedelic spectrum, taking influences from the psy-dub, psybreaks and progressive psytrance genres."
Geoglyph - [Visionary Shamanics Records] - Bristol UK
soundcloud
"Geoglyph is a psydub and psybient project from Bristol. For those who like: Shpongle, The Mystery of the Yeti, Globular, Ott, Solar Fields, CBL, etc."
Puffball - Bristol UK
Local producer Puffball heavy dub and psychadelic influences which result in delicious squelchy beats that you can't help but bounce to.
soundcloud
Fractal Forest - [Resident] - Bristol UK
soundcloud
Basement 45
Saturday 10th February 10pm-4am
Tickets £5 info coming soon!
Info
Info
Room 1: Psytrance Powered by Lysergic sounds
Location
Location
Basement 45
8 Frogmore Street
BS1 5NA Bristol
Organizer
Organizer
Psychedelic Therapy