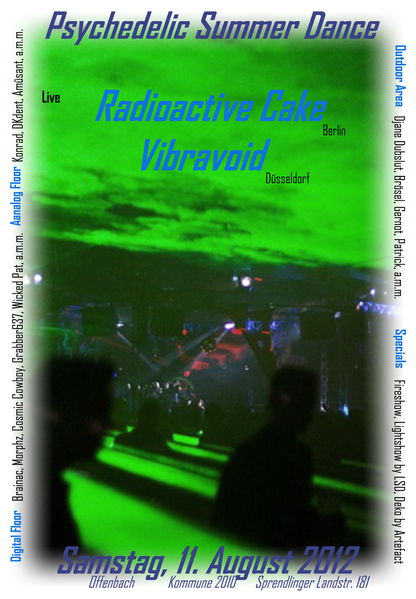 Live
Line Up
Fabrik Hall: Digital Psy
02:30 Radioaktive Cake, Master of Glitchy Tonic Records, Berlin, Germany,
[lima-city.de]
Fabrik Bühne: Analog Psy
24.00 Vibravoid, Düsseldorf, Germany,
[vibravoid.com]
- Psychedelic Alternativ Rock
05.00 Special newcomer surprise band - Psychedelic Garage Stoner
Fabrik Hall: Digital Psy
22:00 DJ Cosmic Cowboy, Cosmic Saloon, Saarbrücken - Psychedelic Proggie -
[cosmiccowboy.de]
DJ Brainiac, Triangel, HD - Happy Darktrance -
soundcloud
02:30 Liveact "Radioactive Cake", Berlin
[lima-city.de]
DJ Grabber637, Space Frogz, FFM - Multisonic Psytrance -
soundcloud
DJ Wicked Pat, Usingen - Hi-Tech Darktrance
DJ MORPH Z, Sternenspiel, Highdelberg - GroovigenPsyProggy
DJ Gernot, Space Crew, Landau, Morning Psytrance
Fabrik Bühne: Analog Psy - Wild Music Party
22:00 DJ Amüsant, FFM, Psy Music mostly 70.-90.th
24:00 Liveband "Vibravoid", Düsseldorf
[vibravoid.com]
DJ DKDent, OF, Psy Music mostly 70.-80.th
DJ Konrad, FFM, Beatniks Psy mostly 60.-70.th
DJ Sir Harald, FFM, Psy mostly 70.-80.th
Chill
Afterhour: Mixed Ambient `n Day Breaker
Fragt nach der Wegbeschreibung
Djane Dubslut, Wiesbaden, -
[die-technokueche.eu]
DJ Patrick, Resident ex Vinylbar, FFM
DJ Konrad, FFM, Beatniks
Deco
Deco
Visuals by - Cosmic Fire Starter - Fireshow -
Visuals by - LSD - Light Show Dirk
Deko by - Artefact -
[morgenwelten.de]
Deko by Cosmic Saloon
Info
Info
(( d(-_-)b )) Come on and feel together over 5 decades of psychedlic sound dimensions.(( d(-_-)b ))
Psychedelic Summer Dance: Start up 22.00 Uhr on 2 Floors. Fresh Fruits 4 free ;)
Afterhour garantiert! Anschließend bei gutem Wetter im Garten (Zelten möglich), bzw. im Clubraum.
Alice Info Stand -
[alice-project.de]
Psyko Worm UV Stand
Chai & Deko by "Kunstbrunnen & Hypnose Stammtisch"
Musikalisches Intro: Ab Samstag Mittag findet vor Ort das Sommerfest der Kommune2010 mit insgesamt 8 Bands statt: Dynyle, Malcom, Last Jeton, Riot at the Weekend, Borgenine, The living Toy, Unnerum, and Late Night Special. (Extraveranstaltung)
Location
Location
Kommune 2010, Sprendlingerlandstr. 181, 63069 Offenbach
[kommune2010.com]
Beim Aldi von der Sprendlinger in die kurze Stichstraße abbiegen, und am Ende links auf das Fabrikgelände auffahren. Dort sind ausreichend Parkplätze vorhanden.
Organizer
Organizer
Cosmic Space Crew