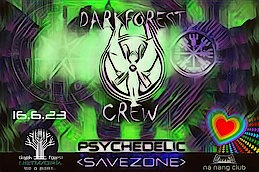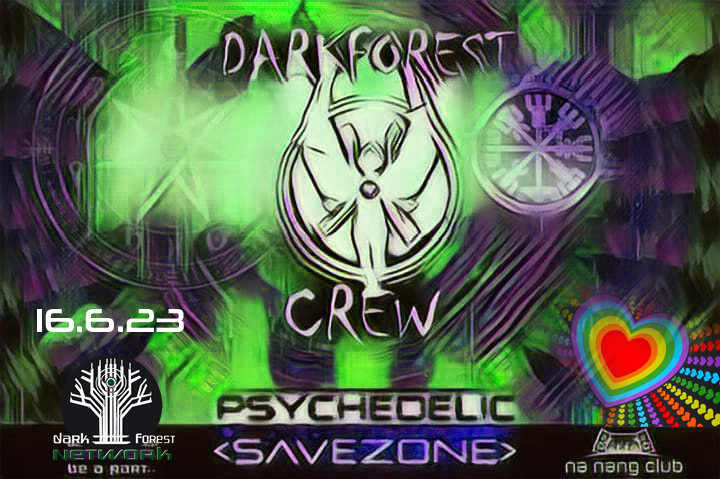 Line Up
Line Up
22:00 lets go "Darkforestcrew and Friendz"

Psychedelic - Forest - Darkpsy

"dark and hard soundstyle"
Info
DarkForestNetwork" lädt euch auf ein neues, zu der zukünftigen Vision der gemeinsamen psychedelischen "SafeZone" ein welche wir im Moment zusammen kreieren, um uns weiter zwischenmenschlich offen und unkompliziert zu vernetzen.
Um ein Teil vom entstehen eines Sozialen-Freiraums zu bleiben und zu werden, in welchem wir uns frei und ungezwungen bewegen können.
Mit dem Ziel uns gegenseitig den Raum und die Zeit zu schenken, zu sein wie WIR sind ohne bewertet und beurteilt zu werden und unter intuitiven Rücksichtnahme der Freiheit und der individuellen Grenzen jeder einzelnen Zelle dieser
Rave-Zusammenkünfte.
Achten wir auf das Große Ganze und auf jeden individuell!
Was am Floor geschieht ist essentiell für die gemeinsame Party Experience.
Unterstützen und helfen wir uns gegenseitig um diesen Freiraum für ALLE zu schaffen.
---
Des weiteren zeigen wir uns mit der VIENNAPRIDE solidarisch->Rainbowpeople WELCOME >together WE rise!
Alle Paradiesvögel sind eingeladen mit uns nach den VIENNA PRIDE TAGEN zusammen noch einmal kräftig die LIEBE und das LEBEN zu feiern, egal in welcher Konstellation, feel free!
[viennapride.at]
---
Entry nice price: 8.- / 10.- nach Mitternacht.
Für kleine "freie Spende" gibt es DF-Crew-Sticker.
Es gibt ne nice price Bar, afrikanisches Essen for only 5.- die ganze Nacht.
Barbereich ist ein kleiner Roots-Reggae Floor.
Chillout Bereich vor dem DJ Pult auf der Bühne + Sofas zum chillen zwischen dem Tanzen oder zum Leute schauen + ein Wuzzler + Pool Billiard für die über motivierten.
<subculture sound for free people>
stay tuned.
+++++++++++++++++++++++++++++++++++++++++++
>More info´s about our mindset on the Floor:
+++++++++++++++++++++++++++++++++++++++++++
Das Aufbauen der freshen Community fühlt sich aktuell richtig und wichtig an, und die Partys werden gefühlt von mal zu mal angenehmer und wärmer, unkompliziertes Wohlfühlen wird zur Attitüde.
Der Vibe auf den "noch" überschaubaren aber immer mehr wachsenden, nächtlichen Zusammenkünfte im schönen Na Nang Club ist aktuell mehr als energetisch erfrischend.
WIR wachsen stetig, es mischen sich die alten "Hippie's" und manch erfahrener Elf mit ganz neugierigen, neuen und frischen Seelen.
Gegenseitige Unterstützung durch den einen oder anderen Life-Hack, bietet sich hier an, den das Leben ist zu kurz um alle Fehler selbst zu machen.
Zusammen bildet sich so ein Netzwerk an Menschen welches sich gegenseitig supportet, heilen und aufrichten kann, von der gefühlt immer kälter und asozialer werden Gesellschaft eines Systems welches von immer mehr Menschen durchschaut wird, in seiner an vielen Stellen immer toxischer in seiner Wirkung auf die Psyche, die Seele und vor allem auf die essentielle Lebensfreude auf unseren Wegen zu werden scheint.
Ob mit den ausgewählten Lieblingsmenschen auf der Suche nach dem nächsten Abenteuer oder auf dem Weg als einsamer Wolf/Wölfin auf der Suche nach sich-selbst und/oder nach der einen verständnisvollen Seele welche vielleicht schon am Floor wartet.... zusammen einen kurzen oder langen Weg zu gehen, im Takt von 4/4tel Beats unserer Sound Artists versteht sich.
Wer mit offenen Herzen zu uns kommt wird für einige Zeit nicht alleine sein, falls das der Wunsch sein sollte. 😉
Lasst euch das versprochen sein.
Keep it simpel and have fun together we stand.
>Respect yourself + others!
>DU bist die Party
[darkforestcrew.at]
Location
Na Nang Club
Hernalser Hauptstraße 21
1170 Wien
Organizer
Organizer
DarkForestNetwork
Added

6d 12h

· Update

5d 8h

·