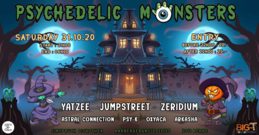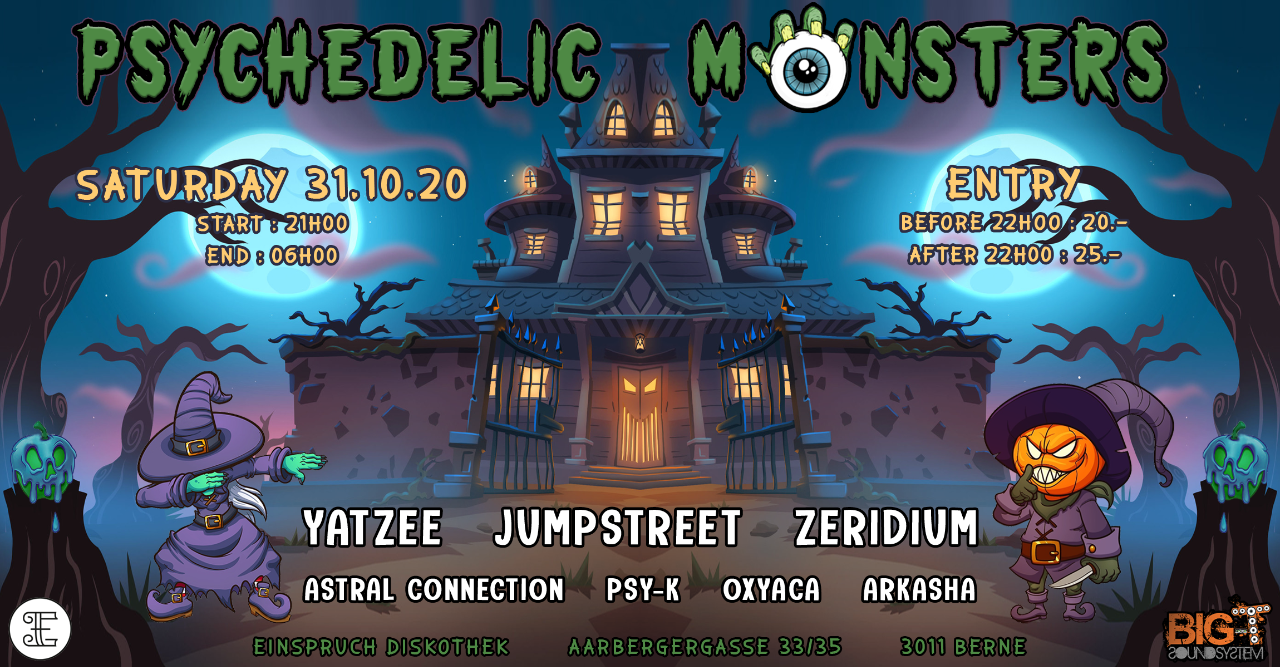 Line Up
21:00 - 22:15 Astral Connection *CH* (Psytrance)
22:15 - 23:30 Zeridium *FR* (Psytrance Fullon Night)
soundcloud
23:30 - 00:45 Jumpstreet *CH* (Psy-Groovy)
soundcloud
00:45 - 02:00 Dj_PSY-K *CH* (Darkpsy)
soundcloud
02:00 - 03:15 Oxyaca *CH* (Psynight)
soundcloud
03:15 - 04:30 Arkasha *CH* (Hitech)
soundcloud
04:30 - 06:00 Yatzee *IT* (Hitech)
soundcloud
Deco
One word, SPOOKY - The whole club is going to mutate into a psychedelic and scary place.
Info
Info
If you want to have more infos, you'll found them on the Facebook event : Psychedelic Monsters
Location
Einspruch Diskothek
3011 Berne
Aarbergergasse 33/35
46.949523, 7.442574
Entry fee
Due to COVID-19 restrictions, only 300 places available in the club!

3 Ticket Options for Psychedelic Monsters:

1) 200 presale tickets at 25 CHF will be available

2) Tickets at the door: 21h00 to 22h00 – 20 CHF

3) Tickets at the door: from 22h00 – 25CHF entry (if there is still space)...

The entry can only be paid by CASH.

P.S if the party is cancelled due to the COVID-19, all the presales will be refunded.
Organizer
Organizer
Big-T SoundSystem
Added

2y 4m

· Update

2y 4m

·