Backend
Psychedelic Malmo Launch Party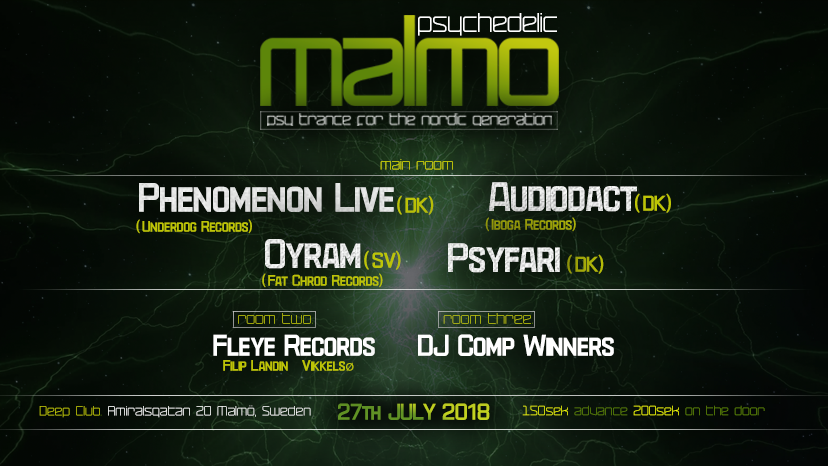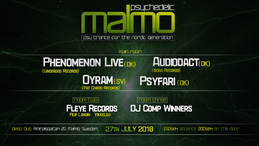 Line Up
Main Room:
Phenomenon Live (DK) - Underdog Records
Audiodact (DK) - Iboga Records
Oyram (SWE) - Fat Chord Records
Psyfari (DK)
Room 2: Hosted by Fleye Records
Filip Landin
Vikkelsø
Room 3: DJ Competition Winners (get those demos over guys)
**** Phenomenon has played at every major event in Denmark, like Elements, Distortion, Nemesis, Utopia, My Wonderland, and so on.
In Germany he Played at Psychedelic Circus, Traumwelten, Prog on Fire and reached 49 on the German Top 100 Dj Chart. His most recent Swedish set was at Skogan Kallor ****
soundcloud
*** Audiodact began his DJing career 2013, and quickly became a resident DJ on the Psytrance club Tuben in Copenhagen. He has produced music for massive labels including TesseracTstudios and Blue Tunes. He is currently signed to the legendary Iboga Records and released a single named Homebound, which instantly gained success and reached #1 on Beatport's Psytrance release chart. He has worked on collabs with Flowjob, Mindsurfer, Andromeda and several others in the making. ***
soundcloud
*** Oyram has had a great career over the last two years, and through solid work behind the decks, he has taken all the way from Helsingborg with plays for the Treble Alliance and various gigs in Helsingør to Copenhagen where he was a regular at Tuben and also to Hamburg where he played on several events to become the label Dj for Fat Chord Records and now also represents Snapphaneklane at home!***
*** Psyfari - we are very excited to bring you the master all things full-on, DJ Psyfari. We've heard this master of the full-on arts numerous times, most recently where he played final set at the Tuben closing party after the legendary Ranji. We are delighted he's with us for our opening. Prepare yourself for Psyfari. ***
soundcloud
Info
Info
This is a new monthly party in the heart of Malmo. Follow our page on Facebook Psychedelic Malmo for up to date info on events.
Location
Deep Nightclub.
Amiralsgatan 20, 211 55 Malmö, Sweden
10 minute walk from Triangeln Train Station
Entry
Entry
150SEK advance tickets from Beatbase.com available from 1st July.
200SEK on the door
Organizer
Organizer
Psychedelic Malmo