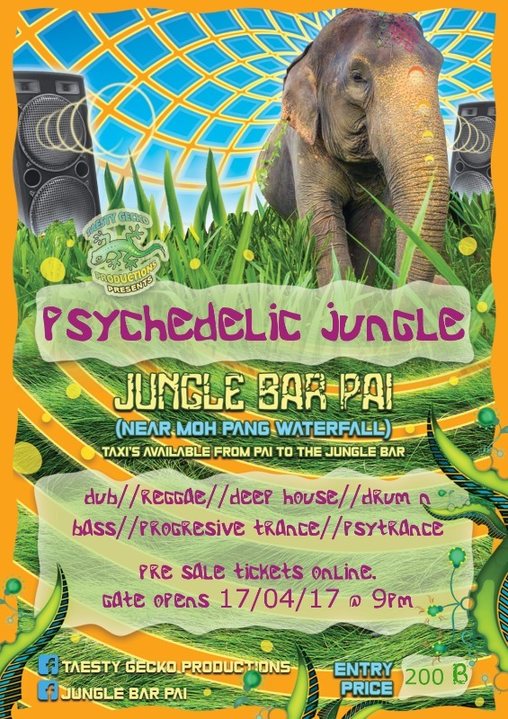 Line Up
Line Up
Beef Case - Australia

Pisshead - Thailand

Nicholas Sky - South Africa
Info
Swadee krup, Taesty gecko production presents Psychadelic Jungle at the Jungle Bar Pai.
This event we will hosting a fine selection of international/local DJs from around the world, also we will have fire performers, Live VJ and UV face painting throughout the night. On top of this, we will have a bangin' sound system and food available.
This event is outdoors and has plenty of room to dance and chill out, we also have bungalows and dorms for rent but get in quick before they all get booked, if we are booked out, bring a tent and we will have cheap accommodation for campers.
P.S. for anyone that books a room at the Jungle Zone this night will receive free entry to the event.
Throughout the night there will be a taxi service available for 50 baht each way at Duan Den Taxi (Near AYA service) to get you from pai to deliver you right to our doorstep and vice versa, please do not drive drunk.
$7 AUD Online Ticklets available @
[bandcamp.com]
(Please give names when purchasing so we can put on the door list and bring photo ID)
or 200 B on the gate
As this is a Jungle Party we encourage any event goers to dress up in costume, our theme is JUNGLE
Just remember any disorderly behavior will not be tolerated and you will be removed immediately, good vibes only please.
Also make sure you wear shoes as this is outdoors and may be dangerous on the feet and bring something to dispose of cigarette butts, help protect the beautiful environment.
Hope to see you all here.
Location
Location
Jungle Bar Pai
114 M.4 T.Mae na toeng Pai District, Tambon Mae Na Toeng, Amphoe Pai, Chang Wat Mae Hong Son
58130 Pai
Entry fee
Entry fee
$7 AUD pre sale or 200Bht on the gate
Organizer
Organizer
Taesty Gecko Productions, Jungle Bar Team