Backend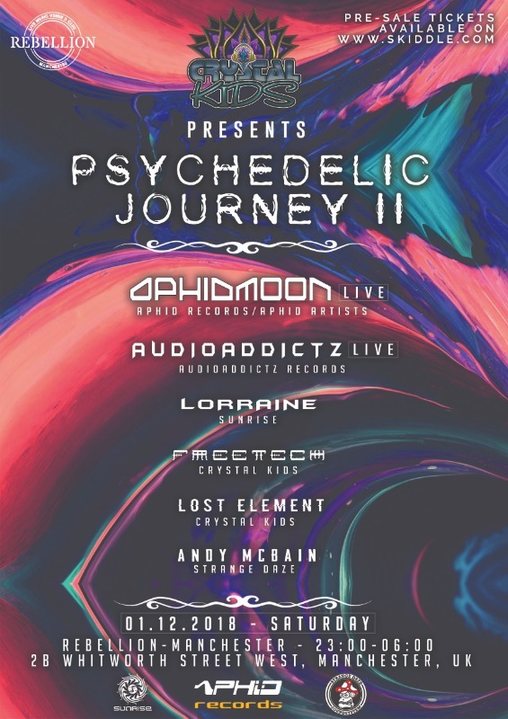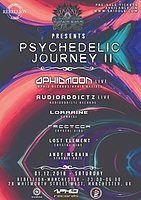 Line Up
--- • MAIN ROOM • ---
❂ Aphid Moon (Live)
( Aphid Records / Aphid Artists )
soundcloud
❂ AudioAddictz (Live)
( AudioAddictz Records )
soundcloud
❂ Dj Lorraine Psilocybe Tribe
( SUNRISE )
soundcloud
❂ Freetech
( Crystal Kids )
soundcloud
❂ Lost Element
( Crystal Kids )
soundcloud
❂ Andy McBain
( STRANGE DAZE )
[click here]
--- • CHILL ROOM • ---
❂ Mysticism
( Crystal Kids )
soundcloud
Info
--- •VISUALS • ---
✫ Magiclantern Audiovisual
vimeo
--- • PERFORMERS • ---
✫ "imps"
--- • STALLS • ---
✫ Psychedelic Dip
( UV Body Marblers )
✫ Alma Body Art
( UV Face Painting )
✫ Gaiasart
( UV Crystals )
✫ The Tarot Thing
( Tarot )
✫ Energetic Flow Massage
( Massage )
✫ Last entry 4am
✫ Free entry for B-Day Girls & Boys!
(Please show your photo ID for your free entry b-day gift)
♥ RESPECT, UNITY, PEACE & LOVE ♥
★•••• B I O G R A P H I E S ••••★
❂ APHID MOON ❂
Aphid Moon is the solo project of UK Psy-Trance producer & Dj Jules Hamer.
He started the project in the mid nineties with the release on Interstella Rec. He cut his teeth promoting a small psychedelic night called 'Aphid Moon' and djing and performing live in various London squats, clubs and outdoor parties.
In 2001 he had a breakthrough track with 'A lot of Radio' on Flying Rhino Records and it would be safe to say things really took off from that point. Since then he's had releases on virtually all the British psy-trance labels (Tip World, Twisted, Dragonfly, Alchemy, Atomic, Organic and Nano Records) as well a variety of foreign labels.
His first album 'High Diver' was released on Dragonfly Records in 2003 a deep nighttime sound with a distinctly British psychedelic twist.
His unique style has developing ever since playing DJ & live sets in Japan, Israel, S.A., Brazil, South and Central America, U.S.A., Europe and the U.K at Festivals, Clubs and Parties. He's a regular on Universo Parallelo, Vuuv and Glade Festival lineups.
2005 saw the birth of his new full-on incarnation with the release 'Global Culture' album on Anglo/South African label Nano Records.
In 2007 he collaborated with producer Dick Trevor to produce the AMD's Album 'Big Fish' on Nano Records which has become a trance classic.
He launched his own UK based label Aphid Records in 2008 with the debut digital ep AphidEp001. Over the past few years label has been steadily gathering pace with two more collaborative Ep's 'Star Brith' and 'Synthetic Life', 'Trancelantic' and a Digi Single 'Complex Retracement' as well as his third Album 'Super Collider'.
This year he has a busy European festival season with spots at Blissful, Vuuv, Summer Never Ends, Ozora, Sonica and Arora .
[aphidmoon.com]
[bandcamp.com]
[facebook.com]
[aphidrecords.com]
❂ AUDIOADDICTZ ❂
AudioAddictz is a father and son psychedelic trance live act from Manchester.
Opening portals to other dimensions and letting in light beings..
[audioaddictz.com]
[bandcamp.com]
[facebook.com]
❂ LORRAINE ❂
Lorraine is a multi-faceted genre bashing one size fits all psychedelic disc spinner! A favourite at many parties up and down the country and branching out into some serious international festivals, Lorraine will be treating the crowd to her choice of whatever the hell she thinks is appropriate, be it chunky prog, enigmatic full-on or sizzling dark twisted wondertrance! Always a joy to behold and a treat to finally have Lorraine join us in our Wiltshire HQ!
[facebook.com]
❂ FREETECH ❂
Ozzy Cetin aka Mysticism, Ramizes & Freetech was born in 1984 in Istanbul and discovered psy-trance at the age of 18 through the artists Kox Box, Cosmosis, Hallucinogen, Goa Gil, Astral Projection etc. Since then he has been gathering a psy-trance archive, which still continues. Whilst studying towards a BA, Ozzy organized various indoor parties and performed under the alias 'Ramizes' between 2004 – 2007. Meanwhile, he helped out his producer friends by giving them ideas and loops for their new tracks.
Since 2006 Ozzy has been involved in some of the most well respected international festivals such as Ozora (Hungary), Psy-Fi (Holland), Sonica (Italy), Earthcore (Australia), Free Earth (Greece), IllumiNaughty (UK).
Within Turkey he performed at, and worked with many festival organisations including Tree of Life Festival, Mind Manifest Project, Neon Festival, Ayata Festival, Psy-Boutique Festival, Freaks in Love and Soulclipse Festival.
He now dedicates himself to his Istanbul & Manchester based psy-trance events organizer community; CRYSTAL KIDS; to spread to word through the minds & souls which are ready to UNITE with RESPECT, PEACE & LOVE.
Along with outdoor festivals, Ozzy performed over 200 gigs including indoor events since 2004 around the globe.
Ozzy, as a resident DJ at Crystal Kids mixes; Psychill, Psybient, Chillgressive as MYSTICISM; Progressive, Dark Progressive, Fullon, Psytrance as RAMIZES and Twilight, Forest, Hitech styles as FREETECH.
ALL FOR ONE ♥
[facebook.com]
❂ LOST ELEMENT ❂
DJ and Producer since 2008, with a passion for psy-prog, morning and full on styles of psychedelic trance. Resident for Crystal Kids, and a regular at Sunrise, Tribal Sphere and Remedy.
[facebook.com]
❂ ANDY MCBAIN ❂
Andy McBain is a musician, producer and DJ from Lancaster, North West England. Coming from a background of classical, jazz and metal music he discovered electronic dance music through Goa Trance in his late teens and began DJing progressive and full-on Psytrance in 2014. Heavily influenced by the old school, expect sounds reminiscent of classic Goa melodies, euphoric moments and 303s.
[facebook.com]
Location
Location
Rebellion Manchester
2B Whitworth Street West
M1 5WZ Manchester
Entry
Entry
✫ Phase 1: £8+bf (Very Limited - Ends 31st Oct)
✫ Phase 2: £10+bf (Limited)
✫ At the door: £15
Pre-sale link:
[bit.ly]