Psychedelic Jelly featuring Quanta & Key-G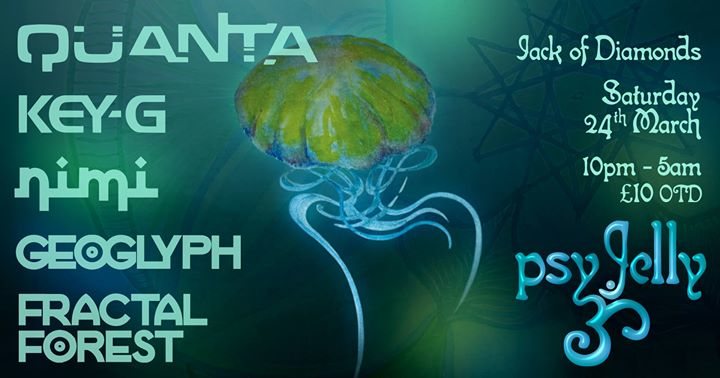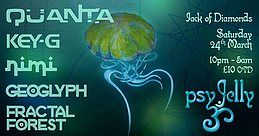 Line Up
After the sell out success of our January edition we are back with our first ever INTERNATIONAL LINE-UP!!
Quanta - [Shanti Planti] - Cornwall, UK
soundcloud
This producer really needs no introduction but just in case you have been living under a rock Quanta produces delicious squlechy and glitchy dub, drawing on world influences. He has been producing for over 18 years and been playing bass, keyboard and guitar for as long as he can remember! He also produces under the name Tummy Talk and is one half of Akasha Experience!
Key-G - [Desert Trax] - Madrid, Spain
soundcloud
An electronic chill ambient psydub producer who learned to play the piano at the age of 9, and played drums in several bands when he was a teenager. Key-G is heavily influenced by the likes of Globular, Ott and Shpongle. With his debut album released on Desert Trax back in October and a string of brilliant singles on Nutek Chill and Visionary Shamanics we thought it was time we invited him over from Spain!
Nimi [Visionary Shamanics Records] - Bristol UK
soundcloud
"In terms of style, Nimi's music falls anywhere on the melodic psychedelic spectrum, taking influences from the psy-dub, psybreaks and progressive psytrance genres."
Geoglyph - [Visionary Shamanics Records] - Bristol UK
soundcloud
"Geoglyph is a psydub and psybient project from Bristol. For those who like: Shpongle, The Mystery of the Yeti, Globular, Ott, Solar Fields, CBL, etc."
Fractal Forest - [Visionary Shamanics Records] - Bristol UK
soundcloud
Location
Location
Jack of Diamonds
46 West Street, Old Market
BS2 0BH Bristol
Organizer
Organizer
Psychedelic Jelly