Backend
Psychedelic Jelly feat. Kwah & Tea Tree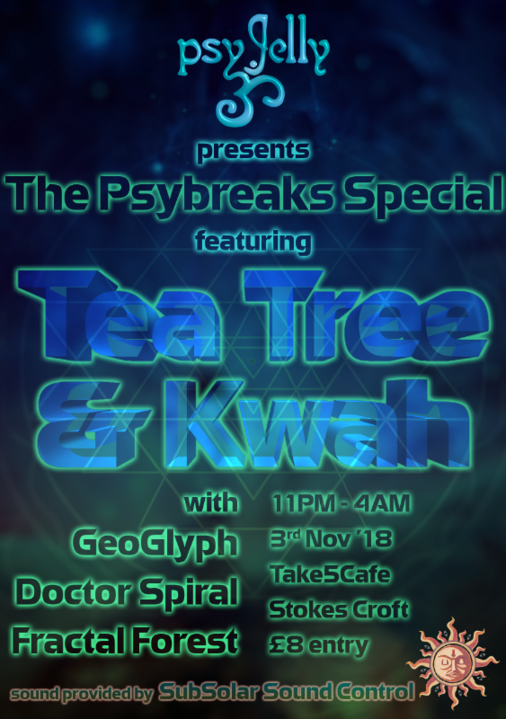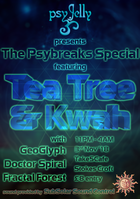 Line Up
After the summer break Psychedelic Jelly returns for a special night of slightly heavier than usual psychedelia!
Lineup:
Kwah/Tea Tree [Broken Robot/Mindspring Music]
Rory Gordziejko AKA Tea Tree, AKA Kwah will be playing a 2 hour set, the first hour will be Tea Tree and the second hour will be Kwah. Tea Tree is the slower and spacier project. Aiming to take you through some misadventures into dub and downtempo psychedelia. Hypnotic soundscapes and crispy beats.
soundcloud
Kwah is his psybreaks project! With releases on Broken Robot, In Bloom Recordings, RUNE Recordings, Scarcity, 96kHz, The Beats Bizarre and Warped Recordings he has become well established in the midtempo scene.
soundcloud
Doctor Spiral [Tribe of Frog]
Bristol based psybreaks DJ Will Mcdonnell is a resident for Triplicity and a regular at Tribe of Frog
soundcloud
GEOGLYPH [Visionary Shamanics] w/ live flute
Psychedelic Jelly resident GEOGLYPH is back again to showcase his debut album on Psy Jelly Records
soundcloud
Fractal Forest [Visionary Shamanics]
Co-Founder of Psychedelic Jelly
soundcloud
Subsolar Sound Control will once again be providing the sound!
[facebook.com]
Location
Take 5 Cafe,
72 Stokes Croft,
Bristol
Entry
Entry
£7 tickets in advance -
[co.uk]
£8 tickets on the door
Organizer
Organizer
Psychedelic Jelly