Psychedelic Hollow - Pozo Psicodelico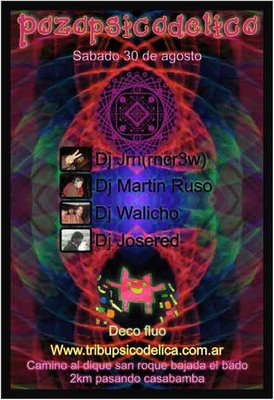 DJs
LINE UP
Dj JMrner3w
Dj Martín Russo
Dj Walicho
Dj Josered
Location
Location
Bring a tent , you can camp here. dance with the cosmic spirit in the middle of cordoba´s natural beauty....
Take a look at the psychedelic hollow´s beauty...
[photobucket.com]
The party will take place after calera city , email for more information, transportation tips, etc...
The spot is on the way to San Roque Dam, after "Casa Bamba" but before the dam!! there will be signals on the road so you descend to the psychedelia experience...
Organizer
Organizer
TRIBU PSICODELICA
From
sierrapsicodelica ·
1,635